Aura Declares Commercial Production at Almas
ROAD TOWN, British Virgin Islands, Sept. 05, 2023 (GLOBE NEWSWIRE) -- Aura Minerals Inc. (TSX: ORA, B3: AURA33 and OTCQX: ORAAF) ("Aura" or the "Company") is pleased to announce that commercial production has been achieved at its Almas gold mine ("Almas") effective as of August 31, 2023. Almas mill is operating above 100% of the design capacity, processing 4,000 tonnes per day, with recoveries consistently above 90% and ranging up to 92%. Approximately 4,661 ounces of gold were produced in August, with gross revenues of approximately US$ 9 million recognized in the month.

Almas achieved full capacity at the mill in only 5 months after commissioning of the project, significantly ahead of benchmarks as indicated in the chart below:
Ramp-up curve (Average compared to other Companies)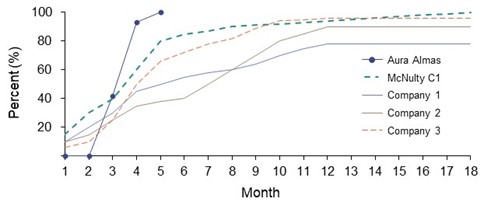 Notes:
Start-up curve classification showing % of design capacity vs. time.
McNulty C1*: Type 1 is an operation that achieves the designed for production throughput easily within 12 months of commissioning.
Comparison with other relevant mines on the global stage and Plant Throughput.

Source:
McNulty, T. P. (2004). Minimization of delays in plant startups. In Plant Operator's Forum 2004, Society for Mining, Metallurgy and Exploration (pp. 113-120).
McNulty, T. (2014). Plant Ramp-Up Profiles an Update with Emphasis on Process Development. Proceedings of the 2014 Conference of Metallurgists, Canadian Institute of Mining, Metallurgy and Petroleum.
Voigt, P., Walker, D., Kloiber-Deane, O., & Tsvetkov, A. (2018). Ramp-up and long-term performance of the Albion Process™ plant at GeoProMining Gold Armenia. In Proceedings 14th AusIMM Mill Operators' Conference (pp. 339-350).

Consistent with the Aura's strategy to start small and optimize upfront capital expenditures, the Company is now focused on investing in increasing the mill's capacity from 1.3 million tons per year to 1.5 million tons per year. During the remainder of 2023, Aura is expected to invest about US$3.5 million for such production capacity at Almas. The capacity increases are expected to be fully implemented at the beginning of 2024 and contribute to an increased annual gold production of approximately 15% compared to Almas' Feasibility Study.
Rodrigo Barbosa, Aura's President, and CEO commented, "We are very proud to declare commercial production at Almas. We have not only built it on budget and in only 16 months during challenging years, but we have also now ramped up in record time, making us one of the world's leading benchmarks. We are also now investing on exploration targeting new resources and reserves while we are encouraged by the potential to increase the plant's capacity, to bolster production more than we initially projected, with expected results already for 2024."
Qualified Person
The scientific and technical information contained within this news release has been reviewed and approved by Tiãozito V. Cardoso, FAusIMM, Technical Services Director for the Company. Mr. Cardoso is a Qualified Person as defined in National Instrument 43-101 – Standards of Disclosure for Mineral Projects.'
About Aura 360° Mining
Aura is focused on mining in complete terms – thinking holistically about how its business impacts and benefits every one of our stakeholders: our company, our shareholders, our employees, and the countries and communities we serve. We call this 360° Mining.
Aura is a mid-tier gold and copper production company focused on the operation and development of gold and base metal projects in the Americas. The Company has 4 operating mines including, the Aranzazu copper-gold-silver mine in Mexico, the EPP and Almas gold mines in Brazil and the San Andres gold mine in Honduras. The Company's development projects include, Borborema and Matupá both in Brazil. Aura has unmatched exploration potential owning over 650,000 hectares of mineral rights and is currently advancing multiple near-mine and regional targets along with the Serra da Estrela copper project in the prolific Carajás region of Brazil.
Forward-Looking Information

This press release contains "forward-looking information" and "forward-looking statements", as defined in applicable securities laws (collectively, "forward-looking statements") which may include, but is not limited to, statements with respect to the activities, events or developments that the Company expects or anticipates will or may occur in the future, including, without limitation, production levels at Almas and the timing of completion and the effects of Aura's investments in increasing production capacity at Almas. Often, but not always, forward-looking statements can be identified by the use of words and phrases such as "plans," "expects," "is expected," "budget," "scheduled," "estimates," "forecasts," "intends," "anticipates," or "believes" or variations (including negative variations) of such words and phrases, or state that certain actions, events or results "may," "could," "would," "might" or "will" be taken, occur or be achieved.
Known and unknown risks, uncertainties and other factors, many of which are beyond the Company's ability to predict or control, could cause actual results to differ materially from those contained in the forward-looking statements. Specific reference is made to the most recent Annual Information Form on file with certain Canadian provincial securities regulatory authorities for a discussion of some of the factors underlying forward-looking statements, which include, without limitation, volatility in the prices of gold, copper and certain other commodities, changes in debt and equity markets, the uncertainties involved in interpreting geological data, increases in costs, environmental compliance and changes in environmental legislation and regulation, interest rate and exchange rate fluctuations, general economic conditions and other risks involved in the mineral exploration and development industry. Readers are cautioned that the foregoing list of factors is not exhaustive of the factors that may affect the forward-looking statements.
All forward-looking statements herein are qualified by this cautionary statement. Accordingly, readers should not place undue reliance on forward-looking statements. The Company undertakes no obligation to update publicly or otherwise revise any forward-looking statements whether as a result of new information or future events or otherwise, except as may be required by law. If the Company does update one or more forward-looking statements, no inference should be drawn that it will make additional updates with respect to those or other forward-looking statements.
A photo accompanying this announcement is available at https://www.globenewswire.com/NewsRoom/AttachmentNg/12107f1f-0089-4743-9e6a-a93338d56a90

For more information, please contact:

Investor Relations
ir@auraminerals.com
www.auraminerals.com