A Woman of Many Talents: A Journey to Optimal Wealth; Entrepreneurship, and Peak Performance Real Estate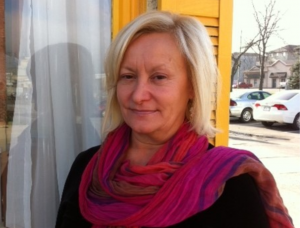 Maria Rekrut: Canadian soprano, entrepreneur, real estate developer, speaker, and podcast host. Offers motivation, investment advice, and mentors.
NIAGARA-ON-THE-LAKE, ON, CANADA, September 4, 2023/
EINPresswire.com
/ --
Maria Rekrut
, a multi-talented Canadian soprano, serial entrepreneur, and real estate developer with a thriving career spanning over four decades, continues to inspire individuals worldwide with her remarkable achievements. Since her entry into the
business
world in 1982, Maria has not only carved a niche for herself but has also become a sought-after speaker, author, and business consultant.
Maria Rekrut's reputation as a dynamic and insightful speaker in various domains, including human potential, sales, entrepreneurship, and peak performance real estate, has garnered her global recognition. With an engaging and electrifying presence, Maria has delivered memorable presentations in major cities across North America, leaving audiences inspired and motivated to pursue their own dreams.
What sets Maria's presentations apart is her unique ability to infuse fresh perspectives into her talks. She encourages her listeners to harness the power of human imagination, emphasizing its potential to reshape their visions of what's achievable.
Maria's path to optimal wealth was not without its share of challenges. However, her unwavering focus on her goals led her to develop simple yet effective investing techniques that propelled her to success in the real estate and vacation rentals industry. She now operates a thriving business development consulting firm and is known for her role as a real estate investor and developer of single-family houses, bed and breakfasts, cottages, and vacation rentals.
A strong advocate for helping individuals unlock their full potential, Maria Rekrut's tagline, "Building Your Wealth, One House at a Time!" reflects her commitment to assisting others in achieving financial success.
Maria's impressive credentials extend beyond her speaking engagements and real estate ventures. She is an international best-selling author, with her book "Double Your Income Using Social Media" gaining widespread acclaim. She is also a Guinness Book of World Records winner and participant for "The Magnetic Entrepreneur: World Renowned."
In addition to her accomplishments, Maria Rekrut is a prolific content creator, podcast host, author, and blogger. Her syndicated radio shows, "
The Maria Rekrut Radio Show
" and "All Things Real Estate with Maria Rekrut," have garnered a dedicated following on several radio stations.
Maria's interactive workshops, seminars, and presentations bring a critically authentic perspective to her audience, making her an empowering motivational speaker for various associations and organizations. She shares her inspiring journey, which took her from the depths of a marriage breakup and financial struggles to a life of optimal wealth despite setbacks.
Maria Rekrut's advice to those facing setbacks on their journey to wealth is as follows:
1. **Stay Motivated:** Rather than letting setbacks hold you back, use them as motivation to succeed.
2. **Simplify Your Approach:** Develop straightforward investment techniques that work for you.
3. **Maintain Focus:** Stay committed to your goals and work persistently to achieve them.
4. **Persevere:** Success often requires hard work and dedication, so persevere through challenges.
5. **Stay Informed:** Keep abreast of global events and follow your heart's desires.
With a distinguished career, Maria Rekrut has served on various boards of directors, including the Toronto and Niagara Business Development Consultants Association. She made history as the only female Niagara on the Lake Hydro Commissioner. Her contributions extend to multiple chambers of commerce and organizations like the Hamilton District Apartment Association and The Association of Vacation Rental Operators and Affiliates.
Recognizing her outstanding contributions, the Niagara Falls Chamber of Commerce nominated Maria for Business Woman of the Year in 2014, 2015, and 2016.
To further her mission of promoting business and real estate, Maria Rekrut launched "Real Wealth Radio," a new radio station that combines business conversation shows with music, aiming to provide listeners with the best of both worlds.
For daily insights on world events and their impact on business and real estate, visit Maria's blog at
www.realwealthrealestate.com
. Connect with her on social media via:
- Facebook:
https://www.facebook.com/maria.rekrut
- Twitter:
https://twitter.com/RealEstateMedi1
- LinkedIn:
https://www.linkedin.com/today/author/mariarekrut
- YouTube:
https://www.youtube.com/channel/UCpHBZZ1Pk5gvHcLL0AiDEbA
- Spotify Podcast:
https://podcasters.spotify.com/pod/show/maria-rekrut
Maria Rekrut's journey serves as an inspiration to all aspiring individuals seeking to unlock their full potential. Her enduring commitment to human potential, sales, entrepreneurship, and peak-performance real estate underscores the power of determination, resilience, and hard work.
For those eager to embark on their own path to success, Maria Rekrut stands ready to offer her expertise and guidance. Contact her today at 437-600-6860 or via email at mariarekrut@outlook.com. You can also schedule a free appointment with her by visiting
https://calendly.com/realwealthrealestate
.
Don't miss the opportunity to work with Maria Rekrut and take the first step toward realizing your dreams and achieving success!
Maria Rekrut
Real Estate Investor of Vacation Rentals
+1 437-600-6860
mariarekrut@outlook.com