Position Punisher Launches Expert Google Business Profile Optimization Services in Phoenix, Empowering Local Businesses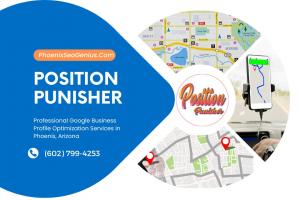 Professional Google Business Profile Optimization Services in Phoenix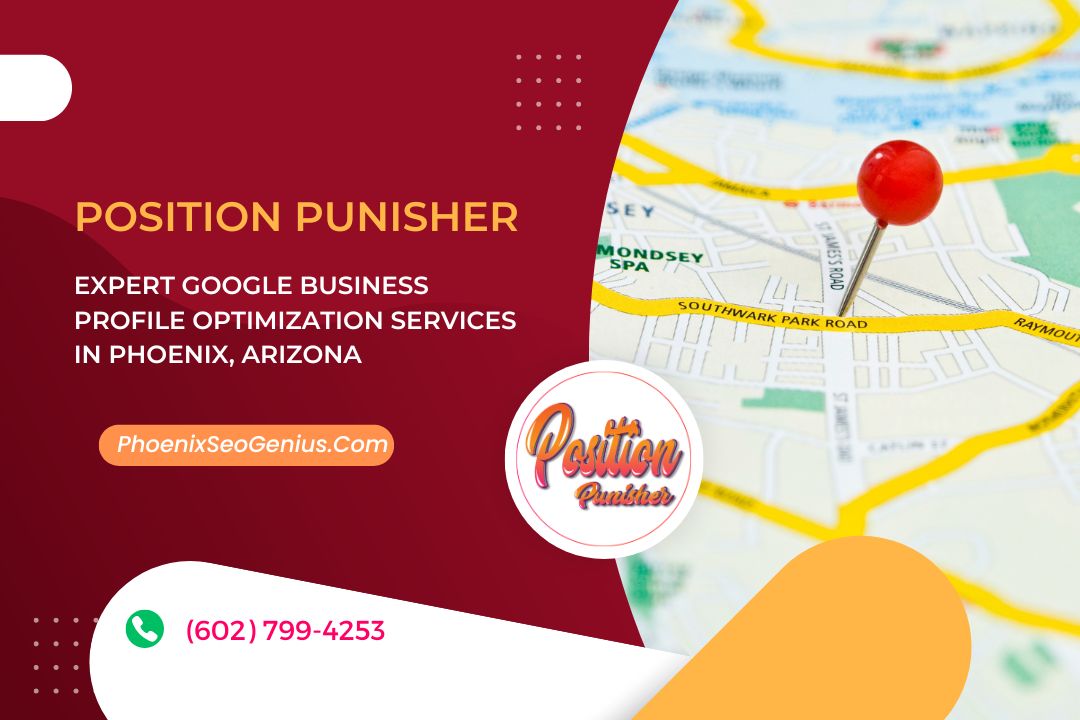 Expert Google Business Profile Optimization Services in Phoenix Arizona
Expert Google Business Profile Optimization Services Phoenix Arizona
Position Punisher, a renowned digital marketing agency based in Phoenix, Arizona, is excited to announce the launch of its specialized Google Profile services.
We are NOT a short-term solution to an ongoing AI, SEO, and Maps ranking competitive problem - We only provide permanent long-term rankings. Tired of losing to your competitors? Reach out to me."
— James Lanham - The Punisher
PHOENIX, ARIZONA, USA, August 21, 2023/
EINPresswire.com
/ --
Position Punisher
, a renowned digital marketing agency based in Phoenix, Arizona, is excited to announce the launch of its specialized
Google Business Profile optimization
services.
With an unwavering commitment to helping local businesses thrive in the competitive digital landscape, Position Punisher aims to empower businesses to enhance their online visibility, attract more customers, and solidify their presence in the local market.
In today's digital age, having a strong online presence is crucial for businesses of all sizes. One of the most impactful ways to achieve this is by optimizing Google Business Profiles, which serve as a virtual front door for customers seeking local products and services.
Position Punisher recognizes the significance of this aspect and has developed a comprehensive strategy to help businesses maximize their potential.
James Lanham
, the dedicated owner of Position Punisher, expressed his enthusiasm about the new service launch. "We understand the challenges that local businesses face in standing out online.
That's why we've crafted a meticulous approach to Google Business Profile optimization, tailored specifically to the unique needs of Phoenix businesses. Our goal is to make it easier for them to connect with their target audience and grow sustainably."
Why Google Business Profile Optimization Matters
Position Punisher's Google Business Profile optimization services go beyond the basics of creating a listing. The agency takes a holistic approach to ensure that every aspect of the business profile is optimized to its fullest potential. From accurate contact information and engaging descriptions to high-quality images and customer reviews, Position Punisher's experts leave no stone unturned.
An optimized Google Business Profile provides numerous benefits:
Enhanced Visibility: An optimized profile is more likely to appear in local search results, ensuring that businesses are easily discoverable by potential customers.
Credibility: A well-structured profile, complete with positive reviews, creates a sense of trust and credibility among customers.
Increased Engagement: With appealing visuals, relevant information, and easy-to-find details, potential customers are more likely to engage with the business.
Local SEO Advantage: Google Business Profiles are a critical component of local SEO. An optimized profile contributes to higher search engine rankings.
Customer Insights: Business owners can gain valuable insights into customer behavior and preferences through Google My Business analytics.
About Position Punisher
Position Punisher is a trailblazing digital marketing agency renowned for its commitment to helping businesses conquer the digital realm. With a team of seasoned experts, the agency offers a comprehensive range of services, including search engine optimization (SEO), pay-per-click advertising (PPC), social media marketing, web design, and now, specialized Google Business Profile optimization.
The agency's founder, James Lanham, brings a wealth of experience to the table, having worked with numerous local businesses to elevate their online presence. James and his team are dedicated to staying at the forefront of digital marketing trends and techniques, ensuring that clients receive top-notch strategies tailored to their specific goals.
Getting Started
Local businesses in Phoenix seeking to revitalize their online presence and make a lasting impact in their community can now leverage Position Punisher's Google Business Profile optimization services. By partnering with Position Punisher, businesses can expect a personalized approach that takes into account their unique offerings, target audience, and growth objectives.
For more information or to inquire about Position Punisher's Google Business Profile optimization services, please contact James Lanham at (602) 799-4253 or visit the official website at
https://phoenixseogenius.com/
.
Press Contact: James Lanham of Position Punisher Phone: (602) 799-4253 Email: james@phoenixseogenius.com Website:
https://phoenixseogenius.com/
In an era where online visibility can make or break a business, Position Punisher's expert Google Business Profile optimization services offer Phoenix businesses the opportunity to shine brightly in the digital realm. By choosing Position Punisher, businesses are choosing excellence, innovation, and a path to online success.
James Lanham
Position Punisher LLC
+1 602-799-4253
email us here
Visit us on social media:
Facebook
Instagram
YouTube
Other
Expert Google Business Profile Optimization Services in Phoenix, Arizona | Position Punisher