Church of Scientology Celebrates Nelson Mandela's Legacy of Diversity and Peace
Church of Scientology Los Angeles marked Nelson Mandela Day with a human rights conference.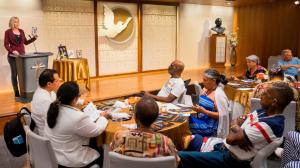 Guests were introduced to Youth for Human Rights, a human rights educational initiative supported by the Church of Scientology and Scientologists.
Those attending learned about the Youth for Human Rights materials and program.
An interfaith program marking Nelson Mandela Day emphasizes the importance of raising awareness about human rights.
LOS ANGELES, CALIFORNIA, UNITED STATES, July 26, 2023/EINPresswire.com/ -- The Church of Scientology of Los Angeles partnered with interfaith leaders and the Inner City Shakespeare Ensemble to celebrate diversity and intercultural cooperation and end prejudice against minority communities.
Youth for Human Rights Los Angeles hosted the program in honor of Nelson Mandela International Day. The theme was "ending intolerance, discrimination and bias." Speakers addressed how ignorance and prejudice rob individuals and groups of their human rights. They spoke of ways to do away with these ills on a personal and societal basis.
Panelists of diverse backgrounds discussed their experiences.
Dr. Melanie Andrews, Artistic Director of Inner City Shakespeare Ensemble, spoke about the challenges she has faced and why she champions human rights. As a Black woman growing up in the 1950s and 60s, she experienced intense discrimination and racism. This was compounded later by a different form of human rights violation: gangs. The violence, drug trafficking and crime gangs foster wreak devastation in minority communities. Despite these challenges, she emphasized how vital it is to carry on with our lives, always staying true to what we know to be right.
TV host, author and filmmaker Sharon Angel spoke of being raised in a strict Christian family in India, a country where women's rights are severely restricted and Christians, a minority in that country, are often subjected to discrimination and violence.
A Muslim interfaith leader spoke of the dramatic change in the treatment of Muslims in the United States after the 9-11 terrorist attacks. He and his wife experienced severe discrimination. However, he responds to intolerance and discrimination by taking the higher road—understanding one's fellows, looking for the good in them, and standing up for the human rights of all, no matter the person's race, color or creed.
Ms. Julia Allender represented the Los Angeles chapter of Youth for Human Rights. She shared her own experiences of religious discrimination. Raising awareness of human rights can undercut all forms of discrimination, she said. She then presented an overview of the Youth for Human Rights program and materials, explaining what resources are available and the work that the organization carries out internationally.
For more information on Youth for Human Rights International, watch "Shining a Light on Human Rights," an episode of Voices for Humanity on the Scientology Network.
The Church of Scientology Los Angeles is an Ideal Scientology Organization, configured to service Scientologists in their ascent to spiritual freedom and serve as a home for the entire community—a meeting ground of cooperative effort to uplift people of all denominations.
An episode of Inside Scientology featuring the Church of Scientology Los Angeles was part of the special when Scientology ecclesiastical leader Mr. David Miscavige launched the network in 2018. Satisfying the curiosity of people about Scientology and Founder L. Ron Hubbard, the network is available at DIRECTV channel 320 and can be streamed at www.Scientology.tv, through mobile apps and via the Roku, Amazon Fire and Apple TV platforms.
Public Affairs
Church of Scientology Los Angeles
+1 323-960-3500
email us here
Visit us on social media:
Facebook
Twitter
Instagram
YouTube