Chillers Market Detailed Insights on Upcoming Trends 2032 | Carrier Global Corporation, MITSUBISHI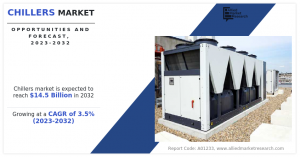 Chillers Market Expected to Reach $14.5 Billion by 2032
PORTLAND, OR, UNITED STATES, May 30, 2023/EINPresswire.com/ -- The chillers market size was valued at $9.8 billion in 2021, and is estimated to reach $14.5 billion by 2032, growing at a CAGR of 3.5% from 2023 to 2032.
Chillers are refrigeration systems used to cool down water or other liquids. They are commonly used in commercial and industrial settings to provide cooling for various processes and equipment. Chillers work by removing heat from the liquid through a refrigeration cycle.
Download Free Sample PDF of Report with Updated Pages:
https://www.alliedmarketresearch.com/request-sample/1834
Here's a basic overview of how a chiller works:
The chiller contains a refrigerant, a substance with properties that allow it to absorb and release heat efficiently.
The refrigeration cycle begins with the evaporator, where the refrigerant absorbs heat from the liquid being chilled. The liquid's temperature decreases as heat is transferred to the refrigerant.
The refrigerant vaporizes and travels to the compressor, which increases its pressure and temperature. This compression process helps to raise the boiling point of the refrigerant.
The hot, high-pressure refrigerant then enters the condenser. In the condenser, the refrigerant releases heat to the surroundings, typically through a cooling tower or air-cooled condenser. This causes the refrigerant to condense back into a liquid state.
The liquid refrigerant then passes through an expansion valve, which reduces its pressure and temperature, preparing it to repeat the cycle.
The chilled liquid, such as water or glycol, is circulated through a closed-loop system, absorbing heat from the target process or equipment.
The cycle continues as long as cooling is required, with the chiller continuously removing heat from the liquid and maintaining the desired temperature.
Enquire Before Buying@ https://www.alliedmarketresearch.com/purchase-enquiry/1834
Chillers can be categorized based on their refrigeration method: air-cooled or water-cooled. Air-cooled chillers use ambient air to cool the condenser, while water-cooled chillers employ a separate water circuit for condenser cooling. The choice between air-cooled and water-cooled chillers depends on factors such as efficiency, space availability, and environmental considerations.
Chillers have numerous applications, including air conditioning systems in buildings, industrial process cooling, data center cooling, medical equipment cooling, and more. They are essential for maintaining optimal temperatures in various industries and environments.
Request for Customization @ https://www.alliedmarketresearch.com/request-for-customization/1834
Top Players:
Carrier Global Corporation, MITSUBISHI ELECTRIC CORPORATION, DAIKIN INDUSTRIES LTD, DIMPLEX THERMAL SOLUTIONS, LG Electronics, JOHNSON CONTROLS INTERNATIONAL PLC, Polyscience Inc., SMARDT CHILLER GROUP INC., THERMAX LTD., TRANE Technologies Plc
Key Segments:
By Type - Air Cooled ChillerWater Cooled Chiller
By POWER RANGE - Less than 50 kW50-200 kWMore than 200 kW
By END USER - Chemicals & petrochemicalsFood & beveragesMedicalOthers
David Correa
Allied Analytics LLP
+ 1-800-792-5285
email us here