Shape Measuring Devices Market Statistics, Facts, Regional Trends & Growth 2031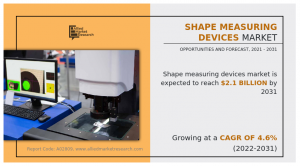 Shape Measuring Devices Market Expected to Reach $2.1 Billion by 2031
PORTLAND, OR, UNITED STATES, May 29, 2023 /EINPresswire.com/ -- Shape measuring discloses minute surface flaws and irregularities such as burrs and scratches as well as markings on the products' surfaces. A shape measuring device is an optical measuring equipment that is equipped with a projection unit and uses the light section method. It is configured to project a predetermined pattern such as slit light onto an object to be measured. The object under investigation is truly defined by the shape measurement equipment.
According to a new report published by Allied Market Research, titled, "Shape Measuring Devices Market," The shape measuring devices market size was valued at $1.3 billion in 2021, and is estimated to reach $2.1 billion by 2031, growing at a CAGR of 4.6% from 2022 to 2031.
Download Free Sample PDF of Report with Updated Pages:
https://www.alliedmarketresearch.com/request-sample/3149
The market for shape measuring devices is anticipated to be driven by rapid automation and advances in form measurement equipment. Moreover, shape measuring devices are a crucial aspect of the manufacturing business since they are used to evaluate the micro-level measurements of tools that are utilized in the production of automotive parts.
A specific tool is offered by major participants in the sector for usage in the automotive sector. The main industries that use shape measurement devices are microprecision manufacturing, steel & metal, aerospace, and military. Thus, all these factors are anticipated to aid in the development of the shape measuring devices industry.
Enquire Before Buying@ https://www.alliedmarketresearch.com/purchase-enquiry/3149
Top Players:
The major players profiled in the shape measuring devices market include Alicona Imaging GmbH, Alpa Metrology S.r.l., AMETEK.Inc, Clemex, HORIBA Scientific, Obishi Keiki Seisakusho Co., QPT Innovative Technik Handels GmbH, Retsch, Scantron Industrial Products Ltd., and Smart Vision.
Key findings of the study
• The report provides an extensive analysis of the current and emerging global shape measuring devices market trends and dynamics.
• Depending on the type, the optical segment dominated the market in 2021.
• On the basis of application, the cutting-edge segment led the market in 2021.
• By sales channel, the in-store segment generated the highest revenue in 2021.
• Region wise, Asia-Pacific dominated the market in 2021; however, LAMEA is anticipated to dominate the market, exhibiting the highest CAGR during
the shape measuring devices market forecast period.
Request for Customization @ https://www.alliedmarketresearch.com/request-for-customization/3149
David Correa
Allied Analytics LLP
+ 1-800-792-5285
email us here