Fuku Celebrates Partnership with Hetrick-Martin Institute and Kicks Off Pride Month with New Sashay Filet Biscuit
Fuku Sashay Filet Biscuit, photo credit: Noah Fecks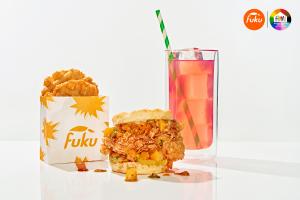 Fuku Sashay Filet Biscuit Meal, photo credit: Noah Fecks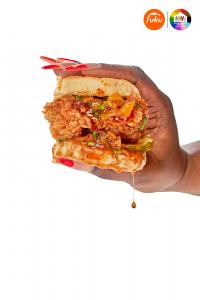 Fuku Sashay Filet Biscuit, photo credit: Noah Fecks
Fuku is committed to a culture of respect and kindness to everyone, and proud to support our friends at Hetrick-Martin Institute working to create a safe and inclusive environment for LGBTQIA+ youth."
— Claudia Lezcano, CEO at Fuku
NEW YORK, NY , USA , May 18, 2023/
EINPresswire.com
/ --
Fuku
, the spicy fried chicken fast casual concept by chef David Chang, is spreading the love by announcing its continued support of the
Hetrick-Martin Institute
(HMI) with the launch of its new Sashay Filet Biscuit, available all Pride Month long (Sundays included) starting Thursday, June 1, 2023. Proceeds from the sale of this item will be donated to HMI, marking the third year of this partnership.
As Fuku's newest menu creation, the Sashay Filet Biscuit will consist of a flaky cheddar
Mason Dixie Foods
biscuit topped with habanero-brined crispy chicken thigh, sweet Georgia peach sauce and pickles. The price is $6 for a solo sandwich, $13 for a meal (which comes with sweet jalapeño waffle fries, drink and choice of sauce) and $18 for a meal with 2 Sashay Filet Biscuits. This item will be available in-store, online and on the Fuku app from June 1 - 30, 2023 at Fuku's Hudson Yards and Rockefeller Center locations.
"At Fuku, we are committed to a culture of respect and kindness to everyone, which is why we're proud to support our friends at Hetrick-Martin Institute and their critical mission to create a safe, supportive and inclusive environment for LGBTQIA+ youth," says Claudia Lezcano, CEO at Fuku.
For this campaign, Fuku chose to partner with Mason Dixie Foods, a woman, LGBTQIA+ and BIPOC-owned comfort food brand specializing in clean and craveable baked goods and waffles. All Mason Dixie Foods are made using only fresh ingredients, real dairy, and free from preservatives, gums & artificial flavorings.
Also noteworthy, is having award-winning food and portrait photographer, author and longtime HMI supporter Noah Fecks signed on to photograph the Sashay Filet Biscuit campaign.
"Hetrick-Martin is proud to partner with Fuku and grateful for its generous support of our queer and trans youth, especially those who identify as people of color," says Amy Harclerode, HMI Interim CEO and Chief Development Officer. Harclerode adds, "Fuku's commitment to ensuring our young people have access to resources and services they deserve is not only commendable but extends to their company culture and reflects the diverse population they serve. By partnering with LGBTQIA+ and BIPOC owned businesses, they are helping to advance racial equity by reducing the barriers these business owners typically encounter."
Since 2021, Fuku has raised thousands of dollars in support of HMI through the sale of its previous Pride Sando launches, and this year the live donation page can be found at
http://hmi.org/fuku
.
Fuku also supports HMI activities and events year-round, including the upcoming Youth Pride Pop Up Market on Friday, June 23, 2023, as well as the High School Graduation Ceremony, the annual Emery Awards Ball and career fairs, even hiring talented individuals that are part of the Fuku team today.
"HMI was my first experience in a safe environment for queer people and Fuku is my first experience in a comfortable, connected, and supportive workplace," says Axel Aranha, a current Fuku team member and former HMI youth member. "It makes me happy to work for a company that cares about my community and supports HMI's important work."
About Hetrick-Martin Institute
Hetrick-Martin Institute (HMI) is the nation's oldest LGBTQIA+ youth organization serving queer and trans youth, primarily of color, between the ages of 13 and 24. Through a comprehensive package of direct services and referrals, the organization fosters healthy youth development. HMI's staff promotes excellence in the delivery of youth services and uses its expertise to create innovative programs that other organizations may use as models. HMI serves a diverse community, the vast majority of whom identify as Black or people of color. The youth organization is dedicated to building its approach to diversity, equity, and inclusion at all levels, throughout its operations and functions. To learn more about Hetrick-Martin Institute visit: the website (
https://hmi.org/
), and follow on LinkedIn, Facebook @hetrickmartin and Instagram @hetrickmartin.
About Fuku
Fuku is a spicy fried chicken sandwich-centric, fast casual restaurant that was founded by David Chang and Momofuku restaurant group in 2015. Guided by many of the same principles that Momofuku was founded on, Fuku challenges convention and offers guests approachable, high-quality food that draws influences from both Asian and American cuisines. In addition to operating its own eateries, Fuku has a presence in stadiums and arenas across the country. For more information visit us at Fuku (
https://eatfuku.com/
), LinkedIn, on Instagram @fuku and Facebook.
Roberta Tsang
RTPR
email us here
Visit us on social media:
Facebook
LinkedIn
Instagram
Other