Austrianova and San Raffaele University and Research Hospital announce a Joint Development Program for multiple myeloma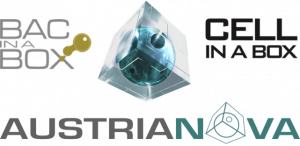 Living cell encapsulation technology
Ospedale San Raffaele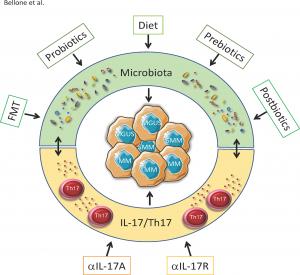 Signals affecting multiple myeloma progression (from PMC8968065)
The joint treatment will be developed for multiple myeloma, a type of blood cancer that affects plasma cells
The Austrianova team is excited to be working with our colleagues at San Raffaele hospital to progress this strategy for hampering the full progression of this devastating blood cancer."
— Walter H Gunzburg, Chairman and CTO, Austrianova
SINGAPORE, May 18, 2023/
EINPresswire.com
/ -- The group of Dr. Matteo Bellone, group leader Cellular immunology Unit at San Raffaele University and Research Hospital, has shown that Prevotella melaninogenica, a commensal bacterium of the human gastrointestinal microbiota, can protect against the progression of relatively benign asymptomatic multiple myeloma to the aggressive form of the disease. Delivery of Prevotella melaninogenica in preclinical animal models prevents this progression but large doses of the bacteria are needed since they must survive passage through the strongly acidic environment of the stomach.
Austrianova, a Singaporean biotech company, has developed its patented Bac-in-a-Box
®
technology specifically to efficiently protect bacteria from stomach acid as well as to allow storage at room temperature without appreciable loss of viability.
In multiple myeloma, malignant plasma cells accumulate in bone marrow — the soft, spongy tissue at the centre of bones — crowding out the normal plasma cells that help fight infection. It usually presents at an asymptomatic stage (also known as smouldering/indolent) and around 50% of patients go on to develop symptomatic disease and need treatment within 5 years of initial diagnosis.
This collaboration builds on San Raffaele Hospital's dedication to technology transfer, the process of partnering with industry to successfully translate research results into medical benefits.
Dr. Bellone said: "Most patients affected by smouldering myeloma live in anxiety because they know the disease may easily evolve into an untreatable phase, but they are offered no preventive cure. It is unexpected that a treatment as simple as taking a probiotic positively impacts disease progression in animal models and might indeed help these patients. We are eager to test Austrianova technology in our models. This will be the first step to the clinic."
Prof. Walter H. Gunzburg stated: "The Austrianova team is excited to be working with our colleagues at San Raffaele hospital to progress this strategy for hampering the full progression of this devastating blood cancer. Our Bac-in-a-Box
®
technology is ideally suited to efficiently store and deliver bacteria to the gastric tract and we look forward to applying it to the delivery of Prevotella melaninogenica to hopefully prevent progression of multiple myeloma in patients."
About Austrianova
Austrianova, part of the SG Austria Group, is a biotech company with a global footprint and headquarters in Singapore. Austrianova utilizes a novel and proprietary technology for the encapsulation of living mammalian (Cell-in-a-Box
®
) and bacterial (Bac-in-a-Box
®
) cells. Cell-in-a-Box
®
protects the encapsulated cells from rejection by the immune system, allows cells to be easily transported, stored and implanted at specific sites in patients. The technology, which has been proven safe and efficacious in clinical trials carried out in Europe, allows companies to develop any kind of cells as a one-for-all living pharmaceutical. Bac-in-a-Box
®
is a similar protective device adapted for encapsulation of probiotic bacteria where it has human food and animal feed applications due to its ability to extend storage under lyophilized conditions and to protect encapsulated bacteria against destruction by stomach acid. Austrianova now also offers GMP4Cells that includes competitively priced Master Cell Bank and Working Cell Bank production as well as "Fill and Finish" services for cell therapy products (such as stem cell therapies, biologics produced from cells e.g. vaccines, antibodies, recombinant proteins etc).
About San Raffaele University and Research Hospital
Ospedale San Raffaele is a clinical-research-university hospital established in 1971 to provide international-level specialised care for the most complex and difficult health conditions. OSR is part of Gruppo San Donato, the leading hospital group in Italy. The hospital is a multi-specialty center with over 60 clinical specialties; it is accredited by the Italian National Health System to provide care to both public and private, national and international patients. Research at OSR focuses on integrating basic, translational and clinical activities to provide the most advanced care to our patients. The institute is recognized as a global authority in molecular medicine and gene therapy, and is at the forefront of research in many other fields. Ospedale San Raffaele is a first-class institute which treats many diseases and stands out for the deep interaction between clinical and scientific area. This makes the transfer of scientific results from the laboratories to the patient's bed easier. Its mission is to improve knowledge of diseases, identify new therapies and encourage young scientists and doctor to grow professionally.
Brian Salmons
Austrianova
email us here
Visit us on social media:
Facebook
Twitter
LinkedIn
TikTok