Altenew Celebrates Creativity With New Goodies and Ensembles
With the release of trendy paper crafting products, Altenew presents curated ensembles for crafters' convenience!
Enjoy the best stamps, dies, stencils, embossing folders, and hot foil plates for paper crafting with Altenew's monthly subscription plan!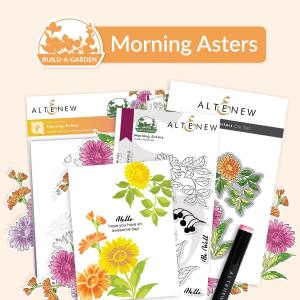 Altenew's Build-A-Garden is a convenient set for crafting quick yet stunning projects!
Crafters rejoice once again as Altenew, a paper crafting company, releases a new line of must-have products, together with a new set of Artist Alcohol Markers.
Each ensemble is a collection of products that are designed to work together and complement each other; essentially, they can act as mini kits."
— Altenew Vice President of Product Development Jennifer Rzasa
NEW YORK, USA, February 24, 2023 /
EINPresswire.com
/ -- Marking their growth for 2023,
Altenew
has launched another new collection of paper crafting products for February. Crafters will be surprised with this month's release, as it features unique designs and presents an innovation to make crafters' shopping experience easier.
For February, this NY-based company wowed crafters with its
Boho Chic release of stamps
, dies, stencils, embossing folders, hot foil plates, and gradient washi tapes. The new collection features items that embody boho chic style: bold colors, intricate patterns, and elements with a vintage flair. Crafters can use these supplies to create stunning cards, scrapbook pages, and other paper crafts that reflect their own distinctive style.
However, that's only part of what this creative company offered this month. With the
Boho Chic release
, Altenew also introduced a revolutionary concept: ensembles.
"We are so excited about the launch of this month's release of ensembles. Each ensemble is a collection of products that are designed to work together and complement each other; essentially, they can act as mini kits," says Altenew Vice President of Product Development Jennifer Rzasa. "This new concept will help crafters when selecting products to add to their stash. Of course, they are always free to mix and match! I can't wait to see what our audiences create."
The ensembles also make it easy for crafters to create beautiful projects without having to search all over for coordinating items - everything they need is already included in one package!
The new collection offers something for everyone, no matter their crafting level or personal style. From classic florals to modern patterns, something is sure to inspire crafters in this release - whether they're looking for an accent piece or the perfect finishing touch.
Additionally, Altenew continues to amaze and delight its crafters with an unbeatable collection of products for its February 2023 subscriptions. The Marvelous Monthly Series blew away even the company's biggest fans with its stunning new selection of stamps, dies, stencils, and embossing folders. This month's new release also included the launch of the Mystic Garden Artist Alcohol Markers Set J, giving customers a treat of vibrant alcohol markers and inks with fun complementary colors. It would be no surprise to this crafting company's audiences that they have once again provided products with endless possibilities for beautiful projects.
Altenew's customers went wild for this month's Paint-A-Flower collection featuring French Marigolds. The Paint-A-Flower French Marigold includes a unique outline stamp set of three French marigolds and their leaves. The standout feature of this set is the captivating flair of the wide marigold petals, offering an abundance of coloring options for creative crafters to explore. It also comes with 12 sweet, heartwarming sentiments. Indeed, this month's Paint-A-Flower French Marigold had Altenew's customers in a rush to get their hands on the stamp set.
For crafters who looked for an easy way to create impressive projects without breaking the bank, their desires got satisfied by this month's Craft Your Life Project Kit: Eclectic Bouquet. This monthly project kit captures the beauty of nature with a gorgeous bouquet featuring romantic roses, peonies, and anemones. It's accompanied by silhouettes of pampas grass, ferns, and leaf branches, along with a eucalyptus branch to complete its unique look - all topped off with three charming sentiments. No wonder why this kit is known for having it all - it has all the coordinating stamps, dies, stencils, and embossing folders crafters need.
This month's Build-A-Garden Morning Asters was also a hit among Altenew's audiences. It includes two gorgeous arrangements of asters plus silhouettes of berry branches and six heartfelt sentiments - everything that crafters need to brighten up fall and winter days with some cheerful blooms.
Another product this NY-based company is known for is its layering floral die sets, and this month's Craft-A-Flower certainly didn't disappoint. This month's Craft-A-Flower Himalayan Blue Poppy enables crafters to make two eye-catching poppies and three accompanying leaves. Indeed, this new layering die set is another addition to Altenew crafters' growing list of favorite products.
Mini Delight stamps and dies are a favorite among crafters who love working with more adorable designs. This month, the Mini Delight Vinyl Style set steals the thunder. This fun and festive set features a turntable with detailed dies for customizing and designing a vinyl record, plus some music-themed sentiments. With endless possibilities for stunning designs, it's no wonder why so many are eager to incorporate these cute stamps into their paper crafting projects.
Despite being a new subscription plan, Spark Joy is taking the world by storm. This month, another set joins the family - Spark Joy: Lily Bouquet. This hot foil plate and stencil set presents a captivating arrangement of a centrally placed lily surrounded by miniature roses and funnel-shaped flowers. Crafters who relish hot foiling will surely enjoy tinkering with this versatile set.
Altenew is an oasis for paper crafters and artists alike. With exciting new designs released each month, it's no surprise that the creative possibilities are endless. Whether it's for beginners or pros, Altenew offers something unique to everyone who visits their inspiring collection. With so many new innovations per month, crafters won't want to miss out on what's next for this NY-based company.
Established in April 2014, Altenew strives to bring elegant, natural, and versatile designs to paper crafting products. Altenew knows that the personal, delicate touches of a handmade card or scrapbook page can bring joy to the most important people in your life, and it is proud to create products that help inspire creative projects and one-of-a-kind handmade creations.
Nabil Rab
Altenew
+1 315-967-2003
email us here