Hip Replacement Rehab Facilities in Lisle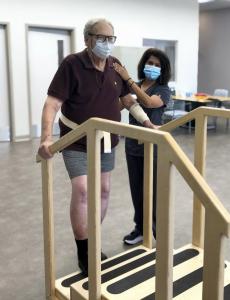 Thrive's short-term hip replacement rehab facility in Lisle

Thrive Personalized Medical Rehabilitation
Short-term rehab care for hip replacement consists of an in-house internal medicine physician, registered nurse, physical therapist and occupational therapist
Hip replacement patients work closely with our in-house therapy team on a number of areas that include gait training, stair climbing, strengthening exercises, and pain and edema management."
— Thrive of Lisle
LISLE, IL, USA, August 10, 2022 /
EINPresswire.com
/ -- For care following a
hip replacement surgery
in the hospital, Thrive Personalized Medical Rehabilitation provides post-surgical care at its Thrive of Lisle location in Lisle, Illinois. Thrive of Lisle is a Skilled Nursing Facility (SNF) that focuses solely on short-term rehabilitation.
Thrive of Lisle's
short-term rehab care
for hip replacement consists of clinical professionals that include an in-house internal medicine physician, registered nurse, physical therapist and occupational therapist who all work together to implement each patient's personalized care plan.
Hip replacement patients participating in Thrive of Lisle's short-term rehab care work closely with our in-house therapy team on a number of areas that include gait training, stair climbing, strengthening exercises, and pain and edema management.
The overall goal of Thrive of Lisle's short-term rehab care program is to improve patients' functional limitations following a hip replacement surgery. In the following YouTube video, patients undergoing a hip replacement can learn more about the short-term rehab process in Skilled Nursing Facilities (SNF):
https://www.youtube.com/watch?v=IUdtSb7585s
.
For more information on Thrive Personalized Medical Rehabilitation, their short-term
rehab care for hip replacement
patients, and skilled nursing facilities near Lisle—Thrive of Lisle—visit
www.ThriveAhead.com
.
Lisa Henderson
Thrive of Lisle
+1 773-875-5956
email us here
Visit us on social media:
Facebook
Twitter
LinkedIn
Other