JHM Group Signs MoU with Napollo Software Design Worth $2.4mn to implement new technologies in UAE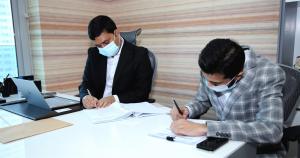 MoU Signing Between JHM Group & Napollo Software Design LLC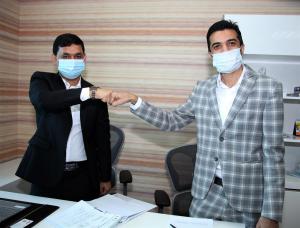 Chairman JHM Group Mr. Md. Mehedi Hasan with CEO Napollo Software Design Mr. Ahmad J. Butt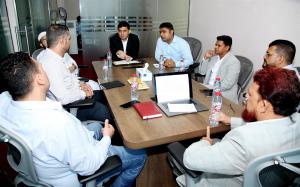 Chairman JHM Group addressing the need of Digital Transformation in BoD Meeting
Key objective of strategic agreement is to accelerate adoption of best practices and digitally transform JHM Group operations across the Region
DUBAI, UNITED ARAB EMIRATES, October 13, 2020 /EINPresswire.com/ -- JHM Group of Companies has announced the signing of a Memorandum of Understanding, MoU, with Napollo Software Design LLC aimed at expanding their strategic partnership and boosting cooperation, especially in the field of accelerating digital transformation in Dubai, UAE.
The MoU was signed by Mr. Md. Mehedi Hasan Chairman JHM Group - and Ahmad J. Butt, Group CEO & Chairman Napollo Software Design LLC at their Head Quarter in Jumeirah Lake Towers, Dubai.
The MoU aims to enhance cooperation in implementing new initiatives and projects associated with innovation and future technologies, in addition to sharing experiences, exchanging knowledge and conducting studies that will support the initiatives of JHM Group of Companies across UAE & South East Asia, accelerating the application of high-impact practices related to new technologies in manufacturing & implementing ERP across the JHM Group International operations.
It also aims to exchange expertise, best practices, and innovative solutions, enhancing the support provided to JHM Group to benefit from Napollo Software Design's regional technology hub in business bay Dubai and provide new opportunities to its strategic partners.
Napollo Software Design is known to be the Best web development agency in Dubai UAE that provides Block Chain Services in UAE & Digital Marketing services in Dubai. JHM Group will benefit from Napollo's expertise in the field of innovative technology, notably in the area of Mobile Application Development, Block Chain Development, artificial intelligence, AI, data analytics, transformation at the workplace, and locally focused 'Digital Marketing & web development'.
Speaking on the MoU, Mr. Mehedi Hasan said, "We are delighted with this agreement with Napollo Software Design, which will boost our efforts to driving the digital transformation of JHM Group. We are confident that our cooperation with one of the best IT company of its kind will give us an opportunity to maximize the potential of JHM International DMCC, whether related to its infrastructure or strategic partnerships, within an approach that supports efforts in accelerating digital transformation."
Napollo Software Design will host a series of workshops in several areas related to information technology, specifically Blockchain technologies, Augmented Reality, AR, Internet of Things, IoT, AI, and workplace transformation.
Napollo Software Design's Ahmad J. Butt commented, "We are very pleased to sign this MoU with JHM Group to enhance collaboration in areas of mutual interest and share our global expertise with JHM Grouop, supporting its efforts in accelerating digital transformation. We are working closely with our partners and customers in the UAE to facilitate and enhance the digital transformation journey and be part of realizing the Middle East Transformation.
For more information about Napollo's contributions in Middle East, Please visit www.napollo.ae
Mo Ali
Napollo Software Design LLC
+1 3474130990
email us here
Visit us on social media:
Facebook
Twitter
LinkedIn