ACWA Statewide Conference Drawing California Water Leaders to Monterey
/EIN News/ -- Keynote Speaker Schedule Revised From Previous Release

MONTEREY, Calif., May 06, 2019 (GLOBE NEWSWIRE) -- Four of California's top decision makers on water within state government will speak during the Association of California Water Agencies (ACWA) 2019 Spring Conference & Exhibition May 7 - 10 in Monterey.
State Water Resources Control Board Chairman Joaquin Esquivel will keynote a May 8 breakfast followed by California Environmental Protection Agency Secretary Jared Blumenfeld speaking at a luncheon the same day. California Natural Resources Agency Secretary Wade Crowfoot will speak at a May 9 luncheon. Department of Water Resources Director Karla Nemeth will participate in a Q&A discussion with ACWA Executive Director Dave Eggerton during a May 10 breakfast that concludes the conference.
How the administration of Gov. Gavin Newsom views policy on climate change will be among several topics addressed by speakers.
Overall, the conference will offer approximately 80 program sessions on issues including safe drinking water, groundwater sustainability, the Bay-Delta, legalized marijuana and water regulations, and how climate change affects atmospheric rivers.
The full conference program with event dates and specific times is available online:
https://www.acwa.com/events/2019-sp-conference/
WHAT:
WHEN:
WHERE:

     
ACWA's 2019 Spring Conference & Exhibition
Tuesday, May 7 through Friday, May 10
Monterey Conference Center, 1 Portola Plaza, Monterey
 
 
 
ACWA is a statewide association of public agencies whose more than 440 members are responsible for about 90% of the water delivered in California. For more information, visit www.acwa.com.

Contact: Heather Engel, Director of Communications | (916) 441-4545 | C (760) 217-0627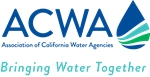 EIN Presswire does not exercise editorial control over third-party content provided, uploaded, published, or distributed by users of EIN Presswire. We are a distributor, not a publisher, of 3rd party content. Such content may contain the views, opinions, statements, offers, and other material of the respective users, suppliers, participants, or authors.