Reach Society GCT TEENSS youth visit GCT Deltaport
/EIN News/ -- TSAWWASSEN, British Columbia, April 17, 2019 (GLOBE NEWSWIRE) -- Youth with developmental disabilities involved in a respite group at Reach Child and Youth Development Society visited GCT Deltaport container terminal at Roberts Bank in April. The group is sponsored by Global Container Terminals Canada and offers social interaction, activities, and outings to youth with needs aged 12-18. GCT Canada Operations Manager Ryan Thomas hosted the weekend visitors in office and then took the group of 16 youth and 7 staff on a bus tour of the facilities. GCT TEENSS program coordinator Denise Sheridan said, "GCT was so generous with their time and contributions during our tour. The youth and staff thoroughly enjoyed it."

GCT stepped up to sponsor the teens program for 3 years in 2018. "We're proud to be part of the Delta community and helping it REACH its full potential by sponsoring the GCT TEENSS, a very special program offered by REACH that supports the optimal development of vulnerable youth," stated Eric Waltz, President of GCT Canada. The outing at the terminal is indicative of the increased number of activities and outings made possible by the GCT sponsorship that the youth might not otherwise experience. The funds also allow the GCT TEENSS program to have a number of years of predictable funding to expand and serve more youth in the community.
Reach Child and Youth Development Society is a non-profit charitable society that has been providing services to children and their families since 1959. At Reach we believe in the potential of every child, and we know each child is unique. We work together with families to recognize each child's strengths and develop their abilities. Reach currently provides programs and services to families in Delta, Surrey and Langley B.C.  Over 1000 children and their families benefit from our services on an annual basis.
Contact:
Alison Martin
Reach Child and Youth Development Society
alisonm@reachchild.org
+1 604 946 6622 ext 337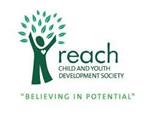 EIN Presswire does not exercise editorial control over third-party content provided, uploaded, published, or distributed by users of EIN Presswire. We are a distributor, not a publisher, of 3rd party content. Such content may contain the views, opinions, statements, offers, and other material of the respective users, suppliers, participants, or authors.