AppFutura publishes the list of Top 20+ Mobile App Development Companies in Ukraine - November 2018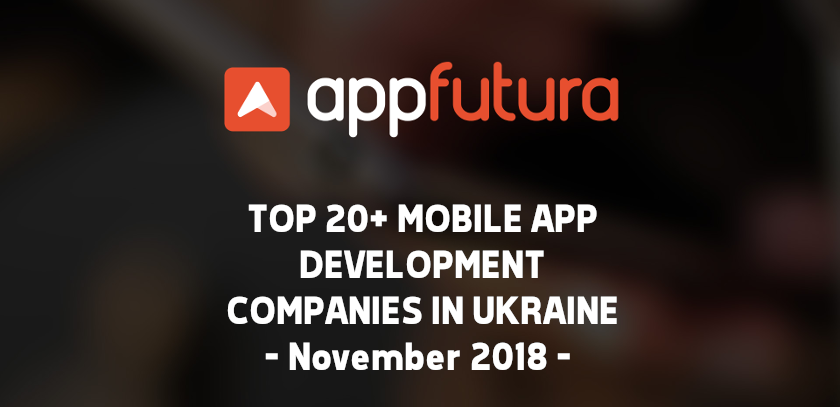 Top Mobile App Development Companies Ukraine November 2018
The worldwide app developers marketplace, AppFutura, publishes the best app development companies in Ukraine during this November 2018.
The list shows more than 20 of the best Mobile App Development Companies in Ukraine during this November"
— AppFutura
BARCELONA, BARCELONA, SPAIN, November 9, 2018 /EINPresswire.com/ -- The worldwide mobile app development companies directory, AppFutura, has published the Top 20+ Mobile App Development Companies in Ukraine - November 2018.
Ukraine has become one of the most promising markets for offshoring mobile app development in Eastern Europe thanks to its great location. Just one hour ahead of the main European cities and with only a 10-hour difference with Silicon Valley and main cities in California.
The list published by AppFutura includes more than 20 of the Top App Developers in Ukraine the marketplace has in its directory. This selection is based on different aspects like mobile app development companies with client reviews or the top-notch apps developed. Some of them are:
- Eastern Peak
- Ready4S
- PowerCode
- Mobox
- TechMagic
- Intellectsoft
- SteelKiwi Inc.
- ArtJoker Software
- IDAP
- Appus Studio
- Yalantis Team
- Reinvently
Some of the other mobile app development companies worth mentioning are Attract Group, Cleveroad, MLSDev Inc., Stfalcon, SoftLoft, NerdzLab, Star Apps Inc., Mobindustry Corp, Adoriasoft, GBKSOFT, Mind Studios, Aimprosoft, DevCom, Horizon, Gera-IT, JetRuby.
AppFutura has become a global lead-generation platform working in two ways. The first one is a worldwide directory providing high exposure to main app development companies located in different cities around the world. From there, potential customers can found their desired app developer bringing direct inquiries and clicks to the developers' websites. On the other hand, AppFutura has a project dashboard where businesses can post their app development needs, receive development proposals from top development companies and eventually hire their favorite through a safe payment system. For those in need of more thorough support, AppFutura's team can help you select the best candidates for your needs and will also assist you during the whole development process.
App developers are welcome to join our listings of Top App Developers or get in touch with our team to learn how they can benefit from using our platform.
Gerard
AppFutura SL
+34 935 94 90 41
email us here
Visit us on social media:
Facebook
Twitter
Google+
LinkedIn

EIN Presswire does not exercise editorial control over third-party content provided, uploaded, published, or distributed by users of EIN Presswire. We are a distributor, not a publisher, of 3rd party content. Such content may contain the views, opinions, statements, offers, and other material of the respective users, suppliers, participants, or authors.