Bridgestone Manufacturing Facilities Receive General Motors Company 2017 Supplier Quality Excellence Award
Tokyo (October 12, 2018) — Bridgestone Corporation (Bridgestone) today announced that its Thai Bridgestone Company, Tosu plant (Japan), Wilson and Aiken (USA) tire manufacturing plants received the General Motors Co. (GM) 2017 Supplier Quality Excellence Award. Among all of GM's suppliers around the world, this honorable award recognizes production plants and facilities that meet GM's stringent set of quality performance criteria, including product quality and certification of GM's required quality management system.
At the awards ceremony held in Japan on August 29, the award was presented by Jewel Shi, Director, Supplier Quality & Development, General Motors International, to Yoshikatsu Shino, Plant Manager, Tosu Plant, Bridgestone Corporation.
"Bridgestone strives to manufacture quality products under our mission Serving Society with Superior Quality. We are honored to receive this prestigious quality award for the third consecutive year, " said Shino. "This award is a tribute to our employees who produce the high-quality tires and provide exceptional service that partners like GM expect from Bridgestone."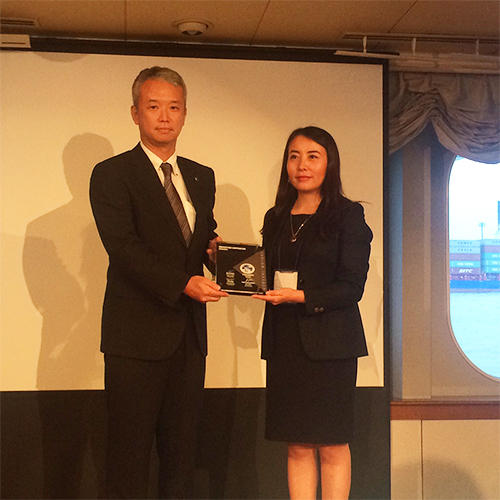 (From right to left) Jewel Shi, Director, Supplier Quality & Development, General Motors International, presents award to Yoshikatsu Shino, Plant Manager, Tosu Plant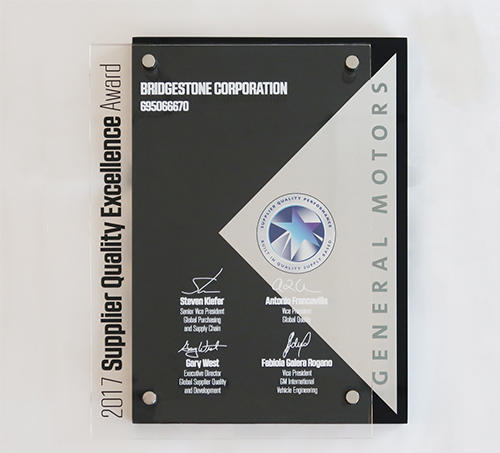 Award plaque (Tosu plant)