Johannesburg gets ready for DTC2018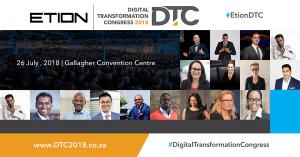 JOHANNESBURG, GAUTENG, SOUTH AFRICA, July 23, 2018 /
EINPresswire.com
/ -- We're a couple of days away from the highly anticipated
ETION Digital Transformation Congress 2018
which set to dominate the digital transformation conversation in South Africa.
Etion DTC 2018 takes place on 26 July 2018 at the Gallagher Convention Centre in Johannesburg, South Africa, where thought leaders, industry experts as well as local and international senior executives will come together to explore the latest technology trends such as AI, IoT, blockchain, IT security, 5G, robotics, and how they will impact business operations today. The event will offer a superior networking experience with some of the biggest names in the African technology arena.
Key topics for Etion DTC 2018 include:
• "Yes we can. Yes we did. Digital Transformation in the Obama White House".
• Developing a Digital Transformation Roadmap.
• Re-Thinking Business-IT Alignment.
• Weaving Artificial Intelligence into the Modern Organisation.
• Re-Aligning the Business Model to Effectively Engage Digital Customers.
• Tackling Security Challenges to Succeed with Digital Transformation.
• Accelerating Digital Transformation with IoT.
• Is Africa Ready for GDPR?
View agenda
Confirmed speakers for #EtionDTC:
• Tom Cochran, Obama White House and State Department Digital Leader
• Teddy Daka, Group Chief Executive Officer, Etion
• Deputy Minister of Communications, Ms Pinky Kekana
• Moshtaq Ahmad, CEO at NybSys/Racson
• Dr Lance Shingai Mambondiani, CEO, Steward Bank
• Vera Nagtegaal, Executive Head, Hippo
• Lazaros Karapanagiotidis, Head of Digital Innovation, Makro SA
• Lisa Macloed, Head of Digital, Tiso Blackstar
• Lebo Gunguluza, Group Chairman at GEM Group
• Maeson Maherry, Chief Solutions Officer at ETION Limited
• Lee Naik, CEO of TransUnion Africa
• Jeff Yu-Jen Chen, GIBS Business School'
• Rivoningo Mhlari, Co-Founder & CEO, Rikatec
• Vijay Naidoo, CIO, Parmalat Africa
• Dr Kenny Moodley, Head of Digital & Social Media, Eskom
• Birgitta Cederstrom, Global Commercial Director, Frost & Sullivan
• Andrew Dafoor, Group Chief Executive, Alexander Forbes
• Jonathan Novotny, Co-Founder & CEO, Code4Change
• Tawanda Chatikobo, Head of Digital, Nedbank Insurance
• Andre Kritzinger, Executive Head of ICT at CIPC
• Jamie Brighton, Product and Industry Marketing at Adobe
• Hennie Viljoen, XBRL Programme Manager at CIPC
• Jason Jardine, Cyber Security Executive at Darktrace
• Mike Perk, CEO of WWC
• Priya Thakoor, Chief Digital Officer at Coca-Cola
• Paul Jolliffe, Digital Security Portfolio & Solution Design Manager at T-Systems South Africa
• Mpumi Nhlapo, Head of Partner Sales & Marketing at T-Systems
Who will you meet at #EtionDTC?
Some of the speakers, industry leaders and senior executives in attendance, will be representatives from the following organisations: ETION Limited, Adobe ,Nedbank, Coca-Cola, Eskom, Lenovo, Transnet, Sanlam, Alexander Forbes, Tiso Blackstar, Liberty Group, T-Systems, Darktrace, CIPC, GSK, GIBS Business School, Parmalat, Petro SA, Gauteng Department of Health, Lenovo, MTN Business, Multichoice, Vodacom and many more.
How to participate:
Join as an attendee
: Join local and international CxOs, line-of-business (LoB) executives as well as heads of innovation, technology and strategy to discuss the techniques and tools required to implement a seamless digital transformation strategy that will drive profitability and customer centricity.
For more information regarding the conference, visit:
http://www.digitaltransformationcongress.com/
[t]: 011 026 0981/2 [e]: events@itnewsafrica.com
Digital Transformation Congress Transformation IT News Afric
www.digitaltransformationcongress.com
110260981
email us here

EIN Presswire does not exercise editorial control over third-party content provided, uploaded, published, or distributed by users of EIN Presswire. We are a distributor, not a publisher, of 3rd party content. Such content may contain the views, opinions, statements, offers, and other material of the respective users, suppliers, participants, or authors.