Brett Noyes, Founder, Managing Director, Unbank.Ventures, and Director North America Events at Fintech Worldwide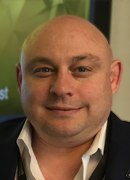 Brett Noyes, Founder, Managing Director, Unbank.Ventures, and Director North America Events at Fintech Worldwide
FINTECH WEEK 2018 https://newyork.fintechweek.com
www.SecuritySolutionsWatch.com
Talks About Upcoming FinTech Weeks and Blockchain Conferences "In The Boardroom" On SecuritySolutionsWatch.com
Honored to have Brett Noyes, Founder, Managing Director, Unbank.Ventures / Director North America Events at Fintech Worldwide join us "In The Boardroom" to discuss FinTech Weeks & Blockchain Events"
— Martin Eli, Publisher
NEW YORK, NY, USA, June 14, 2018 /EINPresswire.com/ -- ********************************************************************
SecuritySolutionsWatch.com: Thank you for joining us today, Brett. Before discussing your upcoming events in greater detail, please tell us about your background and may we have a brief history of Unbank.Ventures (https://www.unbankventures.com) and Fintech Worldwide (http://fintechww.com) ?
Brett Noyes: Unbank.Ventures is a FinTech/Blockchain Incubator program located in Silicon Valley. I started the program to help companies in the financial services industry find the resources they need to build/scale their companies. To date, we have worked with 27 companies in 3 cohorts. We are ramping up for our fall Blockchain/AI incubator program called, UnchainVentures (https://www.unchainventures.com)
FinTech Worldwide is a global leader in FinTech and Blockchain community development and events. We love what they are doing, so we partnered with them in early 2018 to put on their North America events. We saw it as a great opportunity to continue to build the FinTech community globally and do our part in North America.
SecuritySolutionsWatch.com: What does your upcoming calendar of events look like?
Brett Noyes: We have a fun line up of events this summer. We have two FinTech Weeks and two Blockchain Conferences coming up this summer. These events will feature thought leaders and exciting startups in the FinTech & Blockchain space. Whether you are an expert in the field or just curious to learn more about the subject these are great events to learn and meet great people in the space. To learn about all our events globally go to fintechww.com (http://fintechww.com).
SecuritySolutionsWatch.com: So much is happening in the Blockchain and FinTech space at this time – what is your perspective Brett on emerging trends?
Brett Noyes: Blockchain technology is touching so many industries globally. We are excited to see the commercialization of Blockchain in Global Trade Finance. The trend we are seeing is that Blockchain is going from theoretical ideas to actual application in global trade and related logistics. Personally, I expected this technology to be stuck in pilot applications for years before it made it to real-life commercialization. Leaders in financial services space are utilizing Blockchain technology to reduce inefficiencies and create competitive advantages. This is a trend we are excited about.
SecuritySolutionsWatch.com: What can attendees expect to see, hear and learn at your upcoming events…who are some of the key speakers and sponsors?
Brett Noyes: At our events, you never know what you will hear. When we put together our panels we try to get a wide range of perspectives and let the audience draw their conclusion. Ultimately, we are here to facilitate a conversation between industry experts. So, to finally answer your question you can expect to see and hear real insights on the subject of FinTech/Blockchain commercialization, regulation issues, investment insights, startup advise and prediction for the future. We have a great line up of speakers and adding new one's daily. To name a few we are excited that the boistrous Tim Swanson (https://www.linkedin.com/in/timswanson/) , Caroline Kassie (https://newyork.fintechweek.com/agenda/speakers/282037) of Blockchain Ventures & Rahul Sood (https://www.linkedin.com/in/voodooftw/) founder of Unikrn will be joining us this year.
SecuritySolutionsWatch.com: Care to mention the highlights from your most recent events?
Brett Noyes: In our last event series we did 1-day Blockchain events in Silicon Valley, New York, Toronto and Chicago. It was very interesting to learn how people in each market had a unique view on Blockchain from both a regulation and investment standpoint.
I was especially proud of our ICO Panel New York (https://www.blockchain-newyork.com/agenda/session/231217) . I asked colleagues for introductions to the smartest people in the space and they just happened to be all women. It was an incredible panel and speaks well to the future of this industry.
SecuritySolutionsWatch.com: Thank you again for joining us today, Brett, any other subjects you care to mention?
Brett Noyes: Thank you for your time today. We would love to have you all at our events this summer. To learn more go to fintechww.com (http://fintechww.com). If you are a Blockchain startup applications are open at Unchainventures.com (https://www.unchainventures.com).
###
For our complete interview with Brett Noyes, please click here:
http://www.securitysolutionswatch.com/Interviews/in_Boardroom_Unbank_Noyes.html

****************************************************************************************************************
About SecuritySolutionsWatch.com
www.SecuritySolutionsWatch.com features thought leadership interviews about Blockchain, FinTech, IT, IoT and security solutions. Our flagship "In The Boardroom" program, now in its 15th year, has delivered outstanding content about solutions from leading global brands such as: 3M, AMAG Technology - A G4S Company, ASSA ABLOY, Cisco Security, Dell EMC, HP Cybersecurity, Fujitsu, Gemalto, HID Global, IBM, ImageWare, Intel, SAP, Siemens Security, Stanley Security, SONY Security, Unisys, and Yahoo, just to name a few.
What's YOUR Blockchain or FinTech solution?
What's YOUR authentication, cybersecurity, physical security, mobility, or "smart" solution?
We invite you to please join us "In The Boardroom" at www.SecuritySolutionsWatch.com.
For a quick tour to see exactly how your brand will be featured, please contact Ali Eng on our publishing team via
email: ALE@SecuritySolutionsWatch.com, or phone: 1+914.690.9351 .
LinkedIn: https://www.linkedin.com/in/ali-eng-a8a41015b/
For more details, please click here: www.SecuritySolutionsWatch.com/Main/Jan2018.pdf
And for our Media Kit, please click here: www.SecuritySolutionsWatch.com/MediaKit.html
****************************************************************************************************************
It's FREE...our monthly newsletter with thought leadership content from leading security experts.
Please click here: www.SecuritySolutionsWatch.com/newsletters/newsletter_2018_06.html
And please visit us on Twitter here: www.twitter.com/SecStockWatch
****************************************************************************************************************
THIS PRESS RELEASE, AND ALL ADVERTISING, CONTENT AND ALL OTHER MATERIAL AND INFORMATION WHICH APPEARS ON SECURITYSOLUTIONSWATCH.COM AND/OR SECURITYSTOCKWATCH.COM, ONLINE AND/OR IN PRINT, IS SUBJECT TO OUR TERMS OF USE, CONDITIONS, AND DISCLAIMER HERE: www.SecuritySolutionsWatch.com/Main/Terms_of_Use.html
****************************************************************************************************************
Martin Eli, Publisher
SecuritySolutionsWatch.com
1+914.690.9351
email us here

EIN Presswire does not exercise editorial control over third-party content provided, uploaded, published, or distributed by users of EIN Presswire. We are a distributor, not a publisher, of 3rd party content. Such content may contain the views, opinions, statements, offers, and other material of the respective users, suppliers, participants, or authors.