T-MOBILE HONORS VETERANS AS NEW NVBDC SPONSOR
The country's leading Certification Organization for SD/VOBs of all sizes.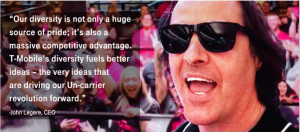 T-Mobile Celebrates Diversity
Our diversity is not only a huge source of pride; it's also a massive competitive advantage. T-Mobile's diversity fuels better ideas - the very ideas that are driving our Un-carrier revolution forward"
— John Legere, CEO, T-Mobile
DETROIT, MI, UNITED STATES, April 9, 2018 /
EINPresswire.com
/ -- The National Veterans Business Development Council (NVBDC) is proud to announce T-Mobile as our latest corporate sponsor. As the leading third party certification organization of Veteran owned businesses, NVBDC is honored to work with T-Mobile, who consistently promotes and celebrates inclusive diversity spending. With certification, Service Disabled and Veteran Owned Businesses (SD/VOBs) now have the opportunity and access to Supplier Diversity Programs such as T-Mobile's.
T-Mobile doesn't just recognize diversity, they celebrate it.
According to T-Mobile, "We want to break down barriers and build opportunities in their place. These partnerships with diverse suppliers connect us to a more whole and diverse business community, and that lets us provide products and services that suit our customer's needs, and at T-Mobile We Won't Stop!"
"We are thrilled to have T-Mobile come on board as a sponsor. They are a strong example of a corporation who actively pursue inclusive relationships with Veteran Owned Businesses. 2018 is going to be a tremendous year for our certified SD/VOBs who are seeking economic opportunities with companies such as T-Mobile" said Keith King, President NVBDC
Veteran focused Diversity Spending Programs are an $80 billion dollar market in the United States. Other corporations who support the NVBDC in certifying SD/VOBs include the 27 member corporations of the Billion Dollar Roundtable, Kellogg's, AT&T, General Motors, Ford, JP Morgan Chase & Co., PPG, Blue Cross Blue Shield of Michigan,
Facebook
, BMW, Google, Microsoft, Apple and many more.
T-Mobile's Mission
Provide access and fair and equitable opportunity for minority owned, woman owned, LGBT owned, veteran or service-disabled veteran owned, disability owned, and SBA-defined small and disadvantaged businesses to be included as direct and indirect suppliers. Grow a robust supply chain that reflects our diversity and values, strengthens our customer relationships and economically develops the communities we serve.
NVBDC's Mission:
The NVBDC is the only Veteran Owned Business Certification organization developed by Veterans, for Veterans. The purpose is to provide a credible and reliable certifying authority for all size businesses ensuring that valid documentation exists of Veteran ownership and control.
FIND US. LIKE US. FOLLOW US. JOIN US.
LinkedIn
, Facebook,
Twitter
, YouTube.
Keith King
National Veteran Business Development Council
3136453883
email us here