BND Levante Group S.A. has been Awarded by The European Global Banking & Finance Awards 2018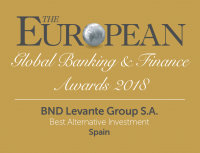 BND award logo
BND Levante Group S.A. announced today that it has been awarded for Best Alternative Investment in Spain by The European Global Banking & Finance Awards 2018.
BENIDORM, SPAIN, January 12, 2018 /
EINPresswire.com
/ --
BND Levante Group
announced today that it has been
awarded
for Best
Alternative Investment
in Spain by The European Global Banking & Finance Awards 2018.
BND Levante Group thanks all fans and voters for their vote:
http://www.the-european.eu/story-12648/bnd-levante-group.html
.
The European, over the last several years, has been celebrating achievement, innovation and excellence through its annual awards programme. The aim is to give corporate organisations an insight into various achievements within a range of organisations.
About BND Levante Group
BND Levante Group was incorporated as an independent Spanish company to issue corporate bonds as alternative financing to buy prime real estate in order to meet the growing demand for short-term holiday rentals in Benidorm.
BND Levante Group owns and generates income from real-estate properties in Benidorm. It allows anyone to invest in real estate in a simple, easy and safe way: through the purchase of bonds online.
Benidorm is the Las Vegas of Spain. Throughout the year, this city is occupied by 85% of tourists from all around the world. Benidorm is an ideal place for short-term rentals. Short-term rentals are the most profitable in terms of investment.
The value of the bond is secured by BND Levante Group prime real estate portfolio. All bond holders have the first right on the prime real estate BND Levante Group buys in Benidorm. All the properties BND buys have a long-time history of rental income that will cover the interest rate on the bond.
Paul Dunn
BND Levante Group SA
+34 965 798 373
email us here