Kyyba honored for presenting its creative HR practices at NHRD Bangalore HR Showcase 2017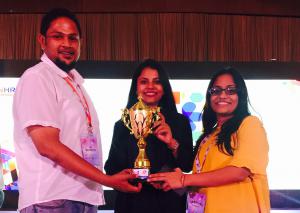 Kyyba's "Supplier Diversity Model - Gesture Beyond Business" judged winner at HR Showcase 2017
BANGALORE, KARNATAKA, INDIA, December 6, 2017 /
EINPresswire.com
/ --
Kyyba Inc.
was recently named by NHRD HR Showcase 2017 as the "Best Creatives" for its best practices in the field of Diversity and Inclusion. Kyyba Inc. received this honor at a recent event recognizing organizations with significant contributions in the HR field.
"Kyyba has made a mark and this is the first time we have won an award in India that too in such a huge forum. Kyyba Inc. has been judged winner amongst multinationals in this category," said Nikita, Kyyba India Director. "I am very proud of our team for their hard work and extremely delighted that Kyyba's work towards diversity and inclusion  has been acknowledged. My sincere gratitude to Kyyba leaders Thiru Ganesan and Tel Ganesan for all support and guidance. NHRD is a great forum for companies to come together and share their best practices. We are already looking forward to participate at the next year event."  
The NHRD HR Showcase, is a signature event of the NHRD Bangalore Chapter, and is shaped to bolster the enduring spirit of the HR practices. This is a unique platform to present HR excellence, spanning a range of unique sensibilities, from an intellectual re-imagining of concepts and cultures to an intuitive adaptability for significant business impact. This year the competition categories included
1: Digital Era of HR – AI, Big Data and Predictive People Analysis
2: Building an inclusive workforce
3: HR Leadership in a Digital Age
4: HR as a Profit Center/Enabler/ Strategic HRPB  
Kyyba was honored for presenting it's creative HR practices "Supplier Diversity Model - Gesture Beyond Business". These practices have helped in Kyyba's business growth and in augmenting its social commitment. Along with Kyyba's initiative and commitment in uplifting minority group, its unique  56% female leadership team was appreciated by one and all. Kyyba booth had an overwhelming response from numerous HR fraternity and leaders,  visitors from education industry,  professionals  and students from reputed institutes.            
The highly insightful 2 day conference included talks by experts and leaders in HR field-  Mrinalini Mirchandani, Partner at McKinsey & Company,  S. Vaitheeswaran, MD & CEO, Manipal Education and Sushma Rajagopalan, MD & CEO at ITC Infotech. The panel discussions and networking event enabled the NHRD audience to understand the perspective of peers towards the role of HR and need for HR to change from Enabling partner to Strategic partner.
"Our sincere gratitude to the NHRD organizing committee Gargi Verma, Anish Philip and Charles Herlufson  for organizing such a unique trade show style event for HR professionals to present their most impactful HR practices and initiatives," said Shiji Nambiar, HR Manager, Kyyba Inc.  
About Kyyba Inc:
Kyyba Inc., is a global staff augmentation and project solutions firm headquartered in Farmington Hills, Michigan with multiple locations across the globe. Kyyba provides customized staffing solutions delivering qualified employees in various disciplines to allow clients to adjust staffing needs to fit business demands. Industry areas include, but are not limited to: Automotive, Education, Financial Services, Public Services, Aerospace and Defence, Insurance, Transportation, Technology ,Government, Healthcare and Medical, Manufacturing and Oil and Energy.  
Nikita K.
Kyyba Inc.
+91- 9945059442
email us here