Cecelia Lore to Offer Gems, Crystals and BeadedGratitude Classes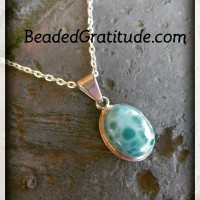 BeadedGratitude
California artist incites creativity and change with workshops for women on a path of self discovery
SACRAMENTO, CA, UNITED STATES, August 1, 2017 /EINPresswire.com/ -- What is Cecelia Lore particularly excited about? Her BeadedGratitude workshops' ability to change lives. The Northern California entrepreneur and shop owner is facilitating local and national classes beginning this summer, her publicist announced today.
Attendees have the opportunity to create using beads, crystals and gems such as pietersite, a variety of Quartz. Pietersite is composed of Tiger's Eye, Hawk's Eye, and Jasper and is believed to help clear mental pathways.
The Chico, California resident says that expressing creativity can lead to being empowered. She added that artistry helped her process and heal emotionally such as grieving the loss of her three-year-old daughter, Ariel.
"My traumatic experiences have been gifts with the purpose of serving others in their healing. I am still on my own journey," she explained.
As she began to bead and create, Lore says she discovered that the activity truly nurtured the whole person.
"The crystals, gems and beads gently remind us that you are first, a spiritual being experiencing a condition, not the former way around. These materials allow us to see the lessons as well as the optimistic outcome of struggles and issues we have in our daily lives," Lore concluded.
The announcement of her BeadedGratitude workshops has created a spark of student interest and curiosity. Cecelia Lore says the set up will be similar to paint parties. For an affordable fee, attendees will create an original piece of art. Unlike the paint parties where all participants paint the same picture, attendees will enjoy sheer creativity.
"Cecelia's workshops are a great place to create an original gem piece," says Fran Briggs, publicist to Cecelia Lore. "But attendees will also enjoy a chance to create something tangible and relevant to help them bounce back and heal from whatever is not serving them."
The artist also operates her online shop. To purchase one of a kind, handmade merchandise, please visit http://beadedgratitude.com/shop. For more information including bookings, community and corporate sponsorship opportunities, please email, FranBriggs@aol.com The artist is seeking local and national collaborations with recreational centers, festivals, and private entities.
Fran Briggs
eMediaCampaigns!
510 371 4821
email us here

EIN Presswire does not exercise editorial control over third-party content provided, uploaded, published, or distributed by users of EIN Presswire. We are a distributor, not a publisher, of 3rd party content. Such content may contain the views, opinions, statements, offers, and other material of the respective users, suppliers, participants, or authors.