Quebec, Meet HeliSAM!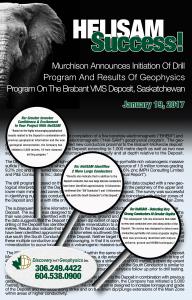 HeliSAM Successfully Finds Large VMS Property in Saskatchewan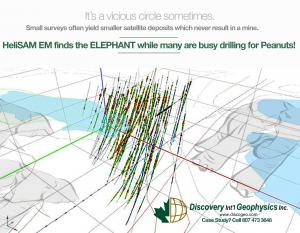 HeliSAM - find the elephant instead of drilling for peanuts

HeliSAM and HeliWinder Represent a Paradigm Shift in Geophysics Exploration
HeliSAM, une avancée technologique au service de votre prochaine découverte
English version also available, please email."
— Kevin Palmer
THUNDER BAY, ONTARIO, CANADA, January 31, 2017 /
EINPresswire.com
/ -- DISCOVERY GEOPHYSICS a le plaisir d'annoncer que c'est grâce à sa technologie HeliSAM, que la récente découverte d'un riche dépôt de SMV à été identifiée en Saskatchewan. HeliSAM est un instrument performant qui se distingue par sa capacité à détecter des zones jusqu'à 1 000 mètres sous la surface, profondeur jusqu'à maintenant impossible à atteindre par des instruments de géophysique.
Le Québec regorge de structures géologiques de sulfure massif volcanogène (SMV), avec un potentiel semblable à celui de la Saskatchewan. Ces structures sont désormais détectables à des niveaux beaucoup plus profonds grâce à la technologie mise au point par DISCOVERY GEOPHYSICS. HeliSAM et HeliWinder sont des équipements à la fine pointe et exclusifs qui permettent à DISCOVERY GEOPHYSICS d'analyser rapidement et efficacement les dépôts de SMV ainsi que les métaux de base, comme aucune autre technologie disponible actuellement.
full story here
Kevin Palmer
Discovery Geophysics
807 473 3648
email us here
Cutting Edge Geophysics