World Laparoscopy Hospital Launches Its Mobile Application
Laparoscopic Training at World Laparoscopy Hospital
World Laparoscopy Hospital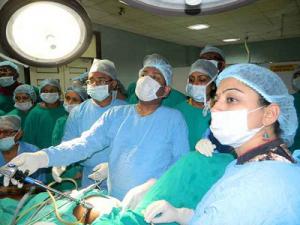 Hands On Laparoscopic Surgery Training at World Laparoscopy Hospital
Top super specialty academic medical institute - World Laparoscopy Hospital passes another milestone with the launch of their Mobile Application.
"Skilled Surgeon Safer Surgery"
— Dr R K Mishra
GURGAON, NCR DELHI, INDIA, December 23, 2016 /
EINPresswire.com
/ --
World Laparoscopy Hospital
, India has launched its mobile application to train surgeons and gynecologist. The launch of this mobile application will be very beneficial for the surgeons or gynecologists who are learning Laparoscopy or robotic surgery, as they would be able to do a variety of things via World Laparoscopy Hospital's Mobile Application.
The explosive growth of medical applications for smartphones, launched; debut of the innovative WLH mobile application, promises to fundamentally change the surgeon's learning tool set. While many specialties have always been heavily dependent on technology, such as radiology and cardiology, the ubiquity of these small, interconnected computers means that every surgeon and gynecologist will soon have access to a broad array of software and hardware to help them perform their minimal access surgery.
According to Dr. R.K. Mishra, Director, World Laparoscopy Hospital, with their Mobile Application the doctors will get easy access to 'laparoscopic article, laparoscopic lecture and surgery videos and images uploaded by the faculty of World Laparoscopy Hospital and experience directly from their mobile devices using the appropriate media-specific software'. Apart from that, World Laparoscopy Hospital's Mobile Application will also help doctors 'track and manage the progress of CME, from turning in Fellowship and Diploma in Minimal Access Surgery assignments to reminders to pick up the CME certificate.
World laparoscopy Hospital mobile application is showing all the news update, recent advancement related to the field of Minimal Access Surgery. Surgeon can have direct live streaming of laparoscopic video. They can interact with other expert laparoscopic surgeon and they can start their own laparoscopic discussion forum with the help of this mobile application.
Tasks allow them to mark when they have started a CME, when it's in progress, and when complete'.
But that is not it because the World Laparoscopy Hospital has developed its amazing Mobile Application in such a way that the students of the World Laparoscopy Hospital can also have instant, on-the-go access to the latest announcements; and also, read and reflect on the articles of World Journal of Laparoscopic Surgery.
So, the World Laparoscopy Hospital Mobile Application will not only help students in their studies but will also help the students in staying up-to-date.
According to World Laparoscopy Hospital, "
Mobile application of the World Laparoscopy Hospital
is a useful tool for any resident surgeon, gynecologist or urologist that does not want to miss anything important related to laparoscopic surgery".
The best thing is that this mobile application is completely free and available for Android, iOS, Blackberry and Windows platforms. So, it does not matter what phone one has because any student that is selected for Laparoscopy or robot surgery training will get access to this amazing Mobile Application.
Over the past decade, the use of technology in medical education has exploded, and there are now literally thousands of tablet and smartphone apps created to help doctors learn in more interactive and entertaining ways. The debate about using apps for educational purposes is still ongoing in the field of minimal access surgery, but despite any supposed drawbacks for clinical education, the benefits of using apps for even laparoscopic education are numerous and in some extent proven.
WLH laparoscopic mobile apps promote learning because they are interactive and educational. Disguising a lesson as a game makes a surgeon more interested in completing it, and it also makes it more likely he will want to engage with it more than once. Also, level-based quizzes that reward users at the completion of each level provide incentive for learning information and completing surgical tasks correctly.
For further details about World Laparoscopy Hospital's newly launched mobile application, please go to
https://www.laparoscopyhospital.com/apk.html
About World Laparoscopy Hospital:
World Laparoscopy Hospital is a nonprofit super specialty academic medical institute that integrates clinical and hospital care with research and education in Minimal Access Surgery. World Laparoscopy Hospital was established in 2001 by
Dr. R. K. Mishra
, who is one of the most experienced professors of laparoscopic and robotic surgery. He has trained more than 7000 surgeons and gynecologists from more than 108 countries in last 15 years. He has vast experience of teaching laparoscopic and da Vinci robotic surgery. He has also published several articles in different journals of the World, and several best-selling books.
For more information about World Laparoscopy Hospital and Dr. R. K. Mishra, please go to
https://www.laparoscopyhospital.com/
Dr Rahul pandey
World Laparoscopy Hospital
9999677788
email us here
World Laparoscopy Hospital Mobile Application