Software And BPO Services Global Market to Grow to $400 Plus Billion in 2019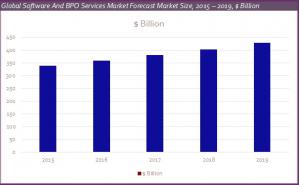 LONDON, GREATER LONDON, UNITED KINGDOM, November 26, 2016 /
EINPresswire.com
/ -- Virtualization is the most popular trend in the Software and BPO Services Global Market. Virtualization allows enterprises to eliminate entire servers as well as the associated infrastructure and operating costs. This not only streamlines a company's IT infrastructure, it also lays the foundation for more strategic IT initiatives.
For the full report, visit The Business Research Company:
http://www.thebusinessresearchcompany.com/our-research/information-technology/software-and-bpo-services-global-market-analytics-outlook-2016/
Virtualization has opened opportunities for IT services companies to offer Infrastructure–as–a–Service (where businesses rely on equipment owned by IT service providers) and Platform–as–a–Service (where businesses rely on software and platforms owned by IT service providers) to their clients. The
virtualization services market
is expected to grow at a CAGR of 24% during 2015-19.Since customers are exploring opportunities to reduce operational costs associated with IT infrastructure, IT services companies should consider offering cost effective virtualization solutions.
Software and BPO Services can be broadly classified into- Applications software programming services, Computer program (software) development, Computer software support services and Web design services.
The software and BPO services market is relatively concentrated, with a number of large, global players. The top competitors like IBM, Accenture and SAP have installed and configured virtualization systems and processes.
The Business Research Company expects the
software and BPO services market to grow to $429 billion in 2019
. The Americas was the largest geographic market in the software and BPO services market in 2015, accounting for 38.1% of the global market.
According to The Business Research Company's Technology analyst, Mr. Ramesh, the software and BPO Services Market will experience growth in the future due to the growing importance of the Internet of Things (IoT) and government Initiatives like Digital India and The Open Government Initiative.
The Business Research Company Report's Coverage:-
 Market Covered:- Computer Facilities Management, Computer Systems Design Services, Software Services, Data Processing and Hosting.
 Companies Mentioned:- Telecom, IT Services, Software Products, Computer Hardware.
 Countries:- Australia, Brazil, China, France, Germany, India, Italy, Japan, Spain, Russia, UK, USA.
 Regions:- Asia, Americas, Europe, Middle East & Africa, Oceania.
 Time Series:- Five years historic and forecast.
 Data Segmentations:- Country and regional splits, market share of competitors, market segments.
 And More:- Please Visit tbrc.info
Key Points of the Software and BPO Services Marke Report:
1. Market Characteristics.
2. Historic Data.
3. Forecast Data.
4. Mergers and Acquisitions in the market.
5. The latest trends in the market.
Follow us for the latest updates:
https://www.facebook.com/The-Business-Research-Company-1664946437159339/
https://www.linkedin.com/company/the-business-research-company
https://twitter.com/tbrc_info
About The Business Research Company
The Business Research Company is a market research and intelligence company which excels in company, market and consumer research.
It has research professionals at its offices in the UK, India and the US as well a network of trained researchers globally. It has specialist consultants in a wide range of industries including manufacturing, healthcare, chemicals and
technology industry
.
Oliver Guirdham
The Business Research Company
8897263534
email us here