Media Global Market Worth $ 2 Trillion BY 2019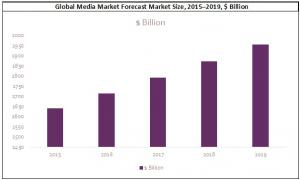 LONDON, GREATER LONDON, UNITED KINGDOM, November 24, 2016 /
EINPresswire.com
/ -- The word 'media' refers to the technology by which information is delivered to an audience. The media industry consists of businesses that produce and distribute television and radio programs, motion pictures, and commercials along with video and audio recordings, games and publishing.
For the full report, visit The Business Research Company:
http://www.thebusinessresearchcompany.com/our-research/media/media-global-market-analytics-report-2016/
Media plays an important role in making the world a global village and reducing the communication gaps. Media is considered as a source of channel for information, education, entertainment and advertising.
Media content is delivered to audiences through various means, particularly mass media. Mass media include all technologies by which information is communicated to large groups of people.
Broadcasting media has undergone significant changes in recent years. The transition to digital broadcasting has allowed television stations to offer additional programming options through digital sub-channels. A number of new commercial networks airing specialty programming such as history, wildlife and lifestyle programs have been created. Many educational and religious broadcast networks have also launched to satisfy various niche audience sectors. Broadcasters are focusing on diversification of their channel offering to increase their consumer base.
According to The Business Research Company's Media Consultant, Ramesh Yelugoila, the growing demand from consumers for anytime and anywhere content has translated to exponential growth in digital media. The increase in the number of devices capable of supporting digital media combined with increasing internet access speed has provided consumers the ease to access information, entertainment or social activity anytime, anywhere. In the USA there has been a significant jump from
traditional media to digital media
giving rise to media players such as Netflix, Hulu, Amazon and Apple TV. Mobile devices have emerged as the preferred medium of online media globally.
The Business Research Company expects the
media market to grow to approximately
$2 trillion in 2019. The Americas was the largest geographic market in the
media market
in 2015, accounting for a little over a third of the global market.
The figure shows the year-on-year growth of the global media market during 2015–2019.
The Business Research Company Report's Coverage:-
 MARKETS COVERED:- Computer Facilities Management, Computer Systems Design Services, Software Services, Data Processing and Hosting.
 COMPANIES MENTIONED:- Telecom, IT Services, Software Products, Computer Hardware.
 COUNTRIES:- Australia, Brazil, China, France, Germany, India, Italy, Japan, Spain, Russia, UK, USA.
 REGIONS:- Asia, Americas, Europe, Middle East & Africa, Oceania.
 TIME SERIES:- Five years historic and forecast.
 DATA SEGMENTATIONS:- Country and regional splits, market share of competitors, market segments.
 AND MORE:- Please Visit tbrc.info
Key Points of the Information Technology Report:
1. Market Characteristics.
2. Historic Data.
3. Forecast Data.
4. Mergers and Acquisitions in the market.
5. The latest trends in the market.
Follow us for the latest updates:
https://www.facebook.com/The-Business-Research-Company-1664946437159339/
https://www.linkedin.com/company/the-business-research-company
https://twitter.com/tbrc_info
About The Business Research Company
The Business Research Company is a market research and intelligence company which excels in company, market and consumer research.
It has research professionals at its offices in the UK, India and the US as well a network of trained researchers globally. It has specialist consultants in a wide range of industries including manufacturing, healthcare, chemicals and technology.
Oliver Guirdham
The Business Research Company
UK +44 744 3439350| Asia +91 8897263534 |US +1-484-625-8871
email us here