Pentagon Jr. Defeats Brian Cage to Become First PCW Heavyweight Champion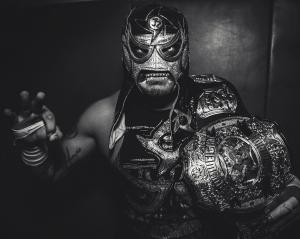 Pentagon Jr. New PCW Heavyweight Champion
Mr. 450 New PCW Light Heavyweight Champion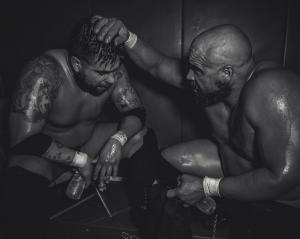 Keepers of the Faith - New PCW Tag Team Champions
Mr. 450, Keepers of the Faith Also Win Gold at Title Wave
TORRANCE, CA, USA, August 22, 2016 /
EINPresswire.com
/ -- Torrance, CA, August 22, 2016 – Mexican wrestling sensation,
Pentagon Jr
. defeated Willie Mack and "The F'N Machine" Brian Cage to win
Pacific Coast Wrestling
's Heavyweight Title Tournament in Torrance, CA on Saturday, August 20th.
Pentagon Jr., who is one of the most popular wrestlers in the world, advanced to the tournament finals by defeating Willie Mack in a back and forth contest that saw fans cheering both competitors, and both competitors flying into the sold out crowd. He became
PCW
's first champion by defeating the self-professed "luchador killer", Brian Cage in a heated contest.
Cage had advanced to the finals of the tournament by defeating "The God of War" JR Kratos, who had never been pinned in PCW.
PCW also crowned its first Light Heavyweight Champion, when Puerto Rico's Mr. 450 defeated Scorpio Sky in the finals of the Light Heavyweight Championship Tournament. The high-flying match saw Mr. 450 get the win after executing his 450 splash twice on the previously undefeated Sky. Mr. 450 defeated Kevin Martenson in the semifinals before defeating Sky, who had a first round bye.
Keepers of the Faith (Gabriel Gallo and Dom Vitalli) defeated Reno Scum (Luster the Legend and Adam Thornstowe) in a bloody match for the PCW Tag Team Titles. KOTF may have won the battle, however the war with Reno Scum is definitely not over.
Full event results:
Douglas James defeated Tyler Bateman
Jacob Fatu defeated Jorel Nelson
Mr. 450 defeated Kevin Martenson to advance in the PCW Light Heavyweight Tournament
Brian Cage defeated JR Kratos to advance in the PCW Heavyweight Tournament
Pentagon Jr. defeated Willie Mack to advance in the PCW Heavyweight Tournament
Alexander Hammerstone defeated Yoshi Tatsu
Keepers of the Faith defeated Reno Scum to win the PCW Tag Team Titles
Mr. 450 defeated Scorpio Sky to win the PCW Light Heavyweight Title
Pentagon Jr. defeated Brian Cage to win the PCW Heavyweight Title (after the match it was announced that Rob Van Dam would wrestle Pentagon Jr. for the PCW Championship on November 12th)
Information, tickets and merchandise can be found online at pacificcoastwrestling.com.
###
About Pacific Coast Wrestling (PCW)
Based in the heart of the South Bay of Los Angeles, Pacific Coast Wrestling (PCW) brings exciting, hard hitting professional wrestling action to Torrance, CA. PCW offers a blend of Japanese strong style and old school pro wrestling (1970s and 80s NWA) and features some of the best independent wrestlers in the industry, including former NWA and AWA Champion the Almighty Sheik, Pentagon Jr., Brian Cage, Scorpio Sky, Willie Mack and more. For more information regarding Pacific Coast Wrestling, please visit pacificcoastwrestling.com or facebook.com/pacificcoastwrestling.
About Oak Street Gym
Located in Torrance, CA, Oak Street Gym has a mission to engage the community in physical fitness and wellness activities by offering the finest indoor sports recreation programs, service, staff and facilities. With a large multipurpose court, the facility accommodates basketball, futsal, volleyball, tennis, ping pong, badminton, team practice events, club/youth group events, healthy lifestyle events (yoga, physical fitness clubs, etc.), team building events and professional wrestling. For more information regarding Oak Street Gym, please visit oakstgym.com or facebook.com/oakstreetgym.
Contacts
Pacific Coast Wrestling (PCW)
Mike Scharnagl, 855-70 PACIFIC x 2 (Media Inquiries Only)
mikes@pacificcoastwrestling.com
Oak Street Gym
Christine or JP Abilla, 310-533-9377
piutorrance@gmail.com
Michael Scharnagl
Pacific Coast Wrestling
855-707-2243
email us here

EIN Presswire does not exercise editorial control over third-party content provided, uploaded, published, or distributed by users of EIN Presswire. We are a distributor, not a publisher, of 3rd party content. Such content may contain the views, opinions, statements, offers, and other material of the respective users, suppliers, participants, or authors.