Bridgestone Sweeps Podium at 39th Coca-Cola Zero Suzuka 8 Hours
TOKYO (August 5, 2016) - Bridgestone Corporation announced today that the tire manufacturer swept the podium at the 39th Coca-Cola Zero Suzuka 8 Hours Endurance Road Race, which took place July 28th through 31st, 2016. The event was the fifth time teams racing on Bridgestone Tires have dominated the podium at this premier race.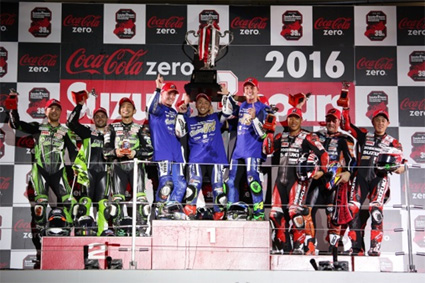 Podium Ceremony
"I would like to sincerely congratulate the members of the YAMAHA FACTORY RACING TEAM," said Michihiro Suzuki, vice president and officer of global brand strategy and motorsport at Bridgestone Corporation. "Race day was very hot with high surface temperatures, but the participating teams put on a great show. Our tires performed very well in the extreme conditions, leading to Bridgestone's 11th consecutive victory at Suzuka. I'm more than excited with the result, and we hope to extend our winning streak again next year."
Riders Katsuyuki Nakasuga, Pol Espargaró and Alex Lowes pushed the Bridgestone-equipped YAMAHA FACTORY RACING TEAM to victory. It was the second year in a row the YAMAHA FACTORY RACING TEAM has climbed to the top step of the podium at Suzuka. The win also broke the record for most consecutive wins by a single tire supplier.
"We are very excited to bring the victory to our team two years in a row," said Wataru Yoshikawa, team manager for YAMAHA FACTORY RACING TEAM. "Bridgestone has supported us with great performance tires, and I would like to express sincere gratitude as the team representative. We worked closely with Bridgestone to get the best performance out of tires and that brought us the best result."
Team GREEN riders Akira Yanagawa, Kazuki Watanabe and Leon Haslam, finished second, while YOSHIMURA SUZUKI Shell ADVANCE riders Takuya Tsuda, Joshua Brookes and Noriyuki Haga rounded out the podium, completing the 1-2-3 finish for Bridgestone-equipped teams.
About Bridgestone Corporation: Bridgestone Corporation, headquartered in Tokyo, is the world's largest tire and rubber company. In addition to tires for use in a wide variety of applications, it also manufactures a broad range of diversified products, which include industrial rubber and chemical products and sporting goods. Its products are sold in over 150 nations and territories around the world.