Local Students Are Making Moves in the Automotive Industry Thanks to Montana Manufacturer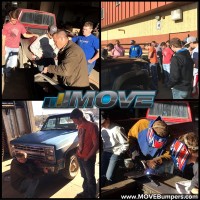 Successful Local Business Inspires High School Students to Explore Career Opportunities
LEWISTOWN, MT, USA, April 19, 2016 /
EINPresswire.com
/ -- MOVE Bumpers LLC, a Lewistown-based manufacturer of popular
weld-it-yourself bumpers
, is celebrating their growing success by investing in the futures of local students. As part of their continuing efforts to support the local community, MOVE bumpers recently donated six of their weld-it-yourself
bumper kits
, worth over $2,300, to the students at Fergus High School for use in their final projects.
MOVE Bumpers Founder and CEO Jim Steen was invited to join local teacher Jared Long's Ag Structure and Technology class on Monday, April 11th to talk to the students about career opportunities in the
welding and automotive
industries. The hands-on presentation also gave students the chance to learn what goes into running a business like MOVE. Jim showed students how the bumpers are constructed and helped them get started on their own final projects with the donated MOVE bumpers. During his discussion with the students, Jim told them "you're learning something now that will get you a good paying job and you can get it right here in Lewistown. Let's make you look good!" The juniors and seniors spend the year learning about all aspects of agriculture and the course culminates with the students making modifications to their own trucks as a way of gaining real world experience.
Instructor Jared Long praised the opportunity, stating "The gratitude I feel, I can't put into words. This is a huge step forward in building and creating not just a bumper, but a future. There are good and well-paying jobs out there in Lewistown for these kids and I think we'll see a far-reaching impact in that it really opens a door for them. It's one thing to give a lecture, but to have someone within the community come with that much knowledge and intelligence, I was blown away! I'm so thankful to Jim and the MOVE team."
MOVE has experienced tremendous growth over the past year: sales have increased over 500% since March 2015. As MOVE gains national success, the company wants to stay true to its roots by supporting the local community and raising awareness of the growing manufacturing opportunities in Montana. Lewistown holds a special place for MOVE: Jim has lived in Lewistown his entire life and graduated from Fergus High School. He's thrilled to be able to give back as an alumni and provide inspiration to the next generation."
Lewistown is a huge part of our success story and we want to continue to honor where we started," says MOVE Bumpers Founder and CEO Jim Steen. "We want to see manufacturing grow in Montana, and a key part of supporting local businesses is getting students interested in these kind of jobs. I enjoyed returning to Fergus High School, getting to know the students, and look forward to seeing their finished projects."
The Ag Structure and Technology students will be presenting their final projects in May and MOVE Bumpers plans to showcase their work on their website and social media channels.
###
MOVE Bumpers LLC employs state-of-the-art, advanced technologies to create custom-fabricated, weld-it-yourself bumpers for trucks and SUVs. With a specialized line of automotive accessories, MOVE Bumpers supplies top-quality products and service across the country. From their hometown of Lewistown, Montana, MOVE Bumpers is revolutionizing the world of auto modification.
Press release courtesy of Online PR Media.
Rania Eldekki
MOVE Bumpers
2017107135
email us here