Guardian Mortgage Employees Honored by D Magazine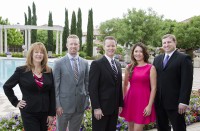 Guardian Mortgage Company loan officers Julie C. Nichols, Brian McCary, Mark Watson, Gracie Morrow and Wade Betz were recently honored in D Magazine.
Five Guardian Mortgage Company employees have been named to D Magazine's "Best Mortgage Professionals" list.
PLANO, TEXAS, USA, June 25, 2015 /
EINPresswire.com
/ -- After receiving five awards featured in Texas Monthly last month, the
Guardian Mortgage Company
team is now being honored by D Magazine, the premier magazine of Dallas and North Texas. In the July issue, five Guardian Mortgage employees are named to D Magazine's "Best Mortgage Professionals" list. This marks the sixth year in a row Guardian has been honored with this recognition.
This year's honorees include
loan officers
Julie C. Nichols, Brian McCary,
Mark Watson
, Gracie Morrow and Wade Betz. Nichols, Betz, McCary and Watson have all been named to the list in previous years. And, this marks the first win for Morrow.
D Magazine also recognized the unique skillsets of these employees, including Watson's "outstanding service and personal attention," Morrow's "exceptional ability to cultivate loyal client relationships," and Nichols' "attention to detail, effective communication and expertise in analyzing the best programs for each customer's specific financial plan."
These loan officers and their teams are just a small portion of Guardian's extensive loan origination lineup. The multi-state mortgage lender boasts team members in six cities, including Arlington, Plano, Richardson and El Paso, Texas; Grand Blanc, Michigan; and Scottsdale, Arizona.
To learn more about Guardian Mortgage Company, visit
www.GuardianMortgageOnline.com
.
About Guardian Mortgage
Headquartered in Richardson, Texas, Guardian Mortgage Company, Inc. has served generations of homebuyers for 50 years. Guardian Mortgage Company is an independent mortgage banker specializing in mortgage origination and servicing.
Guardian Mortgage Company has $2.6 billion in its servicing portfolio, translating to approximately 20,000 loans. It is large enough to provide the innovative leadership customers need, yet small enough to provide individual and professional attention.
Guardian Mortgage Company focuses on the long-term needs of each unique customer.
About D Magazine
D Magazine is a print and online publication that focuses on topics of interest in Dallas, Fort Worth and North Texas. The D Magazine brand also includes such publications as D Home, D Weddings, D CEO, D Medical, D Design Book and more. The company is based in Dallas, Texas.
Press release courtesy of Online PR Media:
http://bit.ly/1BPvrTS
Gayle Haley
Haley Brand Intelligence
214-363-1004
email us here