49% of Retailers Lack eCommerce Experience According to Merchant Warehouse & RetailPro International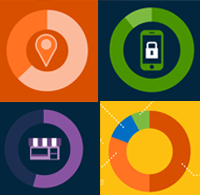 BOSTON, MA, USA, April 10, 2014 /
EINPresswire.com
/ -- Despite overwhelming demand from millennial shoppers, many retailers have not yet evolved their shopping mediums and, as a result, are missing out on an e-commerce boom expected to grow to $440 billion by 2017.
In late 2013
Merchant Warehouse
and
Retail Pro International
surveyed more than 1,000 U.S. retailers and millennial shoppers to identify any gaps that existed between the two groups around marketing and the ideal sales experience. The results of this survey have been developed into an infographic made available today in the Merchant Warehouse Resource Center. While the purchasing power of today's millennial shopper continues to grow, most retailers have not updated their marketing and shopping experience to take full advantage.
"Buyer Knows Best: Retailers, Millennials, and Omni-Channel Shopping" focuses on four main areas of disconnect between the retailer and millennial shopper: online presence, mobile devices, and coupons/loyalty programs. As detailed in the piece, millennial shoppers continue to expand their use of the internet for making purchases, but many also prefer to purchase in-store after first researching the product online.
U.S. retailers have also been slow to develop unified omni-channel experiences for their customers. By leveraging coupons and the mobile technologies available and in use by millennials today, there are large opportunities for driving increased sales both online and in-store. In fact 75 percent of consumers stated they would switch to brands that delivered real-time discounts and promotions to their smartphones while shopping, and despite this only 27.3 percent of retailers in the survey were currently leveraging mobile coupons.
For additional information on millennial shoppers and US retailers, visit Merchant Warehouse at
http://merchantwarehouse.com/retailers-millennials-and-omni-channel-shopping
.
About Merchant Warehouse
Merchant Warehouse is a leading provider of payment technologies and merchant services. The company's solutions enable merchants to more effectively connect and engage with their customers regardless of how, where or when they choose to shop. Merchant Warehouse's flagship technology solution, the Genius™ Customer Engagement Platform™, supports both traditional and new payment types, including mobile commerce, from a single countertop acceptance device. Merchant Warehouse is one of the fastest growing payment technology companies in North America.
About Retail Pro International
Retail Pro International, LLC, is a global leader in Point of Sale, Store Operations, and Back-Office software applications for the specialty retail industry. Through its highly-specialized provider network, Retail Pro is delivered locally and supported regionally through over 90 offices worldwide. More than 52,000 retail stores in 86 countries using 18 different languages trust Retail Pro to manage their operations; from single stores to prestigious, multinational retailers, Retail Pro is the proven global solution for serious retailers worldwide.
Press release courtesy of Online PR Media:
http://bit.ly/1k8KHPS
Jenn Reichenbacher
Merchant Warehouse
1-800-749-2173
email us here