CMOS Image Sensors Market Share, Trend, Segmentation and Forecast to 2022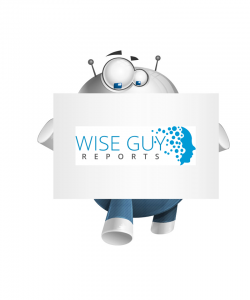 Global CMOS Image Sensors Market 2016 Analysis and Forecast to 2022
PUNE, INDIA, September 19, 2016 /
EINPresswire.com
/ -- CMOS technologies are based on arrays of light sensitive pixels, which gather photons of light and convert them to a visible image. CMOS Sensors use multiple transistors to amplify and move the charge provided by incoming photons of light, enabling the pixels to be read individually. CMOS image Sensor applications are growing at a phenomenal rate by the year. The growth of the
CMOS Image Sensors
Market is currently being hindered by Complex manufacturing process of High Resolution Image Sensors. The Asia Pacific region is expected to estimate a huge growth rate when compared to other regions because of the presence of developing countries such as China & India, followed by North America and Europe.
Complete report details @
https://www.wiseguyreports.com/reports/global-cmos-image-sensors-market
The CMOS Image Sensors market is estimated at $10.49 billion by 2018 at a CAGR of 7.88% over the period 2014-2020. The increasing need for high quality images, increasing safety regulations and adoption of ADAS are the key drivers which are making the CMOS Image Sensors market to grow lucratively. Machine Vision Systems Are Set to Drive the CMOS Image Sensor Market.
The CMOS Image Sensors market is segmented on the basis of Technology (Front side illuminated, Back side illuminated and others), Application (Industrial, Security and Surveillance, Automotive and Transportation, Aerospace and Defense, Healthcare and Others), and Geography (North America, Europe, Asia Pacific, Latin America, Middle East and Africa).
This report describes a detailed study of the Porter's five forces analysis of the market. All the five major factors in these markets have been quantified using the internal key parameters governing each of them. It also covers the market landscape of these players which includes the key growth strategies, geographical footprint, and competition analysis.
Get sample report @
https://www.wiseguyreports.com/sample-request/global-cmos-image-sensors-market
The report also considers key trends that will impact the industry and profiles over 10 leading suppliers of CMOS Image Sensors Market. Some of the top companies mentioned in the report are Aptina Imaging Corporation (U.S.), Canon Inc. (Japan), Omnivision Technologies Inc. (U.S.), Samsung Electronics Co.Ltd.,(South Korea), Sony Corporation (Japan), and among others.
What the report offers
1. Market Definition for the CMOS Image Sensors Market along with identification of key drivers and restraints for the market.
2. Market analysis for the Global CMOS Image Sensors Market, with region specific assessments and competition analysis on a global and regional scale.
3. Identification of factors instrumental in changing the market scenarios, rising prospective opportunities and identification of key companies which can influence the market on a global and regional scale.
4. Extensively researched competitive landscape section with profiles of major companies along with their strategic initiatives and market shares.
5. Identification and analysis of the Macro and Micro factors that affect the CMOS Image Sensors Market on both global and regional scale.
6. A comprehensive list of key market players along with the analysis of their current strategic interests and key financial information.
Make an enquiry before buying this Report @
https://www.wiseguyreports.com/enquiry/global-cmos-image-sensors-market
Table of content
1. Introduction
1.1 Description
1.2 Research Methodology
1.3 Report outline by Technology, Application, and Geographies covered.
2. Executive Summary
3. Market Overview
3.1 Current Market Scenario
3.2 Applications of CMOS Image Sensors Market
3.3 Factors Driving the Market
3.3.1 Increasing Need for High Quality Images
3.3.2 Machine Vision Systems Are Set to Drive the CMOS Image Sensor Market
3.3.3 Increasing Safety Regulations and Adoption of ADAS
3.3.4 Technological Advancements
3.4 Factors Restraining the Market
3.4.1 Complex Manufacturing Process of High Resolution Image Sensors
3.5 Current Opportunities in the Market
3.6 Technology Snapshot
3.7 Porter's Five Forces
3.7.1 Bargaining Power of Suppliers
3.7.2 Bargaining Power of Consumers
3.7.3 Threat of New Entrants
3.7.4 Threat of Substitute Products and Services
3.7.5 Competitive Rivalry within the Industry
4. CMOS Image Sensors Market Breakdown by Technology – Market Share, Forecast
4.1 Front Side Illuminated Technology
4.1.1 Introduction
4.1.2 Market Share, Size and Forecast
4.2 Back Side Illuminated Technology
4.2.1 Introduction
4.2.2 Market Share, Size and Forecast
5. CMOS Image Sensors Market Breakdown by Application – Market Share, Forecast
5.1 Industrial
5.1.1 Introduction
5.1.2 Market Share, Size and Forecast
5.2 Security and Surveillance
5.2.1 Introduction
5.2.2 Market Share, Size and Forecast
5.3 Automotive and Transportation
5.3.1 Introduction
5.3.2 Market Share, Size and Forecast
5.4 Aerospace and Defense
5.4.1 Introduction
5.4.2 Market Share, Size and Forecast
5.5 Healthcare
5.5.1 Introduction
5.5.2 Market Share, Size and Forecast
5.6 Others
5.6.1 Introduction
5.6.2 Market Share, Size and Forecast
6. CMOS Image Sensors Market by Geography
6.1 North America
6.1.1 Introduction
6.1.2 United States
Buy this report @
https://www.wiseguyreports.com/checkout?currency=one_user-USD&report_id=475043
Norah Trent
wiseguyreports
+1 646 845 9349 / +44 208 133 9349
email us here