Medical Robotics Global Market Expected to Grow at 23.1% CAGR by 2022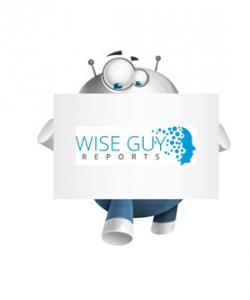 PUNE, INDIA, September 21, 2016 /
EINPresswire.com
/ -- Medical Robotics Market 2016
Complete Report Details @
https://www.wiseguyreports.com/reports/562718-medical-robotics-global-market-outlook-2015-2022
According to Researcher,
the Global Medical Robotics Market
is accounted for $4.2 billion in 2015 and is expected to reach $17.9 billion by 2022 growing at a CAGR of 23.1% from 2015 to 2022. Growing number of aging population, rising incidence of cardiovascular diseases are the major drivers in this market. Moreover, growing number of invasive surgeries, rising adoption of medical robots and increasing huge developments in technological advancements are the factors driving the market growth. However, huge capital investments, non regulatory safety concerns and presence of stringent government regulatory framework are the factors limiting the market growth. On the other hand, developing advancements in nanorobots for cancer treatment will remain as a major opportunity in vascular stents market over the forecast period.
For more information or any query mail at sales@wiseguyreports.com
Laparoscopy segment accounted for the largest share of medical robotics application market during the forecast period due to growing demand for surgical procedures in laparoscopy. Neurology segment is anticipated to be the fastest growing segment among medical robotics market during the forecast period owing to technological advancements in neurosurgery and increasing reputation for robotic neurosurgery. North America commanded the largest share in this market during the forecast period due to growing number of medical robots in this region and Asia pacific is anticipated to grow at a faster rate on account of rapidly expanding healthcare industry and rising awareness in emerging countries such as China and India.
Some of the key players in this market include Kirby Lester Llc, ARxIUM, Accuray, Inc., Mazor Robotics Ltd., Stryker Corporation, Ekso Bionics Holdings, Inc., Aesynt Inc., Hansen Medical, Inc., Hocoma AG, Intuitive Surgical, Inc., Medrobotics Corporation, iRobot Corporation, Renishaw Plc, OR Productivity plc and Mako Surgical Corp.
Get a Sample Report @
https://www.wiseguyreports.com/sample-request/562718-medical-robotics-global-market-outlook-2015-2022
Applications Covered
• Laparoscopic
• Neurology
• Orthopaedic
• Cardiology
• Special Education
• Other Applications
Products Covered
• Noninvasive Radiosurgery Robots
• Instruments and Accessories
• Hospital and Pharmacy Robots
• Surgical Robots
• Rehabilitation Robots
• Neuromate surgical system
• Other Products
Regions Covered
• North America
o US
o Canada
o Mexico
• Europe
o Germany
o France
o Italy
o UK
o Spain
o Rest of Europe
• Asia Pacific
o Japan
o China
o India
o Australia
o New Zealand
o Rest of Asia Pacific
• Rest of the World
o Middle East
o Brazil
o Argentina
o South Africa
o Egypt
What our report offers:
- Market share assessments for the regional and country level segments
- Market share analysis of the top industry players
- Strategic recommendations for the new entrants
- Market forecasts for a minimum of 7 years of all the mentioned segments, sub segments and the regional markets
- Market Trends (Drivers, Constraints, Opportunities, Threats, Challenges, Investment Opportunities, and recommendations)
- Strategic recommendations in key business segments based on the market estimations
- Competitive landscaping mapping the key common trends
- Company profiling with detailed strategies, financials, and recent developments
- Supply chain trends mapping the latest technological advancements
Table Of Contents – Major Key Points
1 Executive Summary
2 Preface
2.1 Abstract
2.2 Stake Holders
2.3 Research Scope
2.4 Research Methodology
2.4.1 Data Mining
2.4.2 Data Analysis
2.4.3 Data Validation
2.4.4 Research Approach
2.5 Research Sources
2.5.1 Primary Research Sources
2.5.2 Secondary Research Sources
2.5.3 Assumptions
3 Market Trend Analysis
3.1 Introduction
3.2 Drivers
3.3 Restraints
3.4 Opportunities
3.5 Threats
3.6 Application Analysis
3.7 Product Analysis
3.8 Emerging Markets
4 Porters Five Force Analysis
4.1 Bargaining power of suppliers
4.2 Bargaining power of buyers
4.3 Threat of substitutes
4.4 Threat of new entrants
4.5 Competitive rivalry
5 Global Medical Robotics Market, By Application
5.1 Introduction
5.2 Laparoscopic
5.3 Neurology
5.4 Orthopaedic
5.5 Cardiology
5.6 Special Education
5.7 Other Applications
6 Global Medical Robotics Market, By Product Type
6.1 Introduction
6.2 Noninvasive Radiosurgery Robots
6.2.1 Gamma Knife Perfexion Radiosurgery System
6.2.2 CyberKnife Robotic Radiosurgery System
6.2.3 TrueBeam STx Radiosurgery System
6.3 Instruments and Accessories
6.4 Hospital and Pharmacy Robots
6.4.1 Telemedicine Robots
6.4.2 Pharmacy Robots
6.4.3 IV Robots
6.4.4 Cart transportation robots
6.4.5 Robotic hospital pharmacy
6.5 Surgical Robots
6.5.1 Orthopaedic Surgical Robotic Systems
6.5.2 Neurological Surgery Robotic Systems
6.5.3 Laparoscopic Surgical Robotic Systems
6.5.3.1 Noncatheter percutaneous robotic systems
6.5.3.2 Freehand endoscope Holder
6.5.3.3 da Vinci Robotic Surgery System
6.5.3.4 Telelap ALF-X surgical system
6.5.4 Cardiology Surgery Robotic Systems
6.5.5 Steerable Robotic Catheters
6.5.5.1 Niobe remote magnetic navigation system
6.5.5.2 Sensei Robotic System
6.5.6 RoboDoc Surgical Systems
6.5.7 iBlock Surgical System
6.5.8 MAKO RIO surgical system
6.5.9 Stanmore Sculptor surgical system
6.5.10 Navio Surgical System
6.6 Rehabilitation Robots
6.6.1 Exoskeleton Robots
6.6.2 Prosthetic Robots
6.6.2.1 Rheo
6.6.2.2 i-limb ultrahand - hand prosthetic
6.6.2.3 C-leg knee prosthetic
6.6.2.4 Rewalk walking assistance exoskeleton
6.6.3 Assistive Robots
6.6.3.1 Handy 1 Assistive robot
6.6.3.2 Lokomat
6.6.3.3 Mobility System - muscle re-education device
6.6.3.4 I-ARM - robotic arm
6.6.4 Therapeutic Robots
6.6.5 Prosthetics
6.6.6 Orthotics
6.7 Neuromate surgical system
6.7.1 Renaissance Surgical System
6.7.2 Pathfinder surgical systems
6.8 Other Products
7 Global Infusion Pumps Market, By Geography
7.1 North America
7.1.1 US
7.1.2 Canada
7.1.3 Mexico
7.2 Europe
7.2.1 Germany
7.2.2 France
7.2.3 Italy
7.2.4 UK
7.2.5 Spain
7.2.6 Rest of Europe
7.3 Asia Pacific
7.3.1 Japan
7.3.2 China
7.3.3 India
7.3.4 Australia
7.3.5 New Zealand
7.3.6 Rest of Asia Pacific
7.4 Rest of the World
7.4.1 Middle East
7.4.2 Brazil
7.4.3 Argentina
7.4.4 South Africa
7.4.5 Egypt
……CONTINUED
For more information or any query mail at sales@wiseguyreports.com
Get Exclusive Discount On This Report @
https://www.wiseguyreports.com/check-discount/562718-medical-robotics-global-market-outlook-2015-2022
Norah Trent
wiseguyreports
+1 646 845 9349 / +44 208 133 9349
email us here