"VAPORIZER REVIEW PLUS 2017 Buyers Guide" from CannabisConsumersGroup.us is Now Available on Amazon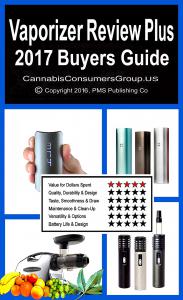 Vaporizer Review Plus Editon Includes Latest Alternative Methods of Extraction that includes Juicing and More!
Everything You Want to Know About Vaporizers Including the latest methods of Extraction through Jucing fully covered in our latest Edition!
SAN LUIS OBISPO, CA, UNITED STATES, December 11, 2017 /
EINPresswire.com
/ -- The best reason to rely on publications produced by your Cannabis Consumers Group is that we DO NOT accept backdoor money, financial support or gratuities from product manufacturers, distributors, or advertisement firms, for any product evaluated in any of our publications.
What this means for our readers is that; our product reviews are consumer oriented, user friendly, and always focused on the best quality and reliability for the money spent!
Our "Vaporizer Review PLUS 2017 Buyers Guide" is the only comprehensive buyer's guide that covers everything you want to know about vaporizers including; best features, value, performance, pro's and con's, plus in-depth reviews of the top (30) plus vaporizers most commonly purchased in the U.S. and Canada.
All contributing reviewers are founding members of Cannabis Consumers Group, a Non-Profit Organization that Does Not Accept Money from any manufacturer or their Distributors in order to influence our review findings and recommendations!
All vaporizers reviewed in this buyers guide are held to the same evaluation standards to provide readers with key information necessary for making critical decisions about their next vaporizer purchase.
You can feel at comfortable knowing that because Cannabis Consumers Group accepts NO Advertising or Financial Support of any kind from manufacturers or industry members, our product reviews are unbiased and consumer oriented in every way possible.
In order to make our user guide as user friendly as possible, all review information is graphically represented using our (5/6) Star Performance Rating Matrix.
Our Cannabis Consumers Group Matrix provides buyers with a graphic reference that is broken into five key areas for desktop units and six key areas for all other categories to provide valuable information we feel is most important to buyers of vaporizer units.
All Desktop Units are plug-in and therefore lack any need for battery power of any kind so related efficiency ratings supplied for battery powered units are not relevant.
All Pen, Micro Portable, Portable and Desktop Portables require batteries for operation so their rating includes a sixth element related to battery life and efficiency.
If you are shopping for the ultimate vaporizer holiday gift, or want the very best buy for your dollars spent, we believe you will find this book an indispensable, and must-have resource.
If you are new to vaporizing and are not certain what category of vaporizer you want, or are not certain of what kind of material you most want to vape with, or what type of vaporizer can best serve your needs, then this book has all of the information to help you make the very best decision.
The convenience provided by our (5/6) Star Review Matrix will is easy to use and our "Matrix Key" will clearly show you what the rated values mean in our (5/6) Star Matrix, and how they are weighted in our review process.
Just in time for the Holidays, Our Vaporizer Review Plus (Extended Edition) has everything including the latest methods of extraction beyond vaping, like juicing and more, so has you covered for everything necessary to make the best buying decision available today.
The Holidays are near, so do not waste another minute; head to the top of this page and purchase your copy today!
US:
https://www.amazon.com/dp/B018ANUZVM
DE:
https://www.amazon.de/dp/B018ANUZVM
CANADA:
https://www.amazon.ca/dp/B018ANUZVM
Donald DiCarlo
PMS Publishing Co
8053505096
email us here
1 http://www.cannabisconsumersgroup.us
2 http://www.cannabisconsumersgroup.us
3 http://www.cannabisconsumersgroup.us