Introducing a Useful Book in the Digital Age: Modern Inheritance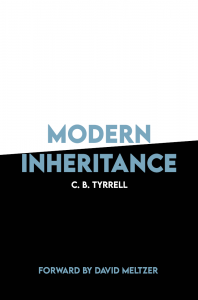 Front Cover of the Book, Modern Inheritance by Christopher B Tyrrell
Christopher B Tyrrell is pictured here. Author of book, Modern Inheritance
Guiding Readers to Securing Their Digital Legacy for Generations to Come
Chris is giving people the tools to leave a legacy of abundance. This book is a roadmap to success, guiding readers through the crucial steps needed to protect their assets."
— David Meltzer
MISSOURI, UNITED STATES OF AMERICA, October 2, 2023 /
EINPresswire.com
/ -- First-time author Christopher B Tyrrell presents a useful inheritance tool through his book, "
Modern Inheritance
." The book offers both guidance and a recovery record to back up one's digital life. It is considered an essential utility for safeguarding and passing on valuable accounts with logins. "Modern Inheritance" serves three critical purposes:
• Safeguarding digital logins, social media accounts, online banking access, and various digital assets during one's lifetime.
• Providing a backup for personal access to digital accounts and assets in case of lost phones or logins.
• Offering guidance to future generations on recovering and accessing digital accounts and assets.
Renowned three-time bestselling author and sports agent legend,
David Meltzer
, who served as the inspiration for the film "Jerry McGuire," contributed the foreword to the book. Meltzer, a well-known speaker and successful investor, expressed his thoughts about the book: "I'm thrilled to be a part of 'Modern Inheritance,' a book that equips individuals with the tools to leave a legacy of abundance. This book serves as a roadmap to success, guiding readers through the crucial steps needed to protect their assets and make a lasting impact on the world."
About the Author:
Christopher Tyrrell is a father of three, a US Navy Veteran, Engineer, Business Owner, and a seasoned problem solver. He has established digital schools aimed at teaching emerging technology enthusiasts how to navigate the new age safely. Christopher has developed a passion for combatting scams, hackers, and securing assets for future generations. "Modern Inheritance" reflects his creative solutions, offering a multitude of safeguarding habits suitable for everyone. As a multiple patented inventor, he excels in finding unique and straightforward answers to complex problems. His dedication to ensuring his children's inheritance led to the creation of this book.
The book will soon be available as the debut publication from 8th Floor Books. You can join the exclusive waiting list and subscribe for updates on release dates and potential discounts at the official website,
https://moderninheritance.com
. Look for "Modern Inheritance" in early 2024 on Amazon, Barnes & Noble, and other major book retailers.
Chris Tyrrell
Tytek LLC
+1 314-596-7085
email us here
Visit us on social media:
Facebook
Twitter