Lightspeed Welcomes Culinary Titan Joël Robuchon International
From Dubai to Miami to Shanghai, JRI and Lightspeed join forces to deliver elevated dining experiences around the world
MONTREAL, Sept. 28, 2023 (GLOBE NEWSWIRE) -- Lightspeed Commerce Inc. (NYSE | TSX: LSPD) is thrilled to announce that it has entered into a preferred partnership with the iconic Joël Robuchon International group of restaurants. Powering the world's best businesses, Lightspeed is the unified POS and payments platform for ambitious entrepreneurs to accelerate growth, provide the best customer experiences and become a go-to destination in their space.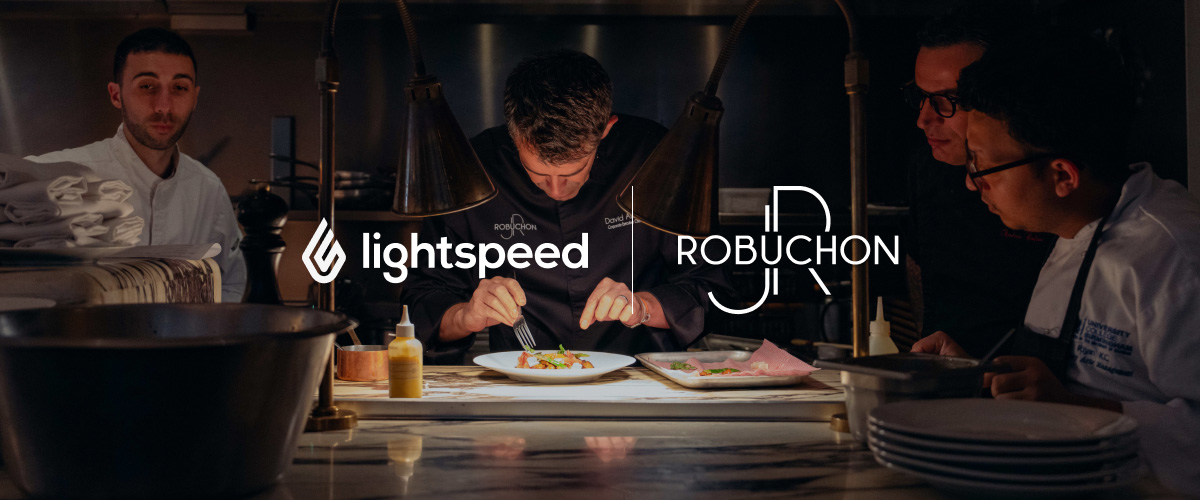 It's no secret that every JRI location runs like a well-oiled machine. To match that exceptional level of service, JRI needed a global unified payments and point of sale solution that could deliver exceptional results at their restaurants, no matter where they're located around the world. Insert Lightspeed: the cloud-based platform with the necessary global presence and powerful insights—not to mention singular flexibility—that fit JRI's vision.
Lightspeed and JRI share the same core principles: excellence, simplicity and consistency. As the late Chef Robuchon said, "To make a grand meal, you have to make it simple. To look simple is very complicated. You need the highest quality products, the best equipment and you have to keep the focus on the original flavor of the product." Whether guests are enjoying an unforgettable experience in one of JRI's new unique concepts, having an elegant meal at an illustrious L'Atelier Robuchon or making a quick stop at a sophisticated Deli Robuchon, Lightspeed's platform brings a simple, seamless experience to staff and customers.
"I grew up watching Joël Robuchon's cooking shows. This is incredible. It's such an honor," said JP Chauvet, Lightpseed's CEO. "Chef Robuchon built an empire. His restaurants were awarded 31 Michelin stars. It's still a world record. His whole cooking philosophy—centered on the customer—echoes Lightspeed's mission to deliver something that appears to be simple but is, in fact, incredibly complex."
"As we continue to expand to multiple locations around the world it is essential for our future success that we partner with a company like Lightspeed to ensure we customize, streamline and effectively manage all our locations," said Richard Clark, CEO at JRI. "I am personally very excited to be partnering globally with Lightspeed and look forward to a successful, collaborative partnership."
JRI joins a growing list of Michelin-starred restaurants using Lightspeed to deliver unparalleled dining experiences, including Alinea (Chicago), Clover Hill (New York), Zilte (Antwerp), Le Chalet de la Forêt (Brussels), Restaurant 212 (Amsterdam), Kei (Paris), Anne Sophie Pic (Lausanne), JAN (Munich) and Da Terra (London).
Dive into Lightspeed Restaurant's transformative features at lightspeedhq.com.
About Lightspeed
Powering the businesses that are the backbone of the global economy, Lightspeed's one-stop commerce platform helps merchants innovate to simplify, scale and provide exceptional customer experiences. Our cloud commerce solution transforms and unifies online and physical operations, multichannel sales, expansion to new locations, global payments, financial solutions and connection to supplier networks.
Founded in Montréal, Canada in 2005, Lightspeed is dual-listed on the New York Stock Exchange and Toronto Stock Exchange (NYSE: LSPD) (TSX: LSPD). With teams across North America, Europe and Asia Pacific, the company serves retail, hospitality and golf businesses in over 100 countries.
For more information, see lightspeedhq.com.
Follow us on social media: LinkedIn, Facebook, Instagram, YouTube, and Twitter.
About JRI
JRI has inherited a priceless legacy. The mission of the Group is clear – to uphold Robuchon's core beliefs of Excellence, Simplicity, and Consistency in every culinary endeavor. Over the years Robuchon mentored countless chefs. Today many of these chefs remain the bannermen of the Robuchon spirit, dedicated to actively promoting existing concepts whilst actively developing new ones.
Forward-Looking Statements
This news release may include forward-looking information and forward-looking statements within the meaning of applicable securities laws ("forward-looking statements"). Forward-looking statements are statements that are predictive in nature, depend upon or refer to future events or conditions and are identified by words such as "will", "expects", "anticipates", "intends", "plans", "believes", "estimates" or similar expressions concerning matters that are not historical facts. Such statements are based on current expectations of Lightspeed's management and inherently involve numerous risks and uncertainties, known and unknown, including economic factors. A number of risks, uncertainties and other factors may cause actual results to differ materially from the forward-looking statements contained in this news release, including, among other factors, those risk factors identified in our most recent Management's Discussion and Analysis of Financial Condition and Results of Operations, under "Risk Factors" in our most recent Annual Information Form, and in our other filings with the Canadian securities regulatory authorities and the U.S. Securities and Exchange Commission, all of which are available under our profiles on SEDAR at www.sedarplus.ca and on EDGAR at www.sec.gov. Readers are cautioned to consider these and other factors carefully when making decisions with respect to Lightspeed's subordinate voting shares and not to place undue reliance on forward-looking statements. Forward-looking statements contained in this news release are not guarantees of future performance and, while forward-looking statements are based on certain assumptions that Lightspeed considers reasonable, actual events and results could differ materially from those expressed or implied by forward-looking statements made by Lightspeed. Except as may be expressly required by applicable law, Lightspeed does not undertake any obligation to update publicly or revise any such forward-looking statements, whether as a result of new information, future events or otherwise.
For further information: Media Contacts: Canada: Victoria Baker, NKPR - victoriab@nkpr.net; USA: Jennifer Fugel, Newsmaker Group- jfugel@newsmakergroup.com; Lightspeed Media Relations - media@lightspeedhq.com; Investor Relations: Gus Papageorgiou, Lightspeed Investor Relations - investorrelations@lightspeedhq.com
A photo accompanying this announcement is available at https://www.globenewswire.com/NewsRoom/AttachmentNg/052eb1ab-752a-4808-b375-0fa8ab7b8fd3