"Mathmaji," the world's first global math learning smartphone app for mastering arithmetic, launched in the U.S. market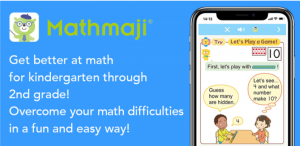 Mathmaji Co. Ltd. aims to help children around the world improve their math skills through Japan's superior math education methods
SHIBUYA, TOKYO, JAPAN, October 1, 2023 /
EINPresswire.com
/ -- Mathmaji Inc. will begin distributing the Android version of Mathmaji, the world's first global math learning app that makes learning basic arithmetic fun, for the U.S. market on Wednesday, September 27, 2023.
About Mathmaji, a global math learning app
Mathmaji is the world's first global math learning app, developed on the foundation of Japan's world-class curriculum guidelines. Through Mathmaji's unique learning methods that provide high learning effectiveness, such as a methodology that simplifies the understanding and solving of multiplication and addition, Mathmaji allows students to master the fundamentals of math in just 15 minutes a day, regardless of time or location, while having fun. The app also includes functions for parents, such as displaying the level of understanding of each unit, visualization of the learning progress, and automatic creation of a learning schedule. In this version, all lessons, which include more than 500 problems of kindergarten to second grade math, will be offered free of charge.
Background leading to the U.S. market release
Today, the decline in children's math achievement has become an issue around the globe. In the U.S., the 2022 NAEP Mathematics Assessment scores showed the largest score declines since 1990*1, which research shows could translate to an estimated $900 billion in future income losses*2. Improving academic skills in math is becoming an urgent issue. Mathmaji has set the U.S. as its first target market, and is launching this app with the aim to create a stir in the current state of math learning in the country.
Looking Ahead
In addition to the initial Android version, an iOS version as well as a monthly subscription service with more enhanced functions than the free version, are also in the pipeline. We also aim to help more children use this application and improve their academic math skills by gradually expanding the number of grades covered, developing multilingual versions, and expanding the areas where the application is offered. Through these efforts, we will realize our mission of "providing digitally superior Japanese education to children around the world".
App Overview
App Name:Mathmaji
Country of release:United States
OS Supported:Android version / OS 10 or higher
Supported Languages:English
Store URL (Google Play):
https://mathmaji.com/app/android
※Only available in the U.S.
※1 Source:NAEP Report Card: 2022 NAEP Mathematics Assessment (
https://www.nationsreportcard.gov/highlights/mathematics/2022/
)
※2 Source:What Do Changes in State Test Scores Imply for Later Life Outcomes? October 2022 (
https://www.nber.org/papers/w30701
)
■About Mathmaji Co.,Ltd.
Mathmaji is promoting digital education business with the mission of "bringing digitally excellent Japanese education to children around the world". We are committed to providing children around the world with a superior education that is not dependent on national conditions or the level of schools or teachers, through the use of digital technology.
■Company Profile
Company Name:Mathmaji Co., Ltd.
Representative:Yasu Hirose
Head office:Yazawa Bldg 3F, 3-1-9 Shibuya, Shibuya-Ku Tokyo Japan 150-0002
U.S. office: 6900 Dallas Pkwy, Plano, TX 75024, USA
Date of Establishment:August 12, 2021
Capital:$510,345($1=¥145)(As of April 2023)
Website:
https://www.mathmaji.com
Morita, Yamamoto, Takahashi
Mathmaji Co., Ltd.
mathmaji-pr@kyodo-pr.co.jp
Visit us on social media:
Facebook
Twitter
LinkedIn
Instagram