Insulating Glass Window Market Top Vendors, Regions and Growth CAGR of 6.9% Forecast by 2030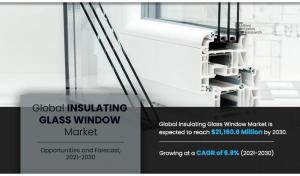 The global insulating Glass Window Market registering a CAGR of 6.9% forecast by 2030
PORTLAND, OREGON, UNITED STATES, September 21, 2023/EINPresswire.com/ -- The Insulating Glass Window Market helps in minimizing the use of artificial heating and cooling in a building by providing substantial protection from heat loss and heat gain from the outer atmosphere. These windows consist of three major components including glass or glazing, frame, and other hardware. Each energy-efficient window product is certified basis of solar heat gain coefficient (SHGC) and U-factor, which qualify it for the Energy Star Rating by the National Fenestration Rating Council (NFRC) of the U.S. The SHGC factor measures the amount of solar heat entering through the window, whereas the U-factor measures the insulation capacity of the window.
The global insulating glass window market size was valued at $11,105.7 million in 2020, and is projected to reach $21,160.6 million by 2030, registering a CAGR of 6.9% from 2021 to 2030.
Download Sample PDF @ https://www.alliedmarketresearch.com/request-sample/12218
Top Leading Companies:
H.B. Fuller, AGC Inc., Scheuten, Sika Industry, Saint Gobain SA, Internorm International GmbH, Central glass Co., Ltd., Viracon, Inc., Glaston Corporation, Nippon Sheet Glass Co., Ltd.
The global push for sustainability and energy efficiency has spurred the growth of the insulating glass window market. As governments and organizations worldwide continue to adopt stricter regulations and standards for energy conservation, the construction industry is under pressure to adapt. Insulating glass windows are a crucial component of this adaptation, as they significantly contribute to reducing energy consumption in buildings.
One of the primary benefits of insulating glass windows is their superior thermal insulation. These windows consist of two or more panes of glass separated by an insulating spacer filled with air or gas, such as argon or krypton. This design effectively traps heat inside during the winter and keeps the heat out during the summer, leading to reduced heating and cooling costs. As a result, homeowners and businesses alike are increasingly turning to insulating glass windows to make their properties more energy efficient.
Sustainable construction practices are becoming increasingly important in the insulating glass window market. Sustainability goes beyond just energy efficiency; it encompasses the entire lifecycle of a product. Many manufacturers are focusing on producing windows that are not only energy-efficient but also eco-friendly in terms of production and disposal.
Recyclable materials, reduced waste during manufacturing, and responsible sourcing of raw materials are key considerations for companies looking to meet the demand for sustainable construction solutions. Furthermore, extending the lifespan of insulating glass windows through regular maintenance and repair contributes to sustainability by reducing the need for replacements.
Buy This Research Report @ https://www.alliedmarketresearch.com/checkout-final/41bc2a922006e960c27c8315636cf7a7
The future of the insulating glass window market looks promising. As environmental concerns and energy efficiency regulations continue to shape the construction industry, the demand for these windows is expected to rise. Manufacturers will need to keep innovating, developing windows that provide superior insulation, smart technology integration, and sustainable design.
However, high initial costs of insulating glass window as compared to normal windows and fluctuation in raw material prices restrain the insulating glass window market growth. As urbanization and population growth persist, insulating glass windows will play a critical role in creating comfortable and energy-efficient living and working spaces in high-density areas. The market's future success will hinge on its ability to adapt to changing consumer preferences, technological advancements, and environmental imperatives.
The insulating glass window market is at the forefront of the green building revolution. Its contribution to energy efficiency, noise reduction, and overall comfort makes it an essential component of modern construction. As the world continues to prioritize sustainability and energy conservation, we can expect to see this market flourish, with innovations and eco-friendly solutions paving the way towards a more sustainable future for the construction industry. Whether you're a homeowner, builder, or architect, insulating glass windows are sure to be a key player in your journey towards greener and more efficient spaces.
Regional Analysis:
The global Insulating Glass Window Market analysis is conducted across North America (the U.S., Canada, and Mexico), Europe (UK, France, Germany, Italy, and rest of Europe), Asia-Pacific (China, Japan, India, South Korea, and rest of Asia-Pacific), and LAMEA (Latin America, the Middle East, and Africa). In 2020, Asia-Pacific was the highest contributor to the global Insulating Glass Window Market share, and LAMEA is anticipated to secure a leading position during the forecast period.
Inquiry Before Buying @ https://www.alliedmarketresearch.com/purchase-enquiry/12218
David Correa
Allied Analytics LLP
+1 800-792-5285
email us here
Visit us on social media:
Facebook
Twitter
LinkedIn