Art and Book Collectors: Better Stress Management with Limited Edition Book/Art by Mike Cecotka x SamuraiArtGallery.com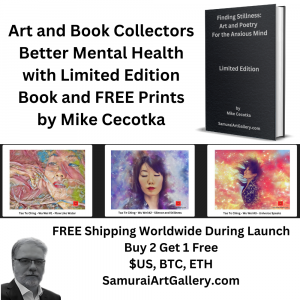 Mike Cecotka x samuraiartgallery.com Limited Edition Book and Art Finding Stillnes Art and Poetry for the Anxious Mind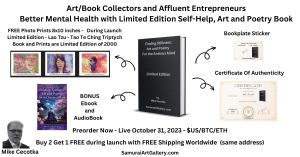 Mike Cecotka x SamuraiArtGallery.com - Limited Edition Book with 3 Free Prints 8x10 - Finding Stillness - Art and Poetry for the Anxious Mind
Mike Cecotka x SamuraiArtGallery.com - Limited Edition Art plus 3 Free Prints 8x10 - Finding Stillness - Art and Poetry for the Anxious Mind
Toronto-Based Artist, Author & Poet Empowers Affluent Entrepreneurs to Achieve Less Anxiety and Better Mental Health - 3 Free Limited Edition Prints Included.
After the 2008 crisis, when I lost everything, I discovered Miyamoto Musashi's samurai precepts. This book emerges after a decade of balancing ego with Zen, Hinduism, and Taoism."
— Mike Cecotka
TORONTO, ON, CANADA, September 21, 2023 /
EINPresswire.com
/ -- Polish-Canadian contemporary artist
Mike Cecotka is set to release a Limited Edition Self-Help Art and Poetry
book titled
"Finding Stillness: Art and Poetry for the Anxious Mind."
Tired of coping with stress and anxiety in life and business? In search of a clearer path to improved mental health? Look no further than this book, which draws upon a decade of dedicated study to integrate Old Asian and Universal Wisdom.
Stress and anxiety can have profound and detrimental effects on both mental and physical health. Prolonged exposure to stress hormones increases the risk of mental health disorders, such as anxiety and depression, and weakens the immune system, leaving individuals more susceptible to illnesses.
Chronic stress is further associated with cardiovascular problems, high blood pressure, and digestive issues. It takes a toll on the body, manifesting in headaches, muscle tension, and sleep disturbances, exacerbating overall health decline. Thus, addressing and effectively managing stress and anxiety is crucial for safeguarding both mental and physical well-being.
This book contains:
12 Freestyle Spiritual Haiku Poems and 60 ways to use them for stress and anxiety relief.
36 Original Artworks (created without AI) featuring Graphical Haiku poems, Multidimensional art, and Cursive Asian Calligraphy inspired by Chinese Masters.
Over 60 minutes of Practical Reflecting and Writing exercises.
Bonus Material: Over 50 general stress relief techniques.
Verified Purchases Testimonials:
"These poems encourage self-reflection and personal growth. Additionally, the author's captivating Asian calligraphy adds a visual dimension, making the book not just a read, but an immersive sensory experience"
"Finding Stillness" is more than just a book; it's an experience that has made me appreciate the beauty of combining words, art, and introspection."
"The journey through these haikus is a journey within—one that reveals insights, prompts self-reflection, and ignites a desire for inner growth."
"The fusion of poetic verses with captivating visuals creates a sensory experience that transcends mere reading, elevating it to an immersive journey of the senses."
"The very process of trying to read and view the images put me in a nice meditative state"
"Reading this book is like feeling a too-tight knot untangling, a headache leaving, the weight on the shoulders getting lighter"
"This unique collection, accompanied by 60 minutes of reflective exercises, is a guiding light for those seeking a calmer, more fulfilling life. Dive in, and let the wisdom of these haikus, the artistry of the calligraphies, and the power of reflection lead you on your journey to a happier you."
Book Details:
Size: 8.5 x 11 inches
Pages: 160
Pre-order exclusively at
SamuraiArtGallery.com
Live Release Date: October 31, 2023
Holiday Deadline: November 11
Limited Edition of 2000 Books and Prints - but only 750 available to the public.
Special Launch Offer: During the book launch, customers can buy 2 books and receive 1 free. It's a great choice for sharing the gift of stress relief with affluent clients and a nice option for a meaningful Valentine's Day present.
Each book comes with three exclusive limited edition prints (10x8 inches). These prints draw inspiration from the timeless wisdom found in Lao Tzu's Tao Te Ching and the profound concept of Wu Wei.
Payment Options: Customers can choose to make their purchase using either US Dollars or popular cryptocurrencies like Bitcoin (BTC) or Ethereum (ETH).
NFT version of the book and its accompanying artwork, set to launch when the market conditions are optimal.
Connect with Us: Join our Facebook Group, where you will find stress relief tips and receive updates on new releases from the Author/Artist.
https://www.facebook.com/groups/artbookcollectorslessstress
Author's Availability: For art enthusiasts and museum curators, Mike Cecotka is available for free speaking engagements at museums and art galleries worldwide (conditions apply). To arrange an engagement, please reach out via email at mike@samuraiartgallery.com or by text at 647-360-5457.
About Samurai Art Gallery:
Samurai Art Gallery is dedicated to bringing art and philosophy together to inspire and uplift. Through limited-edition books and art prints, we aim to share the beauty of creativity and the wisdom of ancient philosophies with the world.
To learn more about our mission and our latest release, visit SamuraiArtGallery.com.
###
Mike Cecotka
SamuraiArtGallery.com
+1 647-360-5457
samuraiartgallery@gmail.com
Visit us on social media:
Facebook
Twitter
LinkedIn
Mike Cecotka x samuraiartgallery.com Limited Edition Book and Art Finding Stillness Art & Poetry for the Anxious Mind - Great Gift for Holidays, Valentines Day