"Auspicious: Embracing the Path Toward Courage, Conviction and Confidence," Reetu Gupta's New Book, Empowers Readers
"Auspicious: Embracing the Path Toward Courage, Conviction and Confidence" Book Cover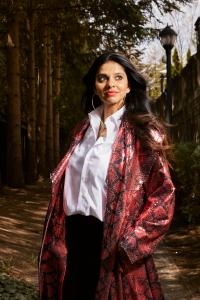 Reetu Gupta, Author & Ambassadress of The Gupta Group
'Auspicious' is a luminous guide that empowers individuals to step into their own strength and embrace their unique journey. Reetu's insights are a testament to her wisdom & compassionate leadership."
— Cynthia Johnson, Author
TORONTO, CANADA, September 21, 2023 /EINPresswire.com/ -- Reetu Gupta, Ambassadress and visionary force behind The Gupta Group, has unveiled her transformative insights, invigorating journeys, and unwavering positivity in her highly anticipated book, "Auspicious: Embracing the Path Toward Courage, Conviction and Confidence." This definitive guide, available now in print and digital formats, is poised to ignite a wave of empowerment. "Auspicious" encapsulates Gupta's wisdom garnered from her illustrious career and her heartfelt dedication to mentorship and growth.
Drawing from her personal journey in the realms of hospitality, real estate, and philanthropy, Reetu Gupta has seamlessly transitioned into a beacon of guidance, imparting her wealth of knowledge as a successful community and business leader. "Auspicious" stands as a roadmap for individuals seeking a holistic blend of inspiration, professional prowess, and spiritual alignment. The title itself epitomizes the book's core philosophy – auspiciousness as a harbinger of present and future success.
Reetu's mission goes beyond her impressive accomplishments. Her unwavering dedication lies in the pursuit of finding her soul's purpose. Driven by a deep sense of introspection, Reetu is on a personal journey to discover the true meaning and calling of her life. Through her various roles as a speaker, advocate, philanthropist, and Ambassadress of The Gupta Group, Reetu aims to create impact and opportunity. She believes that by aligning her actions with her soul's purpose, she can make a profound difference in the world. Showcasing this, a percentage of the book proceeds are going towards the Gupta Foundation's philanthropic efforts!
To purchase "Auspicious: Embracing the Path Toward Courage, Conviction and Confidence," please visit Amazon, Apple Books, and reetugupta.com.
Praise for "Auspicious"
"Reetu Gupta's 'Auspicious' is a luminous guide that empowers individuals to step into their own strength and embrace their unique journey. Her insights are a testament to her wisdom and compassionate leadership."
— Cynthia Johnson, Author of "Platform: The Art and Science of Personal Branding"
"In a world where authenticity is rare, Reetu Gupta's 'Auspicious' shines as a beacon of hope. Her stories and principles ignite a spark within, reminding us of our innate power to conquer challenges with grace and resilience."
— Suraj Gupta, Co-Founder, President and CEO of Rogue Insight Capital
"In 'Auspicious,' Reetu Gupta marries her profound wisdom with her passion for positive transformation, unveiling a literary masterpiece that cements her legacy as an advocate of empowerment and change."
— Alexis Edgar, Vice President of Sales and Marketing, Eastons Group of Hotels
For media inquiries, please contact:
Bell + Ivy
Press@Bellivy.com
About the Author
Reetu Gupta is a speaker, advocate, philanthropist, and the Ambassadress of The Gupta Group, where she focuses on creating impact and opportunity. She is the cofounder and Chief Strategy Officer of Rogue Insight Capital Ltd; the private venture capital arm of The Gupta Group, focusing on investing in Canadian start-ups with female and/or minority leadership. Her passion and drive for her roles are showcased in her continued excellence and groundbreaking contributions to the sector, focusing on uplifting women, minorities, and local communities. Reetu re-launched The Gupta Family Foundation in 2020, where she serves as President and Co-Chair and is able to provide long-term solutions to global issues. She is the Founder and President of The Shakti Society, which provides complimentary meditation classes to empower all individuals with courage and to instill a strong sense of confidence.
Reetu sits on several local and international boards and committees, and has been twice honoured with the distinction of WXN's Top 100 Most Powerful Women, as well as the ICCC's Female Entrepreneur of the Year Award, and Canada's Top 40 Under 40®. She has spoken at events such as Forbes Women Summit and the NEXUS UN Global Summit. Reetu has been interviewed in publications such as Hotelier Magazine and The Edge, and is a Huffington Post Contributor. Her mission is to utilize the resources around her to bring lasting positive change.
About the Publisher
Toronto-based Dolce Media Group publishes Dolce, a leading international luxury lifestyle magazine now in its 27th year and in 2022 named one of the Top 50 Best Luxury Media in the World by the prestigious New York-based Luxury Lifestyle Awards, and City Life, an award-winning GTA community magazine. Dolce Media Group's award-winning team of creative minds use innovative print/editorial, web/digital, video production and graphic design to produce industry-leading marketing solutions as well as extensive, highly skilled marketing strategy and execution services for its clients.
Jessica Kantor
Bell + Ivy
press@bellivy.com
Visit us on social media:
Facebook
Twitter
LinkedIn
Other