Roofing Market Trends: Asia-Pacific Leads the Way with Green Technology will Reach $156.0 billion by 2030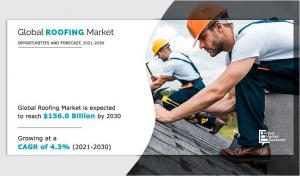 Roofing Market Latest Trend and Future scope with Top Key Players by 2030
PORTLAND, OR, UNITED STATES, September 20, 2023/EINPresswire.com/ -- When it comes to the global roofing market, Asia-Pacific took center stage in 2020 by generating the highest revenue, and all signs indicate that it's poised to maintain its lead. Following closely behind are North America and Europe, illustrating the worldwide demand for quality roofing products. But what's driving this remarkable growth, and what does the future hold for the roofing industry? Let's dive into the key trends and factors shaping the roofing market landscape.
The global roofing market size was valued at $102.4 billion in 2020 and is expected to reach $156.0 billion by 2030, growing at a CAGR of 4.3% from 2021 to 2030.
Download Updated PDF Sample of the Report @
https://www.alliedmarketresearch.com/request-sample/1881
Green Roofs and Technological Advancements
One of the standout trends in the roofing market is the increasing demand for roofing products, particularly those that are eco-friendly. Roofing products with longer lifespans, easy installation processes, and sustainable materials are in high demand. This shift towards sustainability is not just a fad; it's here to stay. Technological advancements have played a significant role in this evolution, giving rise to innovative solutions like green roofing.
Green roofing systems have gained traction for their ability to protect buildings from the scorching heat of summers and minimize heat loss during the cold winter months. These systems incorporate added insulation on the roof, making them energy-efficient and environmentally friendly. This forward-thinking approach to roofing is bolstering market growth.
Buy This Research Report @ https://www.alliedmarketresearch.com/checkout-final/e1e47ad5b166bcfa6659363b98086680
Emerging Markets and Increased Demand
While established markets like North America and Europe continue to thrive, emerging markets in developing countries are becoming increasingly important players in the roofing industry. Countries like India, China, and Brazil are witnessing a surge in the roofing sector, driven by urbanization and increased construction activities.
In these regions, the demand for roofing products is on the rise as more residential and commercial buildings spring up. The need for modern roofing solutions, including bituminous, tile, and metal roofing, is reshaping the construction landscape.
Challenges and Future Prospects
Despite the promising outlook, the roofing industry faces certain challenges. One major hurdle is the high initial installation costs associated with modern roofing systems. However, this obstacle is expected to diminish over time. Intense competition among roofing manufacturers is driving innovation and cost-efficiency, making these roofing solutions more accessible to a wider market.
Roofing Product Breakdown
When we break down the types of roofing products, bituminous roofing stands out as a market leader. This can be attributed to its increased use in residential and commercial buildings, technological advancements, and remarkable durability.
Application in Focus: Commercial Buildings
Commercial buildings represent a significant portion of the roofing market. The adoption of modern roofing materials such as bitumen, tile, and metal has transformed the commercial construction landscape. The rise in population migration in Europe, in particular, has spurred the need for commercial construction projects, driving up the demand for roofing products.
Make Purchase Inquiry: https://www.alliedmarketresearch.com/purchase-enquiry/1881
Top Players:
The key players profiled in the roofing market report include3M Company, Atlas Roofing Corporation, BASF SE, Johns Manville, Duro-Last, Inc., E. I. Du Pont De Nemours, Inc., Owens Corning, Sika AG, Standard Industries Inc., and The Dow Chemical Company.
In conclusion, the roofing market is on an upward trajectory, with Asia-Pacific taking the lead and green roofing technology shaping the industry's future. Emerging markets, technological advancements, and a growing emphasis on sustainability are propelling the roofing market to new heights. As innovation continues to drive the industry forward, the challenges of high initial costs are likely to become a thing of the past, making quality roofing solutions accessible to a broader audience. The roofing industry's future looks bright, and it's certainly a space to watch for exciting developments.
David Correa
Allied Analytics LLP
+1 800-792-5285
email us here
Visit us on social media:
Facebook
Twitter
LinkedIn