Hennessey Announces Production of 'H1000' Cadillac CT5-V Blackwing
A media snippet is available by clicking the image or link below.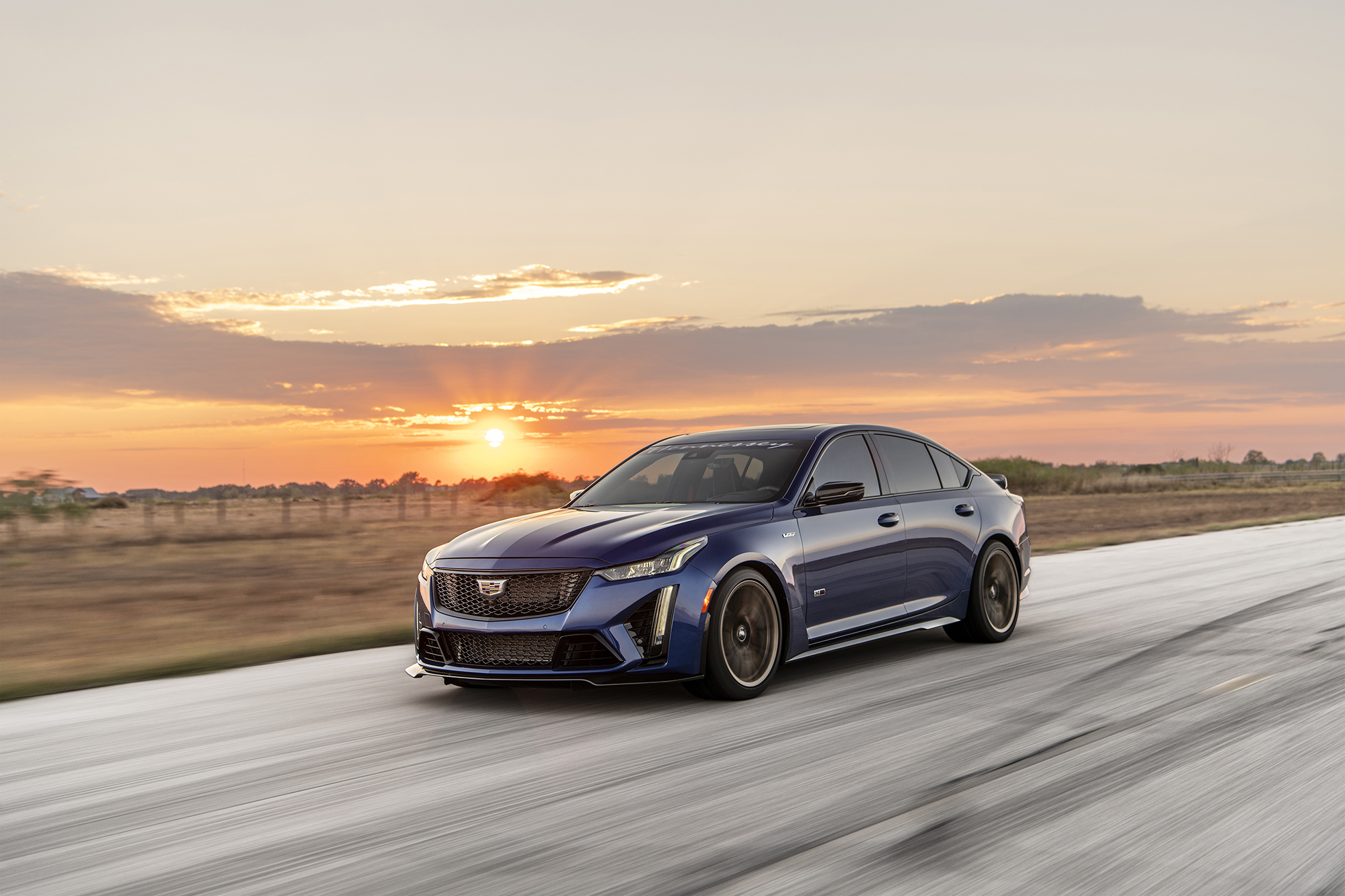 Hennessey's 'H1000' upgrade boosts Cadillac's flagship sport sedan to an extraordinary 1,000 horsepower and 966 lb-ft torque

GM's supercharged 6.2-liter 'LT4' V8 is comprehensively rebuilt and fitted with a larger supercharger and upgraded calibration
World's highest-performance luxury sport sedan offered with a manual or automatic gearbox
Hennessey's 'H1000' Cadillac CT5-V Blackwing is backed a 2-year / 24,000-mile warranty
Images — Hennessey 'H1000' Cadillac CT5-V Blackwing
Video — 'H1000' Cadillac CT5-V Blackwing vs. Chevrolet Corvette Z04
Video — 'H1000' Cadillac CT5-V Blackwing Dyno Test
Video — 'H1000' Cadillac CT5-V Blackwing High Speed Testing
SEALY, Texas, Sept. 19, 2023 (GLOBE NEWSWIRE) --  Hennessey, the world-renowned Texas-based hypercar manufacturer and high-performance vehicle creator, has begun production of its 'H1000' Cadillac CT5-V Blackwing – the hero of luxury sport sedans. Boasting a supercharged 1,000 horsepower V8 and fitted with luxurious appointments, the rear-wheel drive Cadillac is a herculean muscle car wearing an elegant tuxedo.
Straight from the factory, the Cadillac CT5-V Blackwing is the automaker's most powerful production car ever. Under its hood is a supercharged 6.2-liter small-block LT4 V8 engine rated at 668 horsepower and 659 lb-ft of torque. Offered with a 6-speed manual and a 10-speed automatic, both variants sprint to 60 mph in 3.5 seconds and boast a top speed of over 205 mph.
Hennessey's engineering team, which has been 'making fast cars faster' for over 32 years, meticulously upgrades the stock Cadillac CT5-V Blackwing to supercar power levels. First, its LT4 receives ported cylinder heads, enhanced intake and exhaust valves, improved lifters and pushrods, oversized heat exchangers, and long-tube stainless steel headers. Then GM's small block is fitted with a high-flow supercharger, replacing the factory unity. Lastly, Hennessey's engineers upload Hennessey Engine Management Calibration (HEMC) for its new mission.
The result is a dyno-proven 1,000 bhp and 966 lb-ft torque. That immense power shaves a full second off the 0-60 mph sprint, drops the ¼ mile run to 10.1 seconds, and pushes the top speed to above 200 mph.
John Hennessey, company founder and CEO: "Cadillac's CT5-V Blackwing, fitted with GM's supercharged LT4, was a natural candidate for our EXORCIST upgrade as it improves power considerably without affecting drivability. Resurrected as an 'H1000', the four-door Cadillac is the fastest combustion-only luxury sedan on the planet. It is a rare high-water mark in a segment that will vanish by the decade's end."
Hennessey's prodigious power upgrade complements Cadillac's performance enhancements, including adaptive Magnetic Ride Control, Brembo brakes, and configurable driving modes for every situation. An integrated data recorder records performance both on- and off-track.
The 'H1000' upgrade is backed by Hennessey's comprehensive 2-year / 24,000-mile limited warranty. The upgrade only applies to the flagship Cadillac CT5-V Blackhawk (not the standard V6-equipped Cadillac CT5-V). The new Hennessey 'H1000' Cadillac CT5-V Blackwing is available to order now for global shipping through authorized Cadillac retailers; directly from Hennessey at HennesseyPerformance.com; or by calling +1 979.885.1300.
About Hennessey
Based in Sealy, Texas, the Hennessey business comprises Hennessey Special Vehicles, Hennessey Performance (HPE), Tuner School, and the Lonestar Motorsports Park. The company has re-engineered more than 12,000 vehicles for performance enthusiasts worldwide to deliver unparalleled driving thrills. Alongside modifying a diverse range of sports and muscle cars since 1991, the company also applies its high-performance expertise to trucks and SUVs – and boasts its hypercars – the Venom GT and the Venom F5.
Every Hennessey product is dyno-proven, fully track-tested, street-legal, and warrantied. Customers may choose from road-ready performance-enhanced cars by Hennessey from various brands, including Cadillac, Chevrolet, Dodge, Ford, and Jeep, all benefitting from a host of high-performance upgrades.
With its own test track, engineering curriculum for aspiring tuners, more than 100 team members, and capacity to simultaneously work on 40-50 vehicles, Hennessey Performance is one of the world's leading specialist vehicle engineering companies. The twin-turbocharged, 6.6-liter V8 Venom F5 Coupe sold out in 2021, with customer deliveries taking place from 2021-2023. An open-top Roadster and track-focused Revolution variant joined the F5 coupe in 2022 and 2023, boasting the F5's prodigious 1,817-hp Fury engine. The company is delivering like never before on its mission of 'making fast cars faster.' HennesseySpecialVehicles.com | HennesseyPerformance.com
Social media
YouTube: HennesseyPerformanceF5 | Instagram: HennesseyPerformance | Facebook: @hennesseype | Twitter: @HennesseyPerf
Media contacts
For further information, images, or comment, contact the Hennessey PR team:
North America
Michael Harley
Michael@HennesseyPerformance.com
+1 805-402-3613
Europe / Asia
Jon Visscher
Jon.Visscher@vcomm.co.uk / vcomm.co.uk
+44 (0)7816 906 794