Edible Garden Announces Distribution of Pulp Sustainable Gourmet Sauces Across All Morton Williams Supermarkets
Advances strategy to expand into higher-margin products with longer shelf life
BELVIDERE, NJ, Sept. 14, 2023 (GLOBE NEWSWIRE) -- Edible Garden AG Incorporated ("Edible Garden" or the "Company") (Nasdaq: EDBL, EDBLW), a leader in controlled environment agriculture (CEA), locally grown, organic, and sustainable produce and products, today announced that Morton Williams Supermarkets will begin carrying Edible Garden's new line of Pulp sustainable gourmet sauces in all 16 of their locations within the New York Metropolitan area.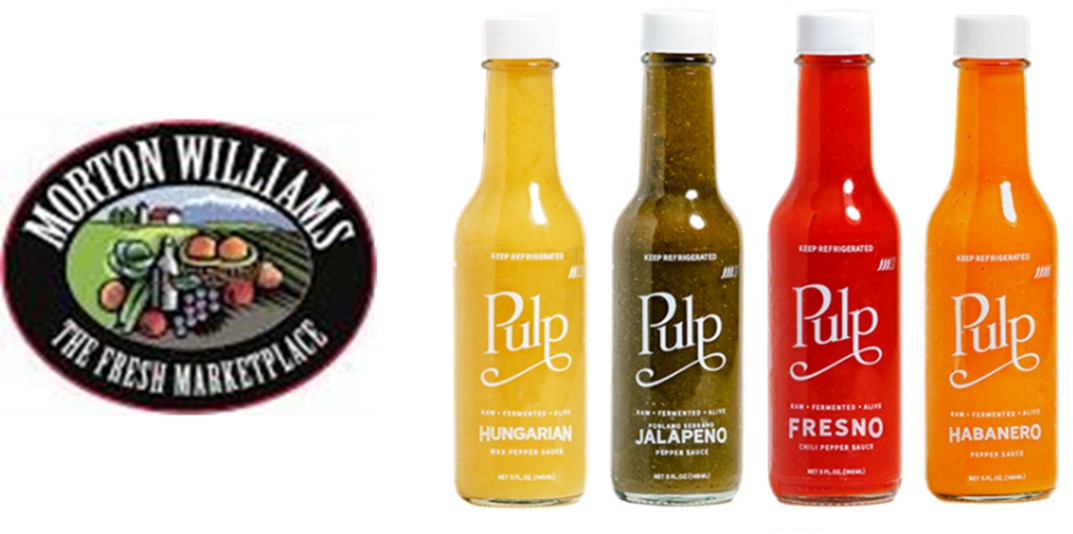 Edible Garden's new line of Pulp sustainable gourmet sauces available at Morton Williams Supermarkets

Mr. Jim Kras, Chief Executive Officer of Edible Garden, commented, "We are delighted to have been selected by Morton Williams Supermarkets to carry our Pulp Sustainable Gourmet Sauces across their entire network. Notably, this launch marks our first foray into the sizable and trend-setting New York City market.  Morton Williams is an ideal retailer to carry our Pulp products, as the customers they serve have a strong affinity for tasty, sustainable and organic fermented products, as conveyed in the Pulp tagline: 'Bland to Bold.'  Moreover, we believe this is an opportunity for us to gain first-mover advantage in an entirely new product category. Our strategy is to rapidly and cost-effectively scale the business by leveraging our established retail relationships and introducing high margin products with longer shelf life.  In turn, we believe we will be able to maximize efficiency and minimize our carbon footprint by utilizing existing distribution channels and truck routes. These products also support our Zero-Waste Inspired® mission as we utilize all parts of the pepper.  Overall, the feedback from both retailers and consumers has been quite positive and we look forward to announcing similar agreements in the near future."
ABOUT EDIBLE GARDEN®
Edible Garden AG Incorporated is a leader in controlled environment agriculture (CEA), locally grown, organic and sustainable produce and products backed by Zero-Waste Inspired® next generation farming. Offered at over 4,000 stores in the US, Edible Garden is disrupting the CEA and sustainability technology movement with its safety-in-farming protocols, use of sustainable packaging, patented GreenThumb software and self-watering in-store displays. The Company currently operates its own state-of-the-art greenhouses and processing facilities in Belvidere, New Jersey and Grand Rapids, Michigan, and has a network of contract growers, all strategically located near major markets in the U.S. Its proprietary GreenThumb 2.0 patented (US No's.: US 11,158,006 B1 and US 11,410,249 B2) software optimizes growing in vertical and traditional greenhouses while seeking to reduce pollution-generating food miles. Edible Garden is also a developer of ingredients and proteins, providing an accessible line of plant and whey protein powders under the Vitamin Way® and Vitamin Whey® brands. In addition, the Company offers a line of sustainable food flavoring products such as Pulp gourmet sauces and chili-based products. For more information on Edible Garden go to https://ediblegardenag.com/.
Forward-Looking Statements
This press release contains forward-looking statements within the meaning of the Private Securities Litigation Reform Act of 1995 that involve risks, uncertainties and assumptions that are difficult to predict including with respect to the Company's growth strategies, the success of implementing the GreenThumb 2.0 software, the Company's ability to maximize efficiency and minimize our carbon footprint, and the Company's success and ability at expanding its product categories. The words "believe," "opportunity," "seeking," "will," and similar expressions are intended to identify forward-looking statements. These forward-looking statements are subject to a number of risks, uncertainties, and assumptions, including market and other conditions, the Company's ability to achieve its growth objectives, and other factors set forth in the Company's filings with the Securities and Exchange Act Commission, including the Company's annual report on Form 10-K for the year ended December 31, 2022. Actual results might differ materially from those explicit or implicit in the forward-looking statements. You should not rely upon forward-looking statements as predictions of future events. The Company undertakes no obligation to update any such forward-looking statements after the date hereof to conform to actual results or changes in expectations, except as required by law.
Investor Contacts:
Crescendo Communications, LLC
212-671-1020
EDBL@crescendo-ir.com
Attachment