Laveda Lash & Brow Boutique has emerged as a premium beauty expert in the D.C., Virginia & Maryland area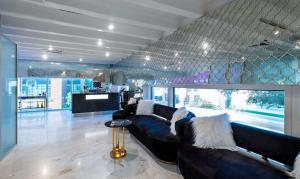 Laveda Lash & Brow Boutique was founded by Lucy Murrell in 2018.
WASHINGTON D.C, UNITED STATES, September 9, 2023/
EINPresswire.com
/ -- Starting its journey back in 2018,
Laveda Lash & Brow Boutique
has since become one of the premier eyelash extensions and micro blading providers in the surrounding Maryland, Virginia, and Washington DC regions. In the DC surrounding area, Laveda Lash & Brow produces the highest number of lash extensions as a non-franchise, crossing over 2000 lash extensions and 1,500 brows done per year.
Since being founded by Lucy Murrell, Laveda Lash Brow & Boutique has served thousands of satisfied clientele in the last 5 years. Started in a small Hyattsville salon and branched out to open 4 additional locations: 2 locations in DC, one on the corner of 14th & W, and 2nd location in Georgetown, DC, 3rd location which is a Beauty Training facility and Beauty Supply Store in Alexandria, VA, and the 4th and latest location in Tyson's Corner, Virginia. The Canal off M Street locates its salon in Georgetown and is at 1063 Wisconsin Ave, and the 14th St. Location is at 2200 14th St. NW DC is located on the corner of 14th and W in Northwest Washington D.C. All 4 locations include a full-service beauty salon to include a nail salon offering top end luxury manicure pedicures, lash extensions, lash lifts, facials and PMU to include microblading, nanobrows, lip blush, permanent eyeliner and shading.
The Owner and co-founder, Lucy Murrell, has been in the beauty industry for 16 years & became a Licensed Esthetician in 2013. She holds a master's degree and is also a Master Lash Trainer, a Cosmetology Instructor in the State of Virginia, a 4x Certified Expert Eyelash Artist for Classic and volume application & a Certified Microblading Technician. She is Phi-Brow Bold Brow Certified in Microblading, one of the leading and most respected certifications. She continues to polish her skills by attending various advanced training for skincare Microdermabrasion, Peels, and Dermaplanning.
"I built my own Laveda beauty brand, which was inspired by my deep passion for delivering excellence to the beauty world," said Lucy Murrell. "Years of experience and learning motivate her to achieve the best out of this industry in the face of happy and contented customers," she added.
Under the leadership of Lucy Murrell, a successful beauty guru and a stand-out female entrepreneur, Lash Brow & Boutique has grown into a Multi-Million Dollar Company in just a few years, serving clients with MicroShading Ombre Brows, PMU, Microblading, Shading, Classic and Volume Lash Extensions, Lash Lifts, Lash Tint, Brow Tints, and Facials. Lash Brow & Boutique provides quality services and personalized care and goes beyond the needs of the customer to maximize their lash and skin care health.
Schedule an appointment at
https://www.lavedaboutique.com/schedule-appt
or call 301-969-5659.
For updates, follow Laveda Lash & Brow Boutique on :
Facebook:
https://www.facebook.com/lavedalash
Instagram:
https://www.instagram.com/lavedalash/
Watch "Laveda Lash & Brow Latest Georgetown DC Salon Promo Video" on Youtube:
https://www.youtube.com/watch?v=FWY8SKRZkMo
Lucy Murrell
Laveda Lash & Brow
support@lavedaboutique.com