Church of Scientology Pasadena Drug Prevention Open House Aims to Save Lives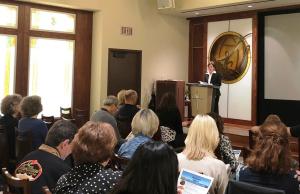 Church of Scientology Pasadena holds forums to help coordinate community action on important issues.
Parishioners and community leaders gathered at the Church of Scientology Pasadena to stem the damage of illicit drugs.
PASADENA, CALIFORNIA, UNITED STATES, July 25, 2023/EINPresswire.com/ -- A community open house and forum at the Church of Scientology Pasadena focused on a crisis affecting local youth—the proliferation of illicit prescription drugs sold over the internet and their fatal consequences. Speakers made it clear that experimenting with these drugs is like playing Russian roulette. You have no way to know whether the next time you take one you will suffer an overdose from the pill being laced with fentanyl.
Fentanyl is a synthetic opioid some 50 to 100 times more potent than morphine, intended only to treat severe pain in medical settings. In recent years, fentanyl manufactured in Mexico from precursor chemicals from China has become a major factor in the illegal drug trade. Fentanyl smuggled into the United States is often mixed with other substances and pressed into counterfeit prescription pills sold on the black market. Indistinguishable from legitimate prescription drugs and sold at a fraction of the cost, they are an attractive option for people struggling with addiction and youth seeking to experiment with drugs.
But because even a small amount of fentanyl can be deadly, many deaths are attributed to fentanyl-laced counterfeit drugs. This has become a major public health crisis in the United States and has led to increased efforts to crack down on the production and distribution of these dangerous substances.
A deputy from the Altadena Sheriff's Station and two detectives from the Pasadena Police Department presented real-life examples of the harm caused by these and other illicit drugs.
The Pasadena detectives showed a PowerPoint illustrating some of their recent busts, including how they traced the drugs from Pasadena back to the Mexican border. In the hope of outsmarting the police, dealers work out clever places to hide these substances, but thanks to their "best detective," their sniffer dog, these detectives have been able to locate drugs and bust those trafficking them into California.
Recognizing the crucial role substance abuse plays in the disintegration of the social fabric, Scientology Founder L. Ron Hubbard wrote, "Research has demonstrated that the single most destructive element present in our current culture is drugs." This sobering observation led to the development of the Truth About Drugs program of Foundation for a Drug-Free World.
The Church of Scientology Pasadena sponsors a chapter of Foundation for Drug-Free World and a Church representative briefed those attending on the Foundation's Truth About Drugs education and prevention initiative and its effectiveness. Drug-Free World empowers youth and adults with factual information about drugs so they can make informed decisions and live drug-free.
By making the Truth About Drugs materials available free of charge, Scientology Churches and Scientologists seek to tackle this pressing issue head-on and provide communities with the tools they need to combat drug abuse effectively. Scientology Churches also provide free training on the Truth About Drugs curriculum.
The Church of Scientology Pasadena is an Ideal Scientology Organization dedicated in July 2010 by Scientology ecclesiastical leader Mr. David Miscavige. The Church of Scientology Pasadena is featured in an episode of Destination: Scientology on the Scientology Network.
Public Affairs
Church of Scientology Pasadena
+1 323-960-3500
email us here
Visit us on social media:
Facebook
Twitter
Instagram
YouTube