Governor Newsom Signs Infrastructure & Budget Legislation to Build More, Faster
WHAT YOU NEED TO KNOW: Governor Newsom signed the infrastructure streamlining package accelerating construction timelines on the projects necessary to achieving the state's ambitious climate and clean energy goals. The Governor also signed other pieces of the 2023-24 state budget deal reached with lawmakers.
SACRAMENTO – Today, Governor Gavin Newsom signed into law a slate of bills to accelerate critical infrastructure projects across California that help build our 100% clean electric grid, ensure safe drinking water and boost the state's water supply and modernize our transportation system.
The legislation represents an urgent push by Governor Newsom to take full advantage of an unprecedented $180 billion in state, local, and federal infrastructure funds over the next ten years – critical to achieving California's world-leading climate and clean energy goals while also creating up to 400,000 good-paying jobs.
By streamlining permitting, cutting red tape, and allowing state agencies to use new project delivery methods, this legislation will maximize taxpayer dollars and accelerate timelines of projects throughout the state, while ensuring appropriate environmental review and community engagement.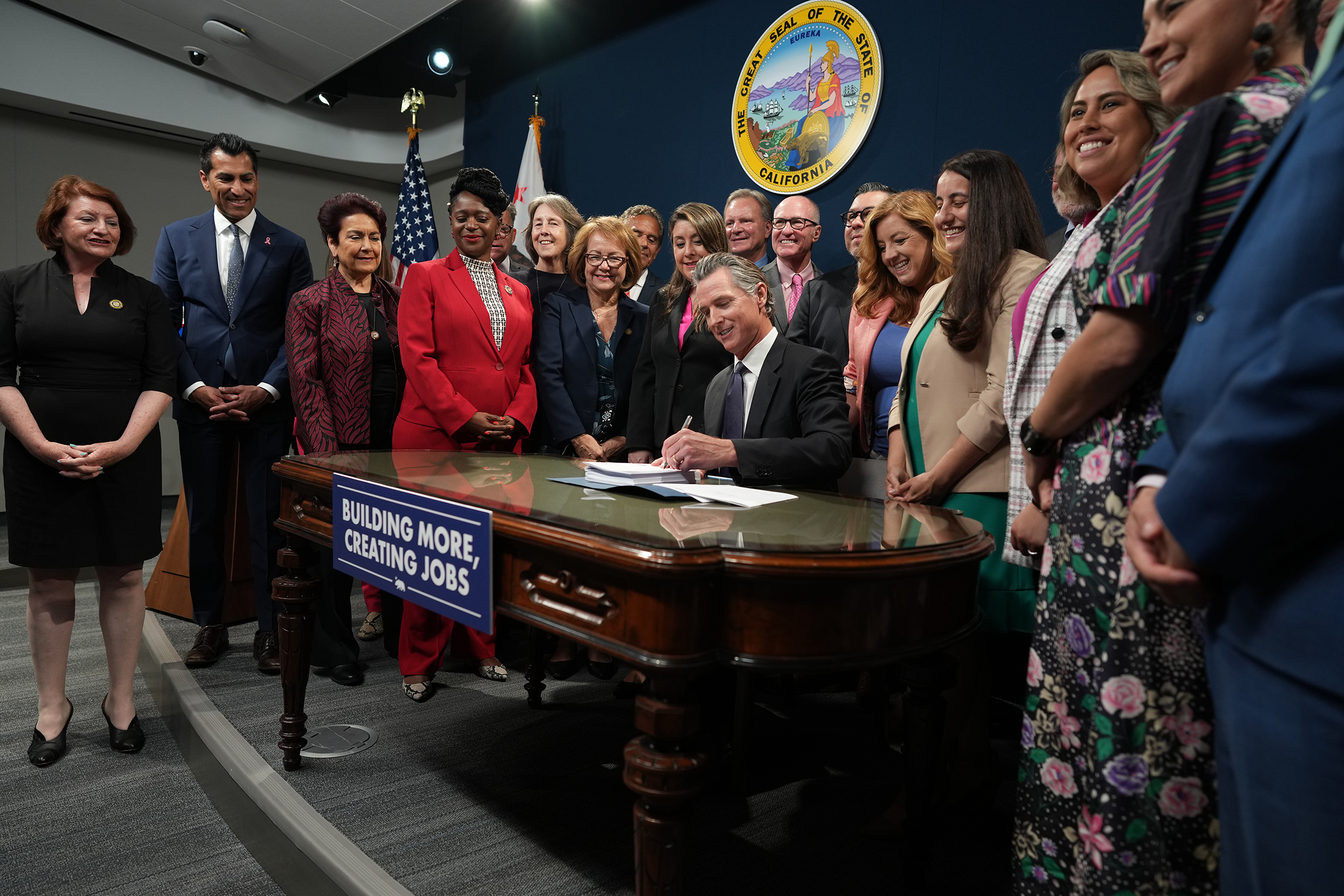 Governor Newsom also signed components of the 2023-24 state budget agreement, which includes $37.8 billion in total budgetary reserves – the largest in state history – including $22.3 billion in the Rainy Day Fund amid continued global economic uncertainty. The budget closes a shortfall of more than $30 billion while preserving major investments in public education, health care, climate action, addressing homelessness, and other priorities.
What Governor Newsom said: "For decades, infrastructure projects critical to our future have stalled because of a pervasive mindset of 'no.' With this legislation, California is saying 'yes' to building the clean energy, safe drinking water and transportation projects we need to deliver on our world-leading climate action. Now it's time to roll up our sleeves and build California's future."
What Senate President pro Tempore Toni G. Atkins (D-San Diego) said: "This year, we were faced with challenge and opportunity — the challenge of a tough economy and needing to protect California's progress with our budget, and the opportunity to streamline and build the infrastructure our state needs for the future. Thanks to the tireless dedication of our Senate Budget Chair and subcommittee chairs and our Senate Working Group on Infrastructure and Workforce Equity, and the partnership of our Assembly colleagues and Governor Newsom, we successfully met those goals. We have passed a responsible, equitable budget and finalized a legislative package on infrastructure that maintains California's values on the environment and climate preparedness, while at the same time builds for our future and creates a place where working families can access quality jobs."
What Assembly Speaker Robert Rivas (D-Salinas) said: "This budget is representative of all Californians and provides opportunity to those who need help the most. Despite economic headwinds, it sustains and protects our schools, working families and more. And it keeps an eye on the future, by maintaining our historic reserves. The legislative package on infrastructure, as well, strikes a crucial balance: spurring future growth and good-paying jobs while defending our environment. I want to extend my gratitude to Governor Newsom for his leadership, to our Senate colleagues and to our Assembly Caucus and staff who delivered this responsible, inclusive and equitable budget for all Californians."

Governor Newsom receives budget and legislation briefing.
WHY IT MATTERS:
BUILDING MORE, FASTER: California is on the front lines of extreme weather whiplash like fires, drought, and floods – we can't delay the infrastructure that will help us adapt. The projects fast-tracked by this package will power our homes and electric vehicles, store and deliver our water, modernize our transportation infrastructure and create a 100% clean electric grid.
$180 BILLION ON THE LINE: With once-in-a-generation federal and state funding for infrastructure projects, California is competing against other states – we can't let red tape and endless litigation hold up the projects California needs to cut pollution, generate clean energy and conserve water.
PROTECTING THE ENVIRONMENT: Building on our work to reform CEQA, this legislation makes it work for the California of today while maintaining our state's nation-leading environmental protections and community engagement. This package streamlines court battles after projects have already passed environmental review, while maintaining all the mitigation and public processes of CEQA, so we can build even more projects that protect our environment.
SAFE DRINKING WATER & CLEAN ENERGY: The legislation accelerates projects that will capture and store enough water to supply millions of households. The package also drastically ramps up our efforts to build wind, solar, battery storage, and electric transmission projects.
HOW IT WORKS:
Speeds Up Construction: Current construction procurement processes drive delays and increase project costs. The legislation includes methods to offer a streamlined process for project delivery to reduce project timeframes and costs.
Expedites Court Review: Legal challenges often tie up projects even after they've successfully gone through environmental review. This legislation speeds up judicial review to avoid long delays and advance projects without reducing the environmental and government transparency benefits of CEQA.
Streamlines Permitting: Makes changes to California law to accelerate permitting for certain projects, reducing delays and project costs.
Addresses Cumbersome CEQA Processes: Streamlines procedures around document collection and assembly in litigation after projects have already been approved.
Maximizes Federal Dollars: Establishes a Green Bank Financing Program within the Climate Catalyst Fund so that the state can leverage federal dollars for climate projects that cut pollution, with an emphasis on projects that benefit low-income and disadvantaged communities.
The budget and related budget-implementing legislation signed by the Governor today are below:
AB 102 by Assemblymember Philip Ting (D-San Francisco) – Budget Act of 2023.
AB 116 by the Committee on Budget – Early childcare and education.
AB 118 by the Committee on Budget – Budget Act of 2023: health.
AB 120 by the Committee on Budget – Human services.
AB 121 by the Committee on Budget – Developmental services.
AB 127 by the Committee on Budget – State government.
AB 128 by the Committee on Budget – Cannabis: background checks and cannabis event organizer license type.
AB 129 by the Committee on Budget – Housing.
AB 130 by the Committee on Budget – Employment.
AB 134 by the Committee on Budget – Public safety trailer bill.
SB 114 by the Committee on Budget and Fiscal Review – Education finance: education omnibus budget trailer bill.
SB 115 by the Committee on Budget and Fiscal Review – Arts and Music in Schools — Funding Guarantee and Accountability Act: local control and accountability plan electronic template.
SB 117 by the Committee on Budget and Fiscal Review – Higher education trailer bill.
SB 122 by the Committee on Budget and Fiscal Review – Public resources trailer bill.
SB 123 by the Committee on Budget and Fiscal Review – Energy.
SB 124 by the Committee on Budget and Fiscal Review – Energy.
SB 125 by the Committee on Budget and Fiscal Review – Transportation budget trailer bill.
SB 131 by the Committee on Budget and Fiscal Review – Taxation.
SB 132 by the Committee on Budget and Fiscal Review – Income taxes: tax credits: motion pictures: occupational safety: California Film Commission.
SB 145 by Senator Josh Newman (D-Fullerton) – Environmental mitigation: Department of Transportation.
SB 146 by Senator Lena Gonzalez (D-Long Beach) – Public resources: infrastructure: contracting.
SB 147 by Senator Angelique Ashby (D-Sacramento) – Fully protected species: California Endangered Species Act: authorized take.
SB 149 by Senator Anna Caballero (D-Merced) – California Environmental Quality Act: administrative and judicial procedures: record of proceedings: judicial streamlining.
SB 150 by Senator María Elena Durazo (D-Los Angeles) – Construction: workforce development: public contracts.
For full text of the bills, visit: http://leginfo.legislature.ca.gov.