'Navigating HealthTech MVPs': A tool to create comprehensive plan for development and implementing a digital product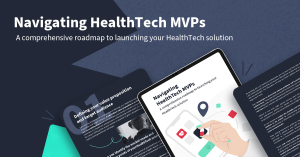 The first free tool that makes it easy to create a comprehensive plan for implementing a HealthTech solution in 2023
The first free tool that makes it easy to create a comprehensive plan for implementing a HealthTech solution in 2023
Tech Prescription by Applover full-stack digital agency
Anyone who chooses the target group, technology stack, or appropriate framework for a digital product should know 'Navigating HealthTech MVPs'
We aim to offer entrepreneurs a guiding hand as they tackle the steps and pitfalls of HealthTech development. Throughout this guide, we will explore the critical aspects of this process."
— Piotr Sędzik, CEO and co-founder of Applover
WROCAW, POLSKA, June 1, 2023/
EINPresswire.com
/ -- How to define the value proposition and target audience, identify the market needs and expose unique selling points of new HealthTech solution? What core features and essential elements of healthcare technology are to choose from? How to ensure regulatory compliance and security of technology solutions? Anyone who chooses the right target group, tech stack, or the right framework for your digital product should take a look at '
Navigating HealthTech MVPs
' - brief e-book by Applover, a technology company, that helps overcome key HealthTech development pitfalls and go from preparation to HealthTech app implementation as efficiently as possible.
Innovative technologies are revolutionizing how we approach healthcare, with the global HealthTech market expected to grow at a CAGR of 18.6% from 2023 to 2030, reaching $809.2 billion by 2030 (Grand View Research, 2023). As critical players in driving progress and unlocking new possibilities, tech companies have emerged at the forefront of this transformation. However, these startups and tech companies face unique challenges as they navigate the complexities of their development journey. That's where this indispensable roadmap comes in. 
'- We aim to offer entrepreneurs a guiding hand as they tackle the steps and pitfalls of HealthTech development. Throughout this guide, we will explore the critical aspects of HealthTech development, focusing on startups' challenges and offering actionable guidance to overcome them. Our goal is to empower the entrepreneurs and contribute to the healthcare industry's ongoing transformation - says Piotr Sędzik, CEO and co-founder of Applover.
Developing a HealthTech solution goes beyond creating an innovative product for many reasons, such as:
- it involves addressing critical elements such as user experience, data security, and regulatory compliance,
- it demands focusing on the most critical features and elements that address the immediate needs of the target audience while laying the groundwork for future improvements,
- it's necessary to discuss the crucial aspects of future healthcare product with other experts: the development team, project managers, designers, and business development specialists,
- you need to ensure that the HealthTech MVP is built with a scalable architecture to make it easier to incorporate more extensive interoperability features later on. 
- …and many others.
An experienced full-stack digital agency can help to design an industry-leading solution with this future growth in mind. 
One of the best practices comes from Inngen SA - a top healthtech company that provides medical services. Applover was asked to build a digital product for them – a web-based application that allows platform users to buy medical tests easily. Inngen's goal is to deliver comprehensive customer service and offer a simple order processing system for administrators and laboratories across the healthcare industry. What are the 3 crucial steps from preparation to HealthTech app implementation? Lukasz Knap, CEO of Inngen SA answers:
"- One of the most crucial steps in developing a successful HealthTech app is understanding user needs. Conducting a rigorous user research process will help understand how users interact with their smartphones and tablets, what they do with their devices, and how they expect different apps to work. A strong understanding of the target audience will also provide insight into what content the app should include and facilitate the development of an intuitive interface that makes sense for users' experiences.
The second crucial step is to establish a secure infrastructure. The importance of HIPAA-compliant security cannot be disputed, but this requirement is not limited to patient records. Healthcare providers should protect the confidentiality of their mobile apps as well. 
An intuitive user interface is the third of the crucial steps. It should be designed with the user in mind, considering their goals and preferences. By focusing on usability and accessibility, developers can create an intuitive user interface that allows users to find the information they need quickly and easily complete tasks. By creating a UI that is both attractive and efficient, developers can ensure that users have a positive experience using their product or service".
Download one of the pages of e-book
***
Applover, a Full-Stack Digital Agency from Wrocław, Poland. Its DNA is to work on technologies for the most dynamic and recognizable companies in the domestic and global markets. Founded in 2016 by four friends and technology enthusiasts, currently operates as a group of 150 experts, and since then, developed more than 220 projects. Applover was recognized by Financial Times in the "FT 1000" ranking in 2023 and by Deloitte as a Rising Star in the CEE region in 2019 and ranked in the Fast 50 category in 2020 and in 2021. 
The company specializes in:
- creating mobile and web applications,
- website development,
- designing digital products
in the following technologies: Flutter, Swift, Objective-C, Java, Kotlin, Android, Node.js, AngularJS, Vue.js, Ruby on Rails, WordPress.
Applovers clients include companies from all over the world from industries such as healthtech, insurtech, fintech, ecommerce, marketing, entertainment, education, legal services and B2B services. We have cooperated with companies such as KiloHealth, Nokia, Callpage, Lettly, Slock.it, Steppie, Market Supply, Bigvu, Prismade (edding), Labplus, Amino, Foodsi, Signium, Ticketing.Co, ETH Zurich.
Check customer reviews on Clutch.
Artur Ragan
Applover Sp z o.o.
artur.ragan@applover.pl
Visit us on social media:
Facebook
Twitter
LinkedIn
Instagram
YouTube