Construction 4.0 Market Technological Advancement, Growth, Opportunity and Forecast 2031 | Grows at a CAGR of 17.7%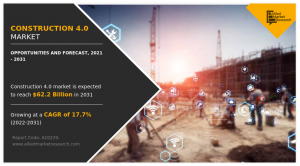 Construction 4.0 Market Expected to Reach $62.2 Billion by 2031
PORTLAND, OR, UNITED STATES, May 29, 2023 /EINPresswire.com/ -- Construction 4.0, also known as the Fourth Industrial Revolution in Construction, refers to the integration of digital technologies and advanced automation into the construction industry. It is a paradigm shift that aims to improve productivity, efficiency, and sustainability in construction processes. The Construction 4.0 market refers to the market for technologies, solutions, and services that are part of the digital transformation and automation in the construction industry.
According To AMR, The construction 4.0 market size was valued at $11.9 billion in 2021, and is estimated to reach $62.2 billion by 2031, growing at a CAGR of 17.7% from 2022 to 2031.
Download Free Sample PDF of Report with Updated Pages:
https://www.alliedmarketresearch.com/request-sample/10594
The construction industry's growing need for automation and worker safety, as well as the availability of accessible, energy-efficient technology like industrial robots and artificial intelligence, in the construction industry drive the growth of the construction 4.0 market. In addition, the need for construction technologies such as IoT, virtual reality, and others increases as efficiency and productivity on building sites improve, fueling the market's expansion.
The construction 4.0 market share is expanding as a result of the usage of IoT, AI, and BIM-based technologies in construction sites with the use of drones, CCTV cameras, and sensors to collect real-time data about workers, inventories, and ongoing activities. The construction industry also uses industrial robots to create large structures and demolish buildings, which boosts demand for industrial robots and expands the market.
Enquire Before Buying@ https://www.alliedmarketresearch.com/purchase-enquiry/10594
Regional Analysis:
Region wise, the global construction 4.0 market analysis is conducted across North America (the U.S., Canada, and Mexico), Europe (the UK, France, Germany, and rest of Europe), Asia-Pacific (China, Japan, India, South Korea, and rest of Asia-Pacific), and LAMEA (Latin America, the Middle East, and Africa).
COMPETITION ANALYSIS
The major players profiled in the construction 4.0 market include Advanced Opto-Mechanical Systems and Technologies Inc, ABB Ltd, Autodesk Inc, CalAmp Corporation, Hexagon AB, Hilti Corporation, Mitsubishi Electric Corporation, Oracle Corporation, Topcon Corporation, and Trimble, Inc.
Major companies in the market have adopted product launch, acquisition and partnership as their key developmental strategies to offer better products and services to customers in the construction 4.0 market.
Request for Customization @ https://www.alliedmarketresearch.com/request-for-customization/10594
David Correa
Allied Analytics LLP
+ 1-800-792-5285
email us here