The Law Enforcement Network and Rapid Response Unleash Pioneering LEN Communication Security System Across MENA Region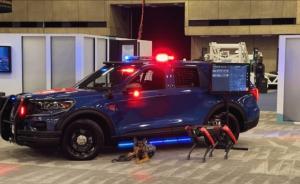 The Law Enforcement Network (LEN) Has Taken A Monumental Step Toward Revolutionizing Public Safety By Introducing A Groundbreaking Communication Security System
Your Safety, Our Duty"
— LEN
MIAMI, FL, UNITED STATES, May 25, 2023/
EINPresswire.com
/ -- The
Law Enforcement Network
LLC, in collaboration with Rapid Response Ltd, is thrilled to announce the debut of a groundbreaking partnership announcement for - the
LEN
AI Weapons Detection and Real-time Communication Security System. This state-of-the-art initiative has been specially made for our partners in public and private security agencies, specifically for Rapid Response teams in the Middle East and North Africa (MENA). It promises to strengthen the safety and security infrastructure throughout the region significantly.
As we grapple with escalating security concerns in the modern world, it becomes imperative to confront these challenges proactively. Our advanced system harnesses the power of cutting-edge AI technology to accurately identify weapons and potential threats, thereby protecting public and private spaces from potential incidents. The system's robust capabilities lie in its innovative application of artificial intelligence, providing real-time analyses of complex situations and patterns that traditional methods might overlook.
A standout component of this breakthrough technology is the Real-time Communication Security System. This system ensures secure, encrypted, dependable communication channels for all Rapid Response agents. This integrated technology provides comprehensive communication solutions for all security agencies when working hand-in-hand with the AI weapons detection system. The result is seamless coordination, expedited responses, and increased efficiency in addressing threats.
"Jamal Naser - Director of Security at Rapid Response Ltd., comments, "We believe in equipping our security forces with the finest resources to ensure the safety of our clients. This system marries advanced AI with secure communication technologies, facilitating unparalleled preparedness and response capability."
The Law Enforcement Network (LEN) stands at the forefront of AI security solutions. We remain steadfastly committed to ensuring safety and security on a global scale. We specialize in developing groundbreaking technologies that address today's pressing security concerns and shape the future of public safety. Law enforcement agencies and security teams worldwide have come to trust and rely on our innovative solutions, said, "Omar Wadad - VP of Security at Law Enforcement Network" MENA Region.
About Law Enforcement Network LLC:
www.lenllc.io
- info@lenplatform.io
The Law Enforcement Network LLC (LEN) is a conduit for improving communication among citizens, law enforcement agencies, and security firms. We're passionately dedicated to harnessing cutting-edge technology, promoting innovation, and actively interacting with community members to reshape how emergency responses are handled, thus significantly enhancing public safety. Our innovative mobile app is specifically designed to provide people with a fast, efficient method of contacting local first responders during emergencies, bypassing the need for a 911 call or the potential associated delays. We have a significant presence in the United States, with over 7,000 call centers dispersed across various cities and towns, serving 95% of the country's populace. This robust network guarantees that essential help is always just a few clicks away. Additionally, our artificial intelligence solution is adept at scanning all available video streams in real time, aiming to identify potentially armed individuals by recognizing guns, knives, and other weapons. This innovative approach significantly boosts security and fosters a safer public environment.
About Rapid Response Ltd:
Rapid Response Ltd. is a prominent security and emergency services organization operating across the Middle East and North Africa (MENA) region. Recognized for its commitment to maintaining safety and fostering resilience, the company has firmly established its footprint as a trusted leader in its industry. The foundation of Rapid Response lies in its robust portfolio of services, catering to a diverse range of needs, from security management to emergency response. This wide-ranging expertise allows the company to deliver comprehensive solutions that help individuals, businesses, and communities navigate risks and mitigate potential threats. Rapid Response distinguishes itself with its proactive approach to safety and security. It involves implementing cutting-edge technologies, monitoring advancements in the field, and continually improving its service delivery methods. The company takes pride in its ability to swiftly adapt to changing landscapes and respond effectively to various emergencies. Hence its name - Rapid Response Ltd. Embedded in its ethos is its commitment to collaboration. With strong regional ties, the company fosters relationships with local communities, law enforcement agencies, and businesses to ensure efficient coordination during emergencies. The team, comprising seasoned professionals, works round the clock to provide real-time responses, ensuring peace of mind and the safety of the people they serve. Rapid Response is dedicated to shaping a safer future for the MENA region. By fostering an environment of trust, agility, and resilience, the company continues to be a reliable partner in handling security and emergency challenges, ensuring the safety and well-being of the communities it serves.
Jeremy Anderson
LAW Enforcement Network LLC
pr@lenplatform.io
BeMotion-LEN AI WEAPONS DETECTION (CBS NEWS)