Fractional Horsepower Motor Market Projected to Experience Major Revenue Boost During the Forecast Outlook by 2030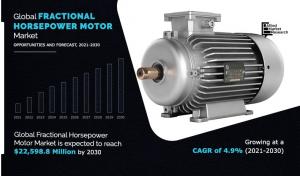 Rise in adoption of fractional horsepower motors in servomotors drives the demand for the fractional horsepower motor.
PORTLAND, OR, UNITED STATES, May 24, 2023 /EINPresswire.com/ -- A fractional horsepower motor (often abbreviated as "FHP motor") refers to an electric motor with a power rating of less than one horsepower. These motors are commonly used in a wide range of applications where smaller, less powerful motors are required. They are known for their compact size, efficiency, and versatility.
Fractional horsepower motors find applications in numerous industries and devices, including home appliances, HVAC systems, power tools, pumps, fans, robotics, medical equipment, and automotive components. Their compact size and energy efficiency make them suitable for space-constrained applications or when lower power requirements are needed.
Download Research Sample with Industry Insights @
https://www.alliedmarketresearch.com/request-sample/14842
According to AMR, the global fractional horsepower motor market size was valued at $13.3 billion in 2020, and is expected to reach $22.6 billion by 2030, with a CAGR of 4.9% from 2021 to 2030.
Fractional horsepower motor is compact in size, possesses high torque, requires less maintenance, is low noise level, and provides better torque to weight ratio. This motor is used in various applications such as automotive, beauty & healthcare products, and robotics. Such instances drive the market growth.
Get detailed COVID-19 impact analysis on the Market @ https://www.alliedmarketresearch.com/request-for-customization/14842
Top Players:
Robert Bosch GmbH, ABB, Johnson Electric Holdings Limited, AMETEK, Inc., NIDEC CORPORATION, Allied Motion, Inc., Rockwell Automation, Inc., Toshiba International Corporation, BorgWarner Inc., DENSO CORPORATION
Growing popularity of fractional horsepower motors, owing to electronic computation in automation and construction applications drives the demand for fractional horsepower motors in luxury features in the automobiles and electrical vehicles, which fuels the fractional horsepower motor market growth.
It's important to note that the power rating of a fractional horsepower motor can vary, typically ranging from a fraction of a horsepower (e.g., 1/100 HP) up to 1 HP. The specific motor chosen depends on the intended application, performance requirements, and environmental conditions in which it will operate.
Make Purchase Inquiry: https://www.alliedmarketresearch.com/purchase-enquiry/14842
David Correa
Allied Analytics LLP
+ 1-800-792-5285
email us here