VIKING SUNSET STUDIOS SHOWCASES THE MAGNIFICENT BEAUTY OF BALI AT CANNES FILM FESTIVAL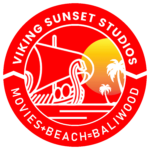 WILMINGTON, NORTH CAROLINA, UNITED STATES, May 15, 2023/EINPresswire.com/ --
Bali, 15 May, 2023 - Viking Sunset Studios, Bali's premier movie studio, is thrilled to announce its participation in the esteemed Cannes Film Festival, where it aims to captivate international movie makers with the breathtaking allure of Bali. With state-of-the-art facilities, including a soundproof green screen studio and the island's exclusive ARRI Mini LF equipment, Viking Sunset Studios is fully equipped to inspire filmmakers and commercial creators alike.
Nestled on a 1-hectare plot of land right on the beach, Viking Sunset Studios enjoys year-round sunsets, offering a stunning backdrop for creating dramatic scenes. The studio's black sand beach, crafted by volcanic activity, sets the stage for captivating movie-making experiences. Moreover, the presence of a majestic cliff with a romantic cave during low tide, two roaring rivers merging with the ocean waves, picturesque rice terraces, a towering volcano in the background, and nearby ancient 1600s castles provide a diverse range of enchanting settings for cinematic storytelling.
Inland, rows of swaying palm trees provide the perfect backdrop, while the untamed ocean on the other side adds an element of raw beauty. At the Cannes Film Festival, Viking Sunset Studios' CEO, Bo H. Holmgreen, emphasizes the unparalleled allure of this natural beauty, urging creative teams to consider shooting their movies amidst the magnificent landscapes of Bali. Construction of the new 1,200 sqm studio is underway, with a helipad next to luxury villas and bungalows for movie stars and crew on the beach-front land.
"We at Viking Sunset Studios have an innate love for drama and action, and we firmly believe that creative teams should seize the opportunity to film their movies in such awe-inspiring natural beauty," states Bo H. Holmgreen, Founder and CEO of Viking Sunset Studios. "While Indonesia may one day match other film-making tax incentives, we are confident that, even now Bali offers an affordable alternative for professional production, and the intrinsic beauty of this island will undoubtedly enrich any cinematic masterpiece," Holmgreen added.
In a three-story building in Sanur and on the beach-front land, Viking Sunset Studios also makes movies itself with its ARRI and Sony cameras and high end Apple editing equipment for post-production. The studios had their documentary film "Death In Bali: A Joyful Occasion" accepted into the Cannes Short Film Corner this year, a documentary comparing the sadness related to death in Europe with the Hindu re-incarnation transition at death in Bali. and Mr. Holmgreen is looking forward to connect with exciting movie making opportunities in Cannes.
Viking Sunset Studios is thrilled to showcase Bali's remarkable beauty at the Cannes Film Festival, fostering global collaboration and inviting filmmakers from around the world to experience the magic of Bali as an exceptional filming location.
For media inquiries, please contact:
Viking Sunset Studios
Contact Person: Turid Kaehny, turid.kaehny@vikingsunsetstudios.com
Website: https//:www.vikingsunsetstudios.com
About Viking Sunset Studios:
Viking Sunset Studios is Bali's leading movie studio, providing world-class facilities and equipment to inspire creativity in the film and commercial production industry. Situated amidst Bali's breathtaking landscapes, the studio offers a unique setting for filmmakers to bring their visions to life. With cutting-edge technology and a commitment to excellence, Viking Sunset Studios aims to facilitate the creation of exceptional cinematic experiences. For more information, please visit https//:www.vikingsunsetstudios.com
Turid Kaehny
VSS
+1 919-454-7599
turid.kaehny@gmail.com
Visit us on social media:
Facebook
Twitter
LinkedIn
Instagram
TikTok